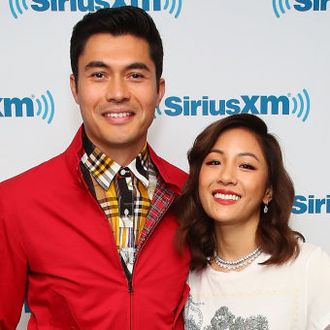 Chemistry tested and approved.
Photo: Astrid Stawiarz/Getty Images for SiriusXM
Lisa-Kim Kuan in accounting may have first suggested that known dreamboat Henry Golding might have been a good fit to play known dreamboat Nick Young in Crazy Rich Asians, but the former TV host managed to ace his own chemistry by acting unnervingly like Nick Young. In a conversation at Vulture Festival Los Angeles with Vulture staff writer E. Alex Jung, Constance Wu explained how she helped the "bunch of handsome, handsome men" reading opposite her relax by asking personal questions about their lives, because unlike white actors, they might not have experience auditioning for lead roles in big movies and might be exceptionally stressed. "Henry Golding comes in, and I said 'Has there ever been something that you wanted so much with your whole heart and you didn't get it?' " Wu remembered, "and he said, 'No,' And that's when we knew!" Later, Golding told her he was nervous in the moment and wished he had something more clever, but she knew his answer lined up with the character he would end up playing: someone to whom the world has always been kind. "That was a totally Nick Young response," Wu said.