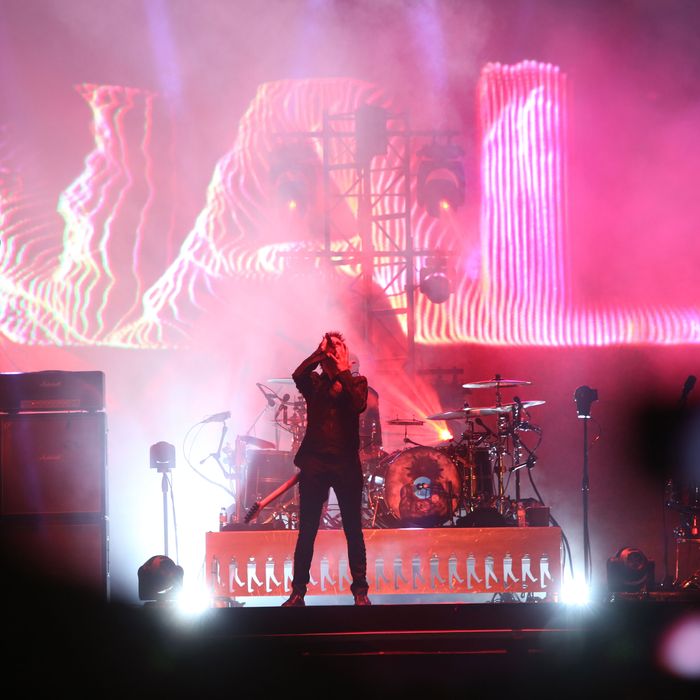 Photo: Pedro Fiuza/NurPhoto via Getty Images
"Headphones connect to the iPhone / iPhone connected to the internet / Connected to the Google / Connected to the government," raps M.I.A. over "The Message," the intro track for her 2010 LP ΛΛ Λ Y Λ (pronounced "Maya"). At the time, the provocative lyrics seemed ridiculous, carrying all the presumptive legitimacy of a stoned Jon Stewart getting paranoid about the intricacies of a dollar bill. The sentiment was widely maligned; in what stood then as her first negative Pitchfork album review, contributor Matthew Perpetua referred to "The Message" in particular as "a simplistic, paranoid rap that's as rhetorically effective as someone in a dorm room ranting about the C.I.A. inventing A.I.D.S."
But M.I.A. was right. Suddenly, her seemingly corny sentiments about government surveillance and the decay of living in private were incredibly prescient. At the very worst, M.I.A. was guilty of evoking a sociopolitical moment several years before it actually bore fruit — which is the exact same position the rock band Muse find themselves in right now. Over the past decade — specifically, during the eight years that Barack Obama held office as president of the United States of America — the British prog-rock heavyweights have functioned as something akin to a modern rock version of QAnon, with lyrics that dive deep into anti-authoritarian sentiments and dystopian diatribes.
Right-wing commentator and sometime conspiracy-theory fanatic Glenn Beck notoriously counts himself as a fan, and even though his and front man Matt Bellamy's politics don't quite line up perfectly (the latter described himself in The Guardian in 2012 as a "left-leaning libertarian" who's "slightly paranoid," and once considered himself a 9/11 truther), the mixed messaging embedded in Muse's back catalogue is at times uncomfortably similar to the radical fringe beliefs that currently dominate American politics. Chuckle all you want at the obviousness of the album cover adorning 2015's Drones, but songs like "The Globalist" — which features forgotten-man lyrical musings like "There's no country left / To love and cherish its bond" — echo current-day political talking points several years before they took over the discourse.
As with so many British rock bands that got their start in the late '90s, Radiohead's influence looms large on Muse's discography. Their first two albums — 1999's Showbiz and the 2001 follow-up Origin of Symmetry — possessed the simmering angst of Thom Yorke & Co.'s The Bends; to relay a brief anecdote, I remember being passed a pair of headphones blaring a pirated copy of Origin of Symmetry during a marching-band trip with the recommendation, "They sound like Radiohead." Such an approach might scan as unfashionable in 2018, but in 1999, Muse were right on time — arriving at the precise moment that, as cemented by the sharp turn represented by the 2000 landmark Kid A, Radiohead weren't too interested in being "Radiohead" anymore.
Journalists and fans alike spent much of the early 2000s searching for a "new Radiohead," tapping everyone from Icelandic mystics Sigur Rós to sensitive British balladeers Travis as potential candidates. But Muse emerged as the most commercially successful of the lot, capably evoking the guitar-charged angst of Radiohead's '90s work for audiences left cold by the latter's frosty electronic diversions. As Muse's music got denser, proggier, and more melodically playful — encapsulating everything from skyscraping arena rock and Queen's operatic tendencies to the stomping blare of EDM and quixotic orchestral grandeur — they retained Radiohead's own dramatic dystopian tendencies circa OK Computer, especially as the latter act headed down more explicitly sensual and sorrowful thematic paths.
Whereas Radiohead's music has become more obtuse and subtle over the last decade, Muse have become a capable pop band alongside their political provocations. Their 2006 album Black Holes and Revelations counted as their real-deal breakthrough to a larger audience, aided by the soaring and U2-esque "Supermassive Black Hole"; on 2012's The 2nd Law (arguably their strongest record to date), they dipped deeper into electronic textures than ever before, collaborating with EDM group Nero and offering a pleasingly sparse twist on commercial dubstep's aggression with "Madness."
More so than Drones, The 2nd Law is perhaps Muse's closest precursor to their eighth LP Simulation Theory, which sees release this week; after a string of self-produced records, the band holed up in the studio with behind-the-scenes pop heavyweights like Timbaland, Shellback (Ariana Grande, Britney Spears), Dr. Dre collaborator Mike Elizondo, and radio-rock guy Rich Costey. Despite the rock riffage that pops up occasionally on Simulation Theory — the most recent single from the album, "Pressure," sways with dirty guitars and handclaps not unlike Queens of the Stone Age — the record also finds Muse heading toward the synthetic, streaming-friendly territory that presumed modern-rock contemporaries Twenty One Plots have built a name on.
"Propaganda" is built around a spare snap of a beat, an aggressive vocal sample of the song title serving as the sort-of chorus; the shuffling tropical pop "Something Human" slides into eliding, wordless vocal sighs, while "Get Up and Fight" — the closest the album comes to recalling Muse's earlier anthemic days — switches off between a hard-charging chorus and the type of tricky-sounding hip-hop-inflected vocal sample that's made Imagine Dragons' "Thunder" an enduring radio staple. But more so than the latest musical direction Muse have taken, the thematic bent of Simulation Theory is perhaps the album's most fascinating aspect.
Much of the album is positively slathered in the type of retro-obsessed nostalgia that's taken hold in popular culture; the video for "Something Human" centers around a man trying to return a VHS tape before turning into a werewolf, and the '80s-tastic cover art was designed by Kyle Lambert, the British visual artist whose work you might recognize from the poster art for Stranger Things. In a Billboard interview, Bellamy cited childhood memories of watching Teen Wolf and Back to the Future while discussing the album's focus on "virtual … and simulated reality," before getting at an essential truism about culture at large: "We've moved beyond the point where it's taboo to do something retro … there's some sort of reaction where people are tuning out a bit to what's going on because it's too troubling and too complicated to understand. So some people are choosing to revert into nostalgia and fantasy and dream-like states to escape reality."
It's a strangely timed moment for Muse to willingly retreat toward the comforts of nostalgia. Simulation Theory is peppered with the type of vague us-against-them language typical to the Muse catalogue, with talk of blockades falling and groupthink-as-poison; Bellamy himself has referred to the driving ideological force behind single "Dig Down" as "[counteracting] the current negativity in the world". But there's little that specifically mirrors the anti-government doom and gloom that has characterized much of the band's output over the last decade, at a point when said doom and gloom are very much in vogue on both sides of the political aisle.
It's totally possible that Muse's recent course correction is the direct result of realizing how similar their past rhetoric is to the extremist groups many consider to be endangering our very way of life — but the issues that the band's previous three albums addressed, from the deepening global energy crisis to the banal carnage of perpetual war, have only taken on greater relevance in modern life. (The first installment in that presumptive trilogy was called The Resistance — you don't get more accidentally prescient than that.) After years of essentially foreseeing the mass-cultural calamity that we're currently mired in, Muse have ditched their wonky crystal ball on Simulation Theory for the kitschy comforts of a Magic 8-Ball — possessing all the warm-and-fuzzy feelings of nostalgia familiarity, and none of the conviction of purpose.