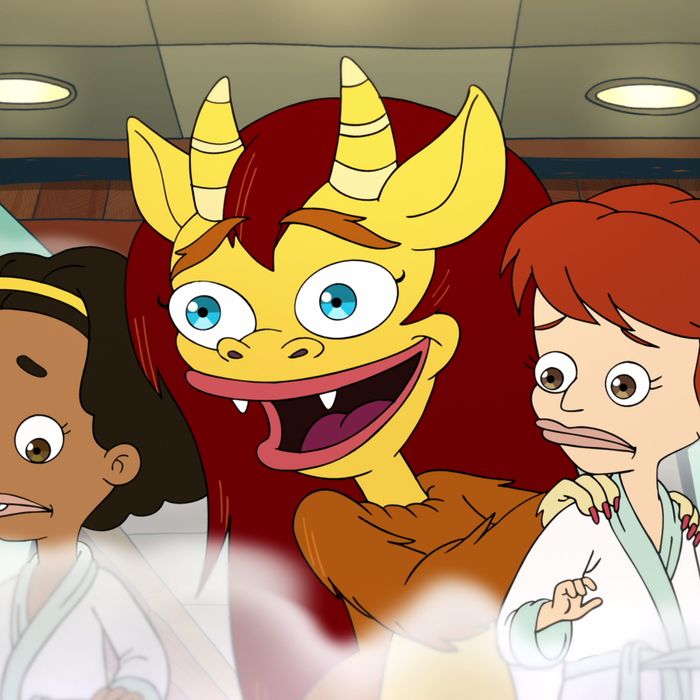 Last Friday Netflix's Strong Black Lead Twitter account delivered a video compilation of Big Mouth's Hormone Monstress saying the words "bubble bath." In the 21-second clip, the woolly, Maya Rudolph–voiced character delivers the phrase ten times. Each time is a delight.
By Sunday night, a producer named Dizzy Rambunctious chopped up the audio for an exhilarating Jersey Club remix, complete with the genre's signature bedspring squeaks and unrelenting kick drums. The internet noticed, and now the track by the North Bergen, New Jersey–born artist has almost 38,000 plays on SoundCloud and over a thousand retweets. (Nohpets created his own Jersey Club remix as well.)
Rambunctious's track is part of the Jersey Club tradition of not just creating unofficial remixes from the current biggest rap and R&B hits, but also building tracks off of all kinds of pop-culture detritus. That could be Gared A using Nicki Minaj's VMA callout "Miley What's Good" or DJ Tal and DJ Flex fucking up the theme song for the kids show Caillou. The makers of Baltimore Club Music, Jersey Club's stylistic predecessor, have been creating songs from moments on Chappelle Show sketches and Big Pun skits for over a decade.
Vulture spoke with 23-year-old Dizzy Rambunctious after he got out of class at Lincoln Tech in Paramus, where he's studying computer networking and security. He discussed using memes as inspiration and his history with Jersey Club, an underground sound that's finding itself increasingly in the mainstream.
How long have you been producing?
I've been doing this since 2013. I'm actually very versatile with my craft. I do the Jersey Club here and there, but I've been doing mainly hip-hop.
I've been on your SoundCloud and there are some other Jersey Club remixes on there, too.
Yeah, I have like three or four on there. The first one that really got recognition was … Are you familiar with the yodeling kid? In the Walmart?
Yeah, of course.
Yeah, I did that. That one took off. That was back in April.
What makes you decide to do a Jersey Club remix of something?
I do it for fun. I actually do like the show Big Mouth. Everybody knows what I'm capable of doing with these meme-able things. They saw when, I think it was the Netflix account, put up the Hormone Monstress compilation [the company retweeted their own Strong Black Lead account]. Someone was like, I hope a Jersey Club artist crushes this. Then I got three people tagging me like, "You should do this! You make something out of this." So I was like, "Okay, I'll make something of this." Then I did it. It took me at least an hour, almost two hours. This one was definitely bigger than the yodeling one. This one got recognized by Netflix and the Big Mouth show itself. They caught on to it and retweeted it. That's even more crazier than the yodeling one.
Beyond retweeting it, has anyone from the show reached out to you personally?
Nah, not yet. I'm hoping so.
Do you want to start making music for TV shows or do you just want them to say what's up?
I mean, I'm just hoping that one day they'll be like, "Hey, we're going to use this for the show" or something for season three.
Was Jersey Club something you grew up listening to?
Jersey Club I got into back when I was like 13, because I used to go to high school in Jersey City. Everybody in my class was always bumpin' Jersey Club. There were two big artists, DJ Jayhood and DJ Joker. Everybody was listening to them. Jersey Club is a staple in New Jersey overall, but it's getting big to the point that everybody is getting influenced by our style and our sound. DJ Khaled did something like with Drake ["To the Max"], Ciara did something with that ["Level Up"]. It's a big influence right now. We're actually getting put on in many different states and many different cities. The whole world is getting put on to Jersey Club.
I know you say you're versatile, but when you started producing, was Jersey Club something you got into early on?
When I first started, I was making old-school beats, trap beats, you know, the usual hip-hop stuff. I tried doing a club mix for a French Montana song called "Pop That." It didn't do so well, it wasn't that good. As soon as I started getting better with my craft, then I really started focusing on Jersey Club. I actually did a lot more that I've never released, but they kept on getting better and better.
You said it took about an hour or two to make "Bubble Bath," is that the usual amount time for your productions?
The shortest I've done is 40 minutes, but if I want to perfect it and make sure that it's ready to be out for everybody, it takes an hour or two.
When did you start watching Big Mouth?
During the first season when it came out. I was actually a little late on season one. Every time I would go on Netflix, I would see something on the promo thing, but I was like, "What show is this?" I would ignore it. But I started watching it months later and I was like, "Oh, this is a pretty good show." It has a lot of crazy things on it.
What's your favorite Netflix show?
Luke Cage, before it got canceled.
This interview has been edited and condensed for clarity.