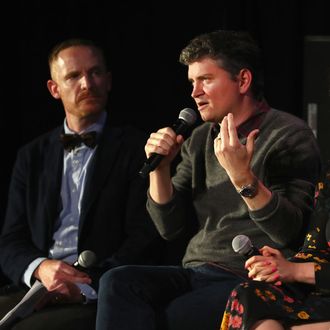 Mike Schur (right).
Photo: Joe Scarnici/Getty Images for New York Magazi
Move over, Doctor Who and your timey-wimey bullshit. The reign of Jeremy Bearimy has begun! On a recent episode of The Good Place, philosophers' collective minds broke when the sitcom introduced a new way to discuss the concept of time and space: the silly words "Jeremy Bearimy."
In short, while time on Earth continues to be its plain-ol' linear self, things in the afterlife don't happen while things are happening here — or rather, afterlife time doubles back and loops around and ends up looking something like the name Jeremy Bearimy in cursive English. It makes total sense! Our brains are not exploding! Any questions?
The scene quickly became one of the highlights of The Good Place's third season, and as revealed during this year's Vulture Festival in Los Angeles, the joke's set-up came surprisingly easy for the show's writers. It all began when Rae Sanni, the newest writer to join the staff, became impatient with showrunner Mike Schur's musings about philosophy. "The 'Jeremy Bearimy' happened, in part, because I'm a lot less smart than these people," Sanni said with a laugh. "Mike was trying to explain the concept of time, and I couldn't get it for a full afternoon. I'm new on the staff, I'm the least experienced, and I'm boldly interrupting their conversations because I just wasn't following. I don't know how time works! Help me! So Josh [Siegal, co-executive producer] was literally just like, What about Jeremy Bearimy?"
"She's being modest," Schur interjected. "She was like, How can can time events be happening in the Good Place if they're not happening on Earth? We were like, Well, we're trying to say it like this, and she was like, This doesn't make any sense, and she was totally right." Schur and the writers soon realized they were searching for answers that were too long-winded and convoluted, when all they really needed was lean into the silliness of it all. And violà, the name "Jeremy Jeremy" was pitched, with "Bearimy" later being swapped in as the surname to ensure the "i" with the dot was included. (That "i" denotes Tuesdays and July, after all. Don't let it break you like it did with Chidi!) "It was another one of those things where we could've been writing and pitching for two weeks about solutions to explain this. This saved us so much time," Schur concluded. "It's a bit of a middle finger. You have a problem with the way time works? Too bad!"