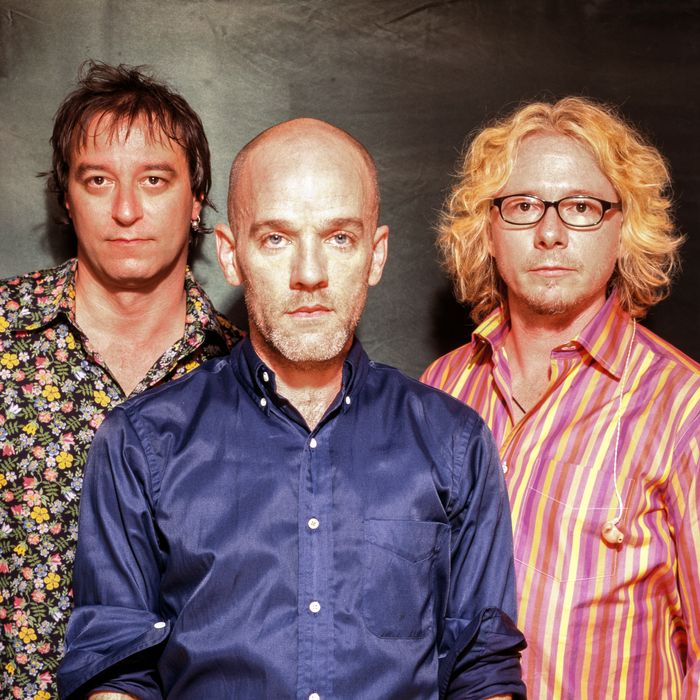 Photo: Tim Roney/Getty Images
There is an argument to make that the end of R.E.M. came on March 1, 1995, in Lausanne, Switzerland.
It was early on, during the tour behind R.E.M.'s latest album, the glammy and heavy Monster. The follow-up to Automatic for the People went No. 1 in the U.S. and several other countries, despite being the band's first non-masterpiece of the '90s. Its tour, though massive and stressful for the band, was, at the time, the biggest rock tour in the world. It was a surreal peak for four guys who went from mumbling through Athens house parties to playing fancy Swiss indoor arenas named "Patinoire De Malley" a decade later. It should have been a celebration. Instead, Bill Berry, founding drummer, collapsed and suffered a brain aneurysm while playing Monster's "Tongue" onstage. An immediate and successful surgery brought Berry back to health, but the frightening experience was a physical and emotional toll. (Berry later told Mojo that his hospital stay, which canceled the tour's final European dates, was "a kind of spiritual ordeal.")
It was also a sign. Berry had expressed dissatisfaction with being in a band as far back as the Out of Time sessions, and the aneurysm confirmed that something had to change. Leaving wasn't his initial idea. However, by 1997, after sleeping through 1996's New Adventures in Hi-Fi and not feeling compelled to record new music while his marriage was collapsing, it became the only option. Michael Stipe, Peter Buck, and Mike Mills, his friends and bandmates for over 15 years, were shocked, but they supported Berry's decision. However, the new trio, previously adamant about breaking up if any of them left, still wanted to play as R.E.M. And having just signed the largest recording contract in history at the time (a reputation-damaging $80 million five-album deal to renew with Warner), the trio was legally obligated to make more music. They decided to keep going with Berry's blessing.
Instead of a classic, messy rock-and-roll breakup, R.E.M., who spent their entire career upending the classic the rock-and-roll narrative, were left with something unexpected even for them: the loss of an essential member. When MTV asked Stipe in 1997 how R.E.M. would now sound, he replied, "your guess is as good as ours."
It doesn't help that New Adventures in Hi-Fi, the final album Berry played on, was widely considered the last "essential" R.E.M. record. Though it has aged well, it is at times too long and scattershot, and was not an overwhelming critical success upon its release. More importantly, it sold fewer records than what had come before. The following releases — 1998's Up, 2001's Reveal, 2004's Around the Sun, 2008's Accelerate, and 2011's Collapse Into Now — all experimented with different sounds to uneven results. Stipe took to calling his band "a three-legged dog," and fans and critics had no reason to disagree.
There were other non-Berry factors contributing to R.E.M.'s struggles, most notably the departures of Scott Litt, R.E.M.'s producer since Document, and longtime co-manager Jefferson Holt. Most notably, Stipe, Buck, and Mills were all pursuing various side projects and living in different cities. The distance between everyone was literal, and it showed. The result is a painfully mixed collection of music living in Berry's shadow, though many moments were still pleasant. Some were even great. Even would-be classics like "At My Most Beautiful" and "Imitation of Life" were accompanied by a caveat: "good, for post-Berry."
Writing about Murmur, Seth Colter Walls observed that R.E.M. was never about jangly guitars. Instead, they were about the power of one cohesive ensemble. It's indie's greatest lesson:Your technical abilities mean little in comparison with how you connect to your bandmates. Your band is your family, and R.E.M. acted like an actual family.
R.E.M.'s final chapter is the story of how a family publicly tried to carry on after losing one of its own. In that sense, these last albums loosely and unintentionally play out as different stages of real-life grief. The coldness of Up is the sound of shock and denial, with drum machines replacing the human Berry. Reveal, touted as the "happy" record upon its release, is full of aimless and muted anger, but in that Brian Wilson way of feeling helpless and bitter on a beautiful day. Around the Sun, having nothing to say, awkwardly tries to bargain with new ideas: What if we left New York? What if we got rid of all electric guitars? What if we collaborated with Q-Tip? Accelerate sounds as fun as a midlife crisis. By the time the band released Collapse Into Now in 2011, they finally sounded comfortable as a trio. Then it was all over.
We glorify artists for what they leave behind, but we don't often praise how some artists carry on after their moment seems to pass. There's a lot to take away from R.E.M.'s twilight years, in their decision to stay together and journey through vulnerability and sorrow until their amicable end. If you spend enough time with them, these five messy albums make the final years of R.E.M. more interesting and more rewarding.
In honor of R.E.M.'s recently released BBC box set, which features many songs from Up and after, Vulture has put together a sort of supercut of R.E.M.'s post-Berry career. This list is presented to flow as one album with the tracks organized, intentionally, out of time. (Listen to this supercut via Spotify.)
"Living Well Is the Best Revenge"
It's hard to overstate, after a decade of farting into keyboards, how alive R.E.M. sounds on Accelerate. The first four tracks alone almost justify the idea that this was R.E.M.'s comeback. (If only the rest of the album was as memorable.) They never wrote guitar music this loud or fast, so this return to form is more about energy than sound. But what energy; "Living Well Is the Best Revenge" ranks up with "Radio Free Europe," "Harborcoat," and "Begin the Begin" as one of R.E.M.'s most immediate album openers. Furious without being Monster sluggish, the track also features Stipe's most engaging vocal performance and lyrics since the also overtly political Document. This is not "good for post-Berry." In the words of the comprehensive and encyclopedic R.E.M. podcast R U Talkin' R.E.M. RE: ME?, this is just good rock-and-roll music.
"Supernatural Superserious"
In this alternative R.E.M. supercut world, "Supernatural Superserious," also from Accelerate, would be its first single. The song debuted during the band's 2007 five-night Dublin residency (later released as 2009's Live at the Olympia) and was originally called "Disguised" until Chris Martin called it crap. Like "Living Well Is the Best Revenge," "Supernatural Superserious" benefits the most from being born onstage; after a decade of writing orchestra ballads under Pat McCarthy's well-intentioned but dragging production, R.E.M., now working with Bono-approved Garret "Jacknife" Lee, needed to remind the world they were first and foremost a killer live band. They succeeded. The song is freakishly easy to love, especially with Mills's harmonies (always their secret weapon) and an opening Buck guitar that inspired a new generation to find R.E.M. on Ultimate Guitar.
"Why Not Smile"
The electronic and spacey Up, which turns 20 this month, was R.E.M.'s first post-Berry album, though the initial plan was for him to be on the record; after contemplating his departure for weeks, Berry announced his leave on the first day of rehearsals. The rest of the band, in a state of shock, decided it was best to move forward and finish the album. Though much of the album was already written with an experimental mind-set (in Tony Fletcher's Perfect Circle, Bucks says the early demos sounded like Elton John as performed by Suicide), "Why Not Smile," like the rest of Up, took on the gentle sound of that raw confusion and hurt. Stipe is disarming as he whispers "you've been sad for a while" over glowing keys and beehive guitars. This mood is hard to sustain across an entire album — and initial reviews were too quick to declare that it all worked — yet within one song, it is striking.
"Mine Smell Like Honey"
Knowing this would be their last album, R.E.M. constructed Collapse Into Now as a loving collage of every past album. For the first time, the band was okay with looking back to recapture the sounds that made them so beloved in the first place. And whereas every track on Accelerate was forced to fit its "we need to ROCK" agenda, tracks like "Mine Smell Like Honey" were comfortable with just being good R.E.M. jangles. (The best Collapse Into Now review came via CokeMachineGlow: "If there's any band that's completely earned the right to gracefully knock themselves off, it's R.E.M. It only took them fourteen years.")
"I've Been High"
In Johnny Black's Reveal the Story of R.E.M., a recharged Stipe compared Reveal to Automatic for the People's "Nightswimming," stating both captured "the summer as an eternity and kind of an innocence that's either kind of desperately clung onto or obviously lost." While "Nightswimming" is innocent and scared as hell, "I've Been High," a highlight of Reveal's more baroque songwriting, sounds numb. The general praise for Up and its successful tour gave the trio a much-needed confidence boost, so much so that they decided to expand "I've Been High" across an entire album. If Up was self-conscious, Reveal was too secure in itself. Like U2's All That You Can't Leave Behind, this was R.E.M.'s attempt to return to a "classic sound" that never existed: Out of Time meets Automatic for the People meets synths. And like U2, initial reviews were overwhelmingly positive for a record that sounded more slick than good. "I honestly don't know if 'I've Been High' is a real capture-the-moment thing, or someone thinking they're capturing the moment," said Buck.
"Airportman"
The underwhelming Up opener becomes a necessary instrumental break. It turns out the Radiohead influence worked both ways.
"Überlin"
Maybe more than any other R.E.M. record, Collapse Into Now is concerned with location. "Überlin," its best song, is not so much a pun on Berlin as it is a tribute to any city or town to call home. It sounds like a more mature "Losing My Religion," one that's thankful to know a place instead of mourning the loss of an idea. Berlin is also important to R.E.M. for one specific reason: the city's famed Hansa Studios was where the band recorded their final session and, with a teary live take of "Discoverer," where they played their final show.
"The Great Beyond"
For his 1999 film Man on the Moon, itself an adaptation of the Automatic for the People highlight of the same name, director Milos Forman asked Stipe to write a new song about Andy Kaufman that was as good as "Man on the Moon." To Stipe's credit, he got close.
This is also the time to talk about the great one-offs of post-Berry R.E.M. The rest of the R.E.M.-penned Man on the Moon soundtrack is worth at least one listen. The 1986 demo "Bad Day," finally released in 2003, still holds up even after becoming "It's the End of the World As We Know It (And I Feel Fine)." Their cover of Tommy James's "Draggin' the Line" for the Austin Powers: The Spy Who Shagged Me soundtrack is refreshingly goofy, like "Underneath the Bunker" and "Zither." And "We All Go Back to Where We Belong" is a worthy addition to the essential 2011 R.E.M. collection Part Lies, Part Heart, Part Truth, Part Garbage: 1982–2011. Also, shout-out to Stipe for covering Dashboard Confessional and Joseph Arthur (what Around the Sun should have sounded like).
"At My Most Beautiful"
Someone can write an entire book on the beauty of this song. For now, we can say this: "At My Most Beautiful" is impossibly lovely.
"Imitation of Life"
This whole supercut has been leading to its emotional core, which is Reveal's best song and one of R.E.M.'s best songs period. It's a soaring take on the ambivalence of fame ("no one can see you try" matching with "no one can see you cry" and sounding like a sing-along) without the showiness that drags down the rest of Reveal. (According to David Buckley's R.E.M. Fiction: An Alternative Biography, Mills said they almost cut the song because it sounded too much like R.E.M.) Rob Sheffield wrote upon its release that this ethereal gem, so delicate it could break in your hands, was their most beautiful song since "Man on the Moon." He's not wrong.
"Electron Blue"
As two Accelerate tracks kick things off on a high note, two tracks from Around the Sun, the hardest R.E.M. album to love, closes this supercut on a somber, reflective mood, because there's nothing more somber than mid-tempo rock. "We had a great record on our hands before we spent six months playing with it," Buck told Q, hinting that there is decent songwriting hiding under all the early-aughts rock production. And yes, every song, including the Q-Tip track, is the same tempo. At its best, like on "Electron Blue," Around the Sun plays up the band's newly found standards influence as a legacy act. (They had just put out their massive In Time: The Best of R.E.M. 1988–2003 collection and were too comfortable as a global touring force to prove anything new in the studio.) There's a freaky Burt Bacharach cover of "Electron Blue" that needs to exist, and that's the best thing you can say about Around the Sun.
"The Ascent of Man"
Because this is R.E.M., you have to end every album on a longing note. "The Ascent of Man" faithfully fulfills the role as it dribbles on like Bob Dylan writing "Sad-Eyed Lady of the Lowlands" but about taking a nap. (Berry's best contribution as a songwriter: knowing when to cut songs short.) At least Stipe sounds fantastic; his maturing voice is the best part about Around the Sun, and the "yeah yeah yeah yeah yeah yeah" chorus proves again how great R.E.M. can be when their songs are about everything and nothing at the same time. It seemed that R.E.M. read all the bad reviews for Around the Sun, because they soon returned to guitars on the short and lean Accelerate. For now though, thanks to this supercut, you can enjoy the best of what would have been, what could have been, and what is a brilliant career.