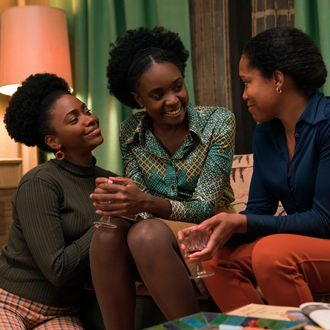 Photo: Annapurna Releasing
Let the countdown to Barry Jenkins's big-screen adaptation of If Beale Street Could Talk begin. Vulture has an exclusive first listen to "Philia," a composition for the film's score. "It's actually an idea that I came to relatively late in the process with Barry," composer Nicholas Britell told us about the track. In addition to Beale Street, Britell is responsible for Moonlight's chopped and screwed score, and the hypnotic Succession theme (Britell said he's about to start work on season two of the HBO show). "When I started working with Barry on [Beale Street], the first thing he said to me was that he was imagining that the movie might have the sound of brass and horns. So I wrote the music with brass and horns, and when we started working on the film, it felt like we were missing something from that texture. What we realized we were missing were strings." Britell added cellos and basses, and the result is a track that harnesses melancholy and melody to a romantic, emotional climax.
"The film is a story of love and injustice. The love is a huge focus of the movie: romantic love, the love parents have for children, a divine and pure, almost idealized, love," Britell said. Tish (KiKi Layne) and her family race to get her boyfriend Fonny (Stephan James) freed from jail on bogus charges from a racist cop. "This piece, 'Philia,' is actually a piece right near the end of the film which serves almost as a musical coming-together of a lot of the elements that you've heard in the film." Britell's moody composition is totally different than anything he did for Moonlight, but just as good — it makes Beale Street's story of love and resilience even more radiant.