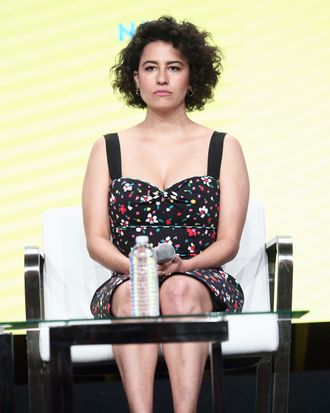 Photo: Frederick M. Brown/Getty Images
A political event at a Brooklyn synagogue featuring Broad City star Ilana Glazer was canceled after hateful messages like "Die Jew Rats" were discovered on the walls — the latest in a string of anti-Semitic vandalizations around New York City.
Per the New York Times, Glazer was scheduled to host a get-out-the-vote at the Union Temple of Brooklyn in Prospect Heights, where she planned to interview journalist Amy Goodman and two candidates for the New York State Senate, Jim Gaughran and Andrew Gounardes. Shortly after 8 p.m., though, on the night of the event, Glazer announced that the event was canceled, after disturbing messages including "We are here," "Hitler," "Jew Better Be Ready," and "End it now," were found on the walls.
The vandalism, which police are investigating as a hate crime, was discovered on the same day that two spray-painted swastikas appeared on a concrete pier on the Upper West Side, and two days after chalk-drawn swastikas were found on several residential buildings in Brooklyn Heights.
The Police Department has received 142 reports of anti-Semitic graffiti in the city in the past year, and the chief of detectives told reporters on Wednesday that there has been an increase in "anti-Semitic hate crimes, particularly swastikas, on buildings in parts of the city" in the past month. (Last weekend, a single shooter entered Tree of Life synagogue in Pittsburgh and murdered 11 people.)
On Friday morning morning, Mayor de Blasio tweeted that the recent vandalism was "the vilest kind of hate."
"We will fight anti-Semitism with every fiber of our being," the continued. "The NYPD will find the perpetrators of this hate crime and hold them accountable."