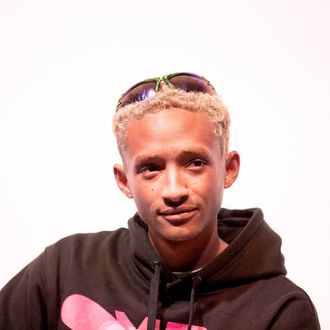 Jaden Smith.
Photo: Paul Zimmerman/WireImage
Everyone's favorite Twitter philosopher, Jaden Smith, released new music yesterday. He guested on Harry Hudson's new track, Just Slide, a song about sliding into the DMs and not a cover of the Goo Goo Dolls anthemic bop. No official video has been released, but Jaden tweeted out his verse set to Bella and Edward's wedding from The Twilight Saga: Breaking Dawn — Part 1.
The song oddly works over the scene, a marriage between an immortal sparkly monster and a scowly girl who later in this movie will turn into a walking corpse while gestating her half-vampire baby. In the song, Smith raps "Lay on the bed, hiding all of my sorrows, your eyes/Keep me going, girl, without you I could never survive," which perhaps echoes the moment in New Moon when Edward attempts suicide after believing Bella has died. It's important to note that his method of suicide was to go shirtless in Italy, which would goad Michael Sheen into literally ripping him apart. In conclusion, the Twilight movies are good and Jaden Smith is right to incorporate them into his art.