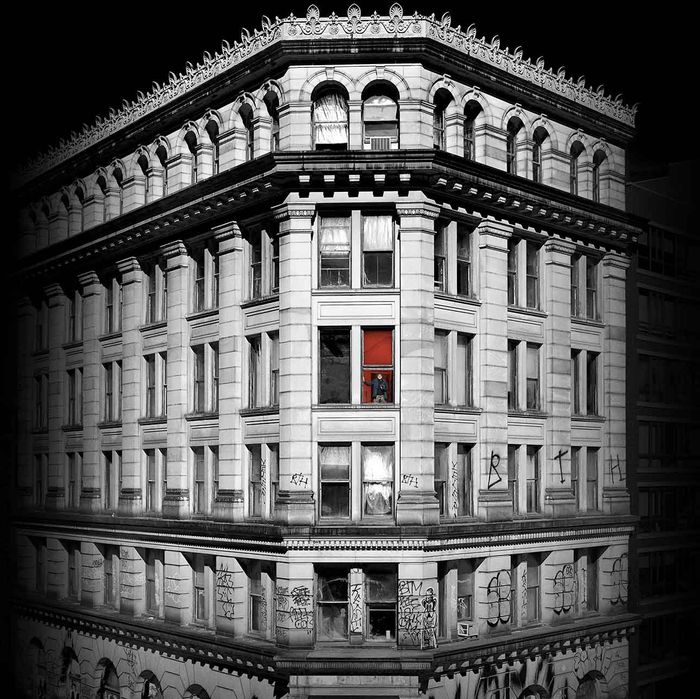 Jay Maisel in the window at 190 Bowery.
Photo: Courtesy of Stephen Wilkes
Art, according to Jay Maisel, "is trying to make others see what you see." The artist and photographer's words of wisdom come in the trailer of a new documentary directed by Stephen Wilkes, who follows Maisel — who, by the way, shot the first two covers of New York — as he prepared to move out of the 36,000-square-foot former bank on the Bowery he called home for nearly half a century. Of course, it's also probably the ultimate story of perhaps the greatest jackpot of the long-ago downtown bohemian real-estate bonanza, when nobody wanted anything to do with these Gilded Age relics but oddball artists.
The Renaissance Revival building on the corner of Bowery and Spring Street was built in 1898 as the Germania Bank, and it remained virtually untouched inside for years, a time capsule turn-of-that-century finance chic. Outside, it was covered in decades of graffiti. Maisel bought the building in 1966 for $102,000, living and working in the six-story, 72-room bohemian dream house. He even rented the fourth floor for a while to Roy Lichtenstein.
He sold it in 2015 for a reported $55 million to developer Aby Rosen, who held a fancy art show there to christen the space. Later it became home to a creative agency called Great Bowery.
As a young photographer starting out, Wilkes took an internship with Maisel in 1979, working with him at 190 Bowery. "When I heard that this building that changed my life and the man who shaped it were moving on, I immediately knew I had to capture Jay's world before it disappeared," Wilkes recounts in the trailer. The documentary will have its World Premiere this Sunday, November 11, at the SVA theater as part of the DOC NYC film festival.