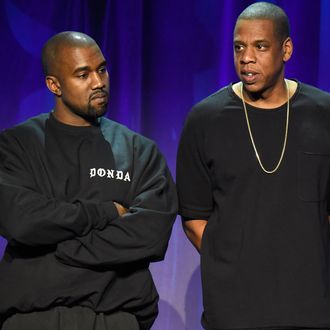 Yikes.
Photo: Kevin Mazur/Getty Images For Roc Nation
Where one rap feud ends, another can always be found still going strong. On Meek Mill's new album Championships, he and Drake bury the hatchet and reunite on a song after endlessly sparring years ago. One point of contention that remains unresolved, though, is whatever keeps dividing Jay-Z and Kanye West. At times, it's been business, most other times personal. But, for now, it appears that their fractured relationship has to do with Trump. Jay-Z features on Meek's album on "What's Free?" — a song that ironically samples Biggie's "What's Beef?" — in which he denounces Kanye for glorifying the MAGA hat.
"No red hat, don't Michael and Prince me and Ye / They separate you when you got Michael and Prince's DNA / I ain't one of these house niggas you bought / My house like a resort, my house bigger than yours / My spo — c'mon, man — my route better of course …"
Trump previously called Jay-Z "filthy" for campaigning for Hillary Clinton, to which Jay eye-rolled on his album with Beyoncé. Elsewhere in his verse, Hov warns people not to compare them to Prince and Michael Jackson (two other legends famously pit against each other) and stops just short of saying that Beyoncé is a better woman than Kim Kardashian, but still going far enough that Kanye can't miss the message.
Update, 1:09 p.m.: Well, look who finally remembered his Twitter log-in. Hov has tweeted a clarification to his verse, saying that while he's not down for Kanye's MAGA antics, they're still brothers. Ya know, just like Cain and Abel.