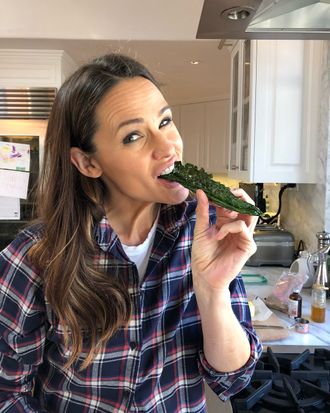 Director, writer, and star of @jennifer.garner, Jennifer Garner
Photo: @jennifer.garner
Jennifer Garner has had a year. She became a meme. She stars in HBO's Camping. Her divorce with Ben Affleck was finalized. She's found someone new. She started an Instagram account. And while this last one may be a small moment in her life, it's a momentous one in ours. Her page quickly became the most wholesome place on the internet, filled with recipes, crafts, and hope. Even the queen of cozy content, Ina Garten can't deny Jen's mini cooking shows. The actress will be joining Ina for her Thanksgiving special on the Food Network. To celebrate this momentous achievement, Jen crafted a construction paper turkey, like you would in grade school. She even gives it a little voice! Suddenly, everything is calm. The world will be a better place as soon as we delete everything on the internet except Jen's Instagram (and Vulture dot com). The content speaks for itself.
The first post
Some celebrities might go for a selfie, a quick "Hello, it's actually me!" and go overboard on the filter, but for her first post, Jen had vision. She created a time-lapse video of her changing a letter board to say "I am officially on Instagram so please follow me because isn't that how this works…" She even took a moment to add the "please!" This took effort and a tripod. On top of being the first post, it's also the first appearance of a beloved recurring character on Jen's Instagram: the letter board.
Books with Birdie
Unlike Bella Thorne, whose 19 cats are hardly mentioned on her Instagram, Jen's account doubles as a digital menagerie for her pets. The star of the show, however, is her Golden Retriever, Birdie. The blonde beauty sits patiently, often wearing cute glasses as Jen reads children's books to her. Books with Birdie even has a title slate, because here on @jennifer.garner the production value is of the utmost importance.
#PretendCookingShow
Everyone pretends to have their own cooking show when they're home alone and that's just a fact of life. Jen takes it one step further and shares her recipes with her 3.8 million followers. Her joy while cooking is infectious and ensures that the viewer doesn't feel bad for not owning a massive mortar and pestle — er, cauldron.
Tutu Tuesday
Another running series on her Instagram, Tutu Tuesday is where Jen Garner utilizes her extensive knowledge of ballet. She shouts out principal ballerinas in voice-overs and tries her best not to sound too creepy when it's a dancer she hasn't met but adores ("She travels everywhere with Lucky
Bunny, a stuffed animal from her dad."). Tutu Tuesday not only showcases Jen's wholesome obsession, but beautiful dancing and music. Unfortunately, she hasn't posted a ballet video since the beginning of October. Jen, if you're reading this, more ballet, please!
Mom memes
Jen Garner may be the only grown-ass celebrity to truly get memes. She often posts relatable memes, but everyone once in a while she'll make her own.
Necessary 13 Going On 30 appreciation
Since she's only had her Instagram while filming and promoting her movie, Peppermint, a lot of the posts are about that starring role. Every once in a while, however, there's a gem of a throwback, like this 13 Going On 30 workout. Any chance to rewatch this perfect movie is a chance we'll take.
The ultimate "Happy Birthday"
A text message isn't enough for Jennifer Garner. She pulled out a full marching-band uniform (this old thing?) and performed the "Happy Birthday" song on saxophone all to wish Reese Witherspoon a lovely 42nd. If your friends wouldn't do this for you, rethink some stuff!
Her own "David After Dentist"
The Hamilton soundtrack alone is enough to make a grown woman shed a tear, but adding novocaine and laughing gas to the mix made Jennifer lose it. "They said 'Are you okay?' and I said 'It's so beautiful,'" she cry-laughed. Forget all the Tonys, this is the only Hamilton co-sign needed.