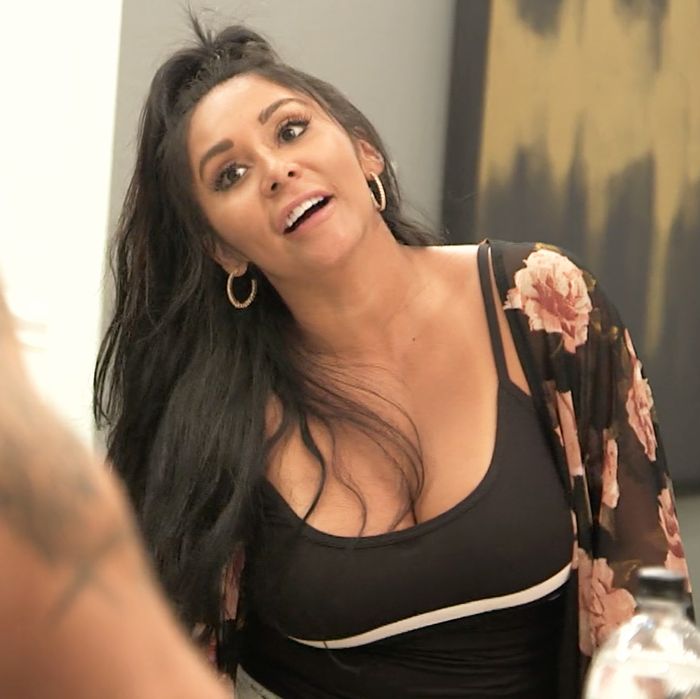 I thought of John Cheever's short story "The Swimmer" a few times watching this episode, in which, rather than hop from tony pool to tony pool, our roomies doggy-paddle from drunken Vegas vacation to drunken Seaside vacation to drunken Atlantic City vacation as their lives stagnate blurrily around them. But, like, in a fun way.
Three weeks after Pauly's birthday gig in A.C., Nicole is the first to arrive at the new shore house in Manalapan, which she says she found herself on Craigslist. (To be clear, she says "herself," and "Craiglist.") Complete with a wooden leopard guarding the front door and gold cushions in the living room, this huge, ineffably Jersey mansion looks kind of like it could belong to a member of the extended Gorga-Giudice clan. It even has a pool out back — complete with a waterfall and waterslide — so you can get upset about the migrating ducks (or at least, the migrating duck phone) and then tell Dr. Melfi all about it.
That said, Nicole is panic-stricken upon arriving: Where's the beach? There is an enormous backyard, and a truly alarming endless horizon of trees beyond the grass, but no sand. To be fair, the Jersey Shore castmates literally never go to the actual beach, although the lack of boardwalk access is a genuinely pressing concern.
Ron is the second castmate to arrive, making night one an effective reunion of the Spiral Squad responsible for last season's best, and most harrowing, episode. After toasting with the sacramental wine that is Ron-Ron Juice, they go out to dinner, where Nicole presses Ron on his relationship status in a way that only she, impish little sister, could get away with.
He says things with Jen are better now, "calm," "cordial" even. "Is that before or after she dragged you in the car?" asks Nicole, an emotional savage who wants what's best for her friends and loved ones, but a savage, nonetheless. "Honestly, I love you, Ron, but for the baby's sake, go to couple's therapy, fix yourselves, and be a good parent to your baby," Nicole says, and then they go out dancing, the only logical next step.
Nicole calls Angelina, who's already on her way to the house, and demands she reroute her cab directly to the club. And so Angeliners lugs her suitcase across the crowded dance floor (good thing she upgraded from her traditional garbage bags!), only for Ron and Nicole to immediately decide it's time to leave by the time she finally reaches them. Nicole passes out during the ride, only to wake up back at the house, happily surprised to see Angelina.
"Fuck you all," Nicole chirps, tucked into bed, her eyes shut tight. "I'm going."
Angelina calls Chris at 4 a.m. and then, as best I can tell, gets pissed with him for sounding pissed that she called him at 4 a.m. (By the way: Have we ever talked about the karmic perfection of our beloved Trash Bags getting engaged to a sanitation worker?) The next morning, she expresses her concern that they're fighting too much, though Ronnie and Nicole seem utterly unfazed. Angelina, meanwhile, remains unable to string together ten consecutive words without mentioning Vinny — who, along with Mike, will turn up that afternoon. Nicole tells Ronnie it should be their "mission" to see that the shart-crossed lovers bang once more, a plan the gang does not find to be mutually exclusive with their fondness for Angelina's fiancé.
But what if it really wasn't mutually exclusive? Grazing on a beautiful spread of meatsies and cheesies, Mike informs Angelina that he heard a rumor that she and Chris are "secret cuckers out in these streets." Angelina doesn't even know what that means, she protests. (Let the record reflect that I support Angelina and Chris's personal sexual choices, whatever they may be, so long as they're consensual, and between adults, and yadda yadda yadda, have fun out there, kids.) "I would cuck you," Vinny volunteers without hesitation.
In an extremely weird mating ritual that is both entirely a bit and entirely not, Vinny requests Angelina wash a dish and bring it to him. She theorizes he's attracted to her because she reminds him of his mother, which the show illustrates, hauntingly, by superimposing Paola's face over Angelina's leopard-print bikini.
Outside, by the pool, Big Daddy Sitch relaxes fully clothed in a lounge chair while his friends show off their dives. Nicole nails a surprisingly competent series of backflips; Angelina opts for what you might call a reverse belly flop, which I hope hasn't negatively affected her spinal alignment.
Once Jenni arrives, they're off to yet another steakhouse for dinner. (Very pregnant Deena, alas, is sitting this trip out, per her doctor's orders.) Nicole, who has been hitting the vodka sodas hard, knocks over her bottle of water. "What are you, a fucking cheese wiener?" she slurs in Angelina's general direction. She orders asparagus and only asparagus. When it arrives, she shouts, "Yes, bitch!" at the waiter, then picks up the stalks with her bare hands, shoving them into her mouth and complaining about how hot they are.
Last night, you see, was a red herring, in the exact shade of red as Ron-Ron Juice. Spiral Squad 2.0 requires only one member: Nicole's drunk alter ego, Dren. "I'm doing it! This is me! This is me! This is me! I'm doing it! This is me! Let me live! This is me!" Nicole announces to her bemused friends, the unwilling audience to an avant-garde, spoken-word rendition of that one song from The Greatest Showman. "I'm sorry I'm not — this is it. This is what you got."
I have said this before, but Best Supporting Actress Oscars have been won for less.
Jenni is already worrying, not baselessly, that they might get kicked out of the restaurant by the time Nicole gets up from the table. She starts dancing and intermittently shouting, "Come on, girl!" to no girl in particular. To be clear, there is no dance floor, nor any music. "She's in another realm," Mike observes.
At least Dren sticks to eating clean, stealing broccoli off Jenni's plate with her hands and throwing some of it at Vinny and Ronnie. "Come on, girl," she says again, though it remains unclear if she's addressing Jenni, or maybe herself, or maybe you and me — or maybe, more likely, the broccoli.