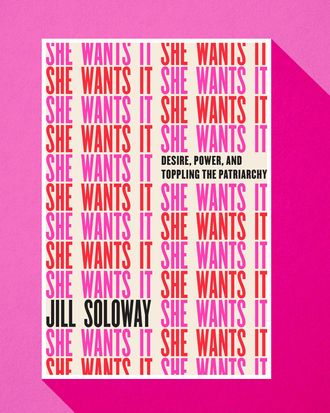 Though it's been out for a month, there's a chance you only found out about Jill Soloway's new memoir, She Wants It, this week, when a critical review — how best to say this? — eviscerated the project, calling Soloway "astonishingly clueless" and "a Gen Xer in millennial drag," among other things. Vulture was intrigued and decided to pick up a copy of the memoir, extracting the juiciest parts for your reading pleasure. And let us tell you, those 238 pages hold a lot of juice. From her early job rejections to the unexpected downfall of Transparent — and one delightful Henry Winkler story, because everyone loves the Fonz — here are seven tidbits worth your time.
Soloway was rejected from a writing job on Glee for being characterized as too "difficult."
Before Soloway found mainstream success with her 2013 indie hit Afternoon Delight, she was close to giving up on her Hollywood dream entirely and moving to Northern California — especially after Fox dismissed her from a writing position on Glee. As she recalled, after a week of waiting for her agent to deliver the final verdict:
The phone rang. It was him, plus another agent.

"So, you were right. The offer is not coming."

"The offer is not coming? What happened?"

"Apparently they asked around about you, and word came back that you're difficult."

"Difficult? What? Who the fuck called me difficult?"

That job went away.
Jeffrey Tambor was originally going to spin his sexual-harassment allegations in a very different way.
Tambor's former assistant, Van Barnes, and his Transparent co-star, Trace Lysette, accused the actor last fall of repeated sexual harassment, which Tambor chalked up to having "flaws." As Soloway remembers, during the November week when both accusations became public — and when the future of the show and Tambor's involvement was still uncertain — she got word that Tambor was planning to attribute his behavior to the show's unorthodox working conditions. "I'd heard from friends that Jeffrey insisted he's always engaged in a consensual and playful dynamic. He said he was flirtatious and bawdy, and that this was invited and welcomed," she wrote. "He claimed that it was, in fact, a beloved part of working on a show about sex and boundaries. I heard from others that he was considering dropping the bombshell to a journalist that Transparent was the most sex-obsessed set he'd ever been on." Additionally, Tambor harbored a conspiratorial mind-set:
Jeffrey thought that trans women were holding on to a righteous anger at the show and at Jeffrey, at cis people defining reality for trans folk. And I knew that cis women know how this feels, how it feels for men to not see them as people. To see them as something Other instead.
Soloway's first meeting with Lysette, after being alerted to her accusations against Tambor, didn't go as smoothly as planned.
The duo met at a Coffee Bean on the Paramount lot an hour before her statement was released. Soloway believed they would be talking about Tambor's bullying and bad temper — a personality that "all of us knew." However, she soon found herself trying to sway Lysette from releasing a much darker story, and tempers flared.
I could see the whole future of the show, everything I had worked for, all of it spinning out.

"I heard about the story," I said. "I can't believe you're doing this."

"Well, it happened to me," she said.

"But why didn't you come to us?"

"Why didn't you come to me?" she asked.

"How could I have come to you?" I said. "I didn't even know it happened. This was three years ago."
And the tears quickly started to flow — from Soloway.
"I had to tell my story," she said. "But I said in my statement that I wanted the show to continue."

"But the idea of the show will be tarnished now in everyone's minds," I said. "In Middle America when people think of trans people there's still so much suspicion, and Maura became this beautiful symbol of transness and now you're laying this imagery on there of her being a predator." Suddenly, I started crying. She was horrified.

"I'm the victim here and you're crying," she demanded.

She was right.
When Soloway's father came out as trans, she immediately knew she'd turn the experience into something for Hollywood.
Soloway reacted calmly to the news, reassuring her father — who now preferred to go by the name Carrie London — that she would still love him unconditionally. "There was a part of me that knew I would be making this into something. The feeling was undeniable," Soloway wrote. "Not simply that this could be a movie or a show or a something, but that it would be a movie or a show or a something. An artistic knowing cracked through everything that has come before. This was part of my story, and I was going to tell it."
Before Amazon signed on to produce Transparent, networks gave Soloway some outside-the-box reasons for passing on the show.
Showtime said no because of internal "political shitshow" turmoil; FX passed because they were developing a show called Pretty/Handsome about a family with a trans dad with Ryan Murphy, and "even though the project stalled, they really didn't want to offend him"; and Netflix felt that "Orange Is the New Black was their trans show, so they were out."
Prior to Tambor and Judith Light signing on as Transparent's parental leads, many other actors were front-runners.
Kevin Kline and John Larroquette were in the running for Maura, while Patti Lupone, Andrea Martin, and Tovah Feldshuh were the initial contenders for Shelly. In fact, Soloway had to be talked into casting Light. "I wasn't sure. She didn't seem Jewish at all," Soloway wrote. "I did some research and found out she actually was Jewish and from New Jersey. We asked if she would cut her hair. No!, she said, but of course she could wear a wig."
Henry Winkler, America's honorary dad, helped craft one of Transparent's second-season story lines.
With season two of the series venturing into the Pfefferman's Polish and Russian family history — and lots of flashbacks, to boot — a few choice anecdotes from Winkler during a surprise visit to the writers room helped weave together some background elements of the narrative. "He brought us a beautiful spider plant, the kind with babies that drop from it on green stands," Soloway recalled. "'This plant was made from the cutting of another plant that traveled here in the foot of a casket,' he told us. 'My mother snuck this plant in the night they left Germany in a hurry. Hiding things wherever they could. You can have it for your writers room.' He also told us about hiding precious family heirlooms inside of melted chocolate that hardened in time for transit. We decided to write it into the show."