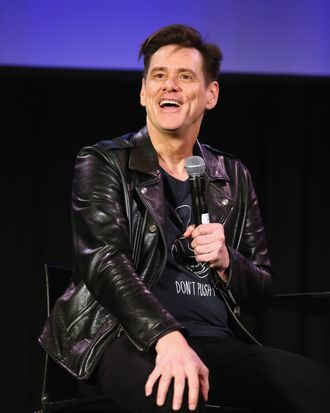 Jim Carrey.
Photo: Joe Scarnici/Getty Images for New York Magazine
If you've taken a gander at Jim Carrey's Twitter account over the past year, then you know it includes just about everyone in the Trump administration being brutally mocked via Carrey's drawings. (The newest addition, which he posted during his panel at Vulture Festival? An unflattering depiction of Mitch McConnell on a turtle's body.) Aside from skewering politicians on canvas, Carrey also just debuted his first solo show at the esteemed Maccarone Gallery in Los Angeles. However, as Carrey noted at Vulture Festival on Sunday, his management was initially skeptical that making his drawings public would be a good idea for his career — advice Carrey immediately scoffed at.
"Well, it was interesting, because when I first started playing on Twitter, like everybody else I just got myself in trouble all the time because I was honest, which is a terrible thing to be on Twitter," he told moderator Jerry Saltz. "It was a little scary and I became kind of an activist when it comes to a lot of things that I was seeing, and there was a lot of pressure on me from my management and people in charge. Don't mess this up. You have good will in the world, people love you. If you start talking about politics or whatever issues you're going to lose half your audience. And I say, lose them!" Carrey did add, though, that he gives himself a layer of protection against the temptation of impulse-tweeting: "The first thing I did, which I think was really smart, is I gave my Twitter to one of my assistants so that I wouldn't make that rash choice in the middle of the night, like our president."
Carrey has zero intention of deviating from political art, mostly because it's given him a new outlet for creative and professional fulfillment. In fact, we should probably be prepared for him to increase his output — the 2020 elections will be here soon, after all. "It has turned into an incredibly beautiful thing," he concluded, "and I just feel so gratified."
This post has been updated to reflect Carrey's comments more accurately.