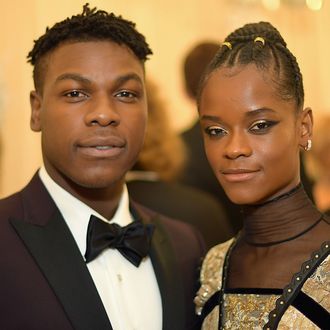 Photo: Matt Winkelmeyer/MG18/Getty Images for The Met Museum/Vogue
Star Wars star John Boyega and Black Panther's Letitia Wright are set to lead Hold Back the Stars, a film Deadline says will be like "Romeo & Juliet meets Gravity." The Magicians EP Mike Cahill is directing, with a script by Christy Hall.
Based on the book by Katie Khan, Hold Back the Stars will be the saddest entry in Boyega and Wright's contributions to the black sci-fi canon to date. The pair will play a couple reminiscing about their relationship while slowly running out of oxygen in the vast emptyness of space. If they don't have a tearful "I feel like we're growing apart" half-joke as they slowly drift away from each other, I will walk out of the theater.