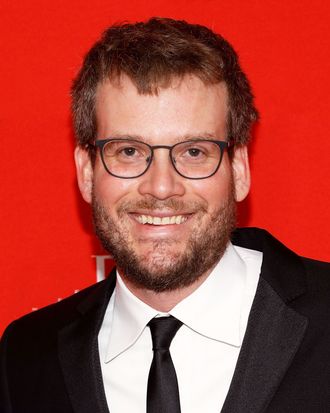 John Green.
Photo: Taylor Hill/FilmMagic
There's a very good chance you've heard of the Green brothers, who are prolific makers of stuff on a variety of fronts. Hank Green is an entrepreneur, musician, and newly published author (An Absolutely Remarkable Thing); John is an accomplished writer and YA novelist (The Fault in Our Stars, Paper Towns) whose books have been adapted into hit movies. Both are beloved YouTube personalities who have published thousands of videos, diaristic and otherwise, as the "Vlogbrothers" since the late 2000s. But these days, they have shifted their attention to podcasting: Earlier this week, the brothers kicked off a new partnership with WNYC Studios, the home of productions like Radiolab and Death, Sex, and Money, that will see a reissuing of their existing podcasts, Dear Hank and John and The Anthropocene Reviewed, and the launch of a new one, SciShow Tangents.
An adaptation of the popular edutainment YouTube series that features Hank along with writer Ceri Riley, cartoonist Sam Schultz, and producer Stefan Chin, SciShow Tangents debuted on Tuesday and will engage in raucous discussions about weird scientific factoids. Dear Hank and John, which publishes new episodes every Monday, is an old-school conversational podcast that sees the brothers attend to questions from listeners about life's big and small questions. The Anthropocene Reviewed, which releases new episodes monthly, is a curiously sparse project in which John presents short essays reviewing various aspects of the Anthropocene — that is, the current geological age in which human activity has profoundly affected the Earth. The Anthropocene is often discussed in terms of human-caused climate change, and thus carries a certain end-times vibe. John's essays inherit that vibe, palpable as he reads out poetic reviews of things like cholera, Super Mario Kart, and the Taco Bell breakfast menu.
I spoke to John last week ahead of the relaunch with WNYC Studios about this new partnership, podcasting, and, of course, the Anthropocene.
Could you tell me more about this partnership?
Well, we've been huge admirers of WNYC Studios for a long time. Hank and I both really love Radiolab. We love Nancy. We really enjoyed Abbi Jacobson's show, A Piece of Work. So for us, it began with us being fans of the way WNYC Studios made podcasts. Also, our producer is someone I've known for 20 years starting from when she worked in Chicago, where I got my start as a writer.
How does that relationship with WNYC Studios work?
They have better distributive reach than we have on our own, so that's certainly added value for us. But the biggest value is in the creative partnership, especially when it comes to the shows that we do that are less well-established. For me, with The Anthropocene Reviewed, they have astonishingly talented composers and mixers who really bring something important to the show.
Can we talk a bit more about Anthropocene Reviewed? I really enjoy it, and how it feels like a space for you to work out some writing exercises.
[Laughs.] Yeah, the show is a series of essays disguised as reviews. I started out my career as a book reviewer. I've reviewed hundreds and hundreds of books for Booklist magazine, and the format of a review has always interested me, particularly in the age of Amazon reviews, Goodreads reviews, and Yelp reviews. In some ways, The Anthropocene Reviewed is an opportunity for me to get back to my roots. With the podcast, I want to pay careful and sustained attention to the world around me, and that's something I often feel like I don't do, especially when I'm on the internet.
How do you pick what to review?
A lot of the reviews come from listener suggestions. I would never have reviewed the Taco Bell breakfast menu if someone didn't suggest it, and I wouldn't have learned the astonishing story of Taco Bell founder Glen Bell. There are also some things I review just because I've been interested in them for a long time.
Has it helped you arrive at a better understanding of the Anthropocene?
[Laughs.] I feel like I have started to think a little differently about the [human] enterprise as a whole. These days, I'm able to see human life in a more big history context. Like, yes, a lot of what is happening is new, but at the same time, the only reason avocado trees survived is because humans, tens of thousands of years ago, were already reshaping the planet to suit their needs. We're up to a lot of the same stuff that we've been up to for a long time. It's just that now we have tremendous new powers that we don't know how to live with yet.
How does writing these podcasts differ from the way you write novels, or making YouTube videos with Hank?
Podcasts are so intimate, you know? That's really appealing to me, especially in a time when the world feels very loud. When I listen to podcasts, I'm doing the dishes, I'm driving my kid to school. These voices are with me in those moments, and that feels important.
To be honest with you, podcasting feels to me the way YouTube felt in 2007 and 2008. It feels exciting and invigorating. And it also feels like the broader public doesn't understand how cool it is yet, you know? I like that.
What's in your podcast rotation?
I love Nancy, I love Radiolab, I love More Perfect — I promise that's the last WNYC show I'll mention. I've listened to This American Life for more than half my life. Fresh Air, Planet Money, The Daily, stuff like that.
Actually, there's a weird podcast that I'm really obsessed with. It's a fiction podcast for children called The Unexplained Disappearance of Mars Patel. My kid and I listen to it every day and we're just so into it.
Do you think about writing a fiction podcast?
Ahh, it seems so hard. I'm so … limited in my ability to tell fictional stories. We'll see. Life is long. Hopefully.