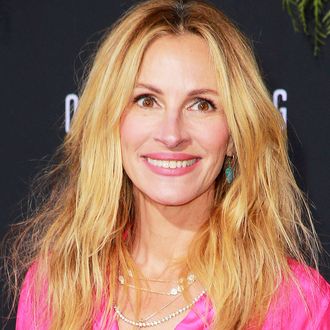 Queen of ASMR!
Photo: Rich Fury/Getty Images
The closest I've come to Googling ASMR was when I counted the number of times Bradley Cooper said "fuck" in A Star Is Born. Until now, that is, when I got the once-in-a-lifetime thrill of hearing Julia Roberts tell Gwyneth Paltrow to "shut [her] fucking face!" (Ariana Grande's signature swear — "Honest to God, knock me out" — has been dethroned.) There's something uniquely special about hearing celebrities swear outside of the context of movie dialogue, and Roberts is really good at it!
On Paltrow's Goop podcast this week, she hosted Roberts to talk about "seismic life shifts," Homecoming spoilers, and how truly lovable George Clooney is. They also talked about lucky numbers, eliciting this truly delightful exchange:
Julia Roberts: 42's my lucky numbaaaaaah.
Gwyneth Paltrow: [whispers] That's my lucky number!
Julia Roberts: Shut your fucking face!
One day I'll figure out what ASMR really is, but until then I'm satisfied with the pleasure of hearing celebrities say "fuck."