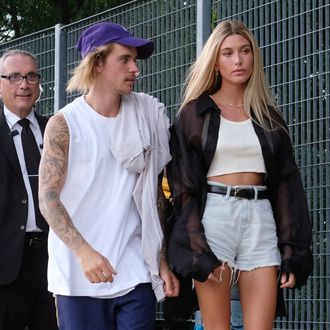 Photo: Nicholas Hunt/Getty Images for NYFW: The Shows
Pete Davidson might be getting lots of Ariana-themed ink covered up, but that hasn't deterred lovebirds/newlyweds(?) Justin Bieber and Hailey Baldwin. Speaking to Page Six TV, tattoo artist Bang Bang revealed that Baldwin and Bieber secretly got couples' tattoos, and that Bieber's is on his face.
"Justin's tattoo is on his face," Bang Bang said, "and I haven't seen any photos of it. So he's doing a good job of laying low." The tattoo is allegedly on one of Bieb's brows, and is delicate. Page Six believes you can see the word "grace" hidden amongst Justin's ungroomed eyebrow hairs.
The coverage of Baldwin and Bieber's courtship has been full of denials, vagaries, and burrito-eating body doubles, so don't expect confirmation of the "grace" brow tat any time soon.