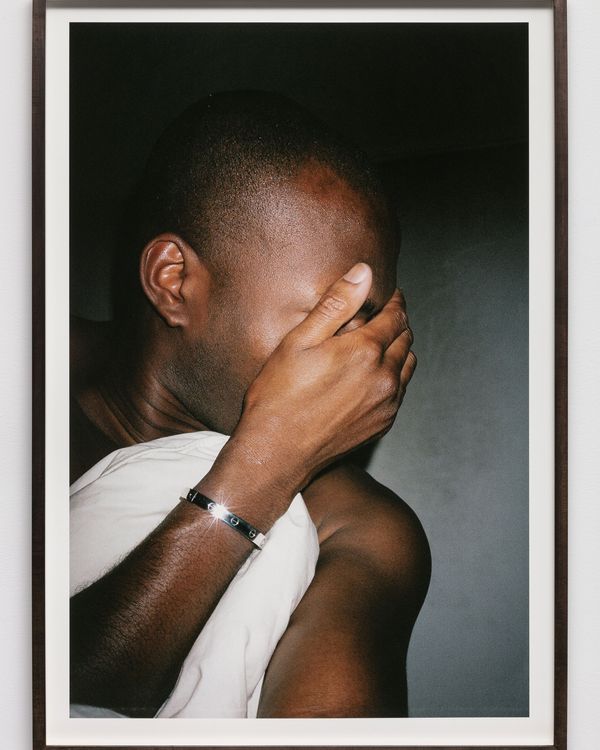 Kayode Ojo,
Scorched Bedroom, Paris (Cartier)
, 2018: C-print mounted on museum board.
Photo: Courtesy of the artist and Martos Gallery, New York
One of the sculptures in Kayode Ojo's solo show "Equilibrium" at Martos Gallery features a male chastity system. I wouldn't have had any idea what the menacing shiny metal contraption was if I hadn't read the exhibition checklist. Same goes for the vaguely medical-looking syringe guns that lay next to it on a mirrored end table you'd expect to find in a high-rise condo at the turn of the millenium. The perverse potential of the instruments, the fragility of the glass they're perched on, the composition's meticulous — not to say OCD — precision, and the impermanence of the entire display, feels pregnant with anxiety. It's not clear after all if this is a ready-made or still life mise-en-scène.
Ojo's art often plays with a certain narrative ambiguity leaving you wondering, just what did I walk in on, exactly? Riding the line between sculpture and photo is not the only point of uncertainty. Friend or foe? Black or white? These questions are central to "Equilibrium," which Ojo explains takes its title from a 2002 sci-fi film starring Christian Bale and Taye Diggs, set in a dystopian future where emotionality is criminalized. Spoiler alert: "Taye Diggs is the sidekick who ends up becoming the villain," says Ojo. "I'm interested in that character because I'm interested in betrayal." The Tuskegee syphilis experiment, Rachel Dolezal, Samson and Delilah, luxury brands going downmarket — these are all examples of deception and misrepresentation that come up when he talks about the show's themes.
"Equilibrium" is the artist's first solo exhibition in New York and third in a few short months, following closely on the heels of a show in Paris at Balice Hertling and one in Berlin at Sweetwater. All three combine video, photo or painting, and precariously assembled ready-made sculptures with a unique vocabulary of animated thingness Ojo has been developing over the past few years.
"Formally it is something I don't see anywhere else," says Alex Hertling of Balice Hertling about Ojo's way of working, where the artist brings together clothes, furniture, wigs, jewelry, and household objects in very deliberate configurations but without any kind of permanent adherence. A blazer hangs from a lamp. A dress drapes over a chair poised atop a mirror. A body chain spills out of the crotch of pleather jeans upside down and hooked onto a music stand.
"Everything is made to be photographed," says Ojo. And in this show, a couple objects find their way into both a sculpture and a photo. But the artist also explains, "I'm always shooting photos of the sculptures as I'm making them." Photos help him determine when a work is finished and they function as a reference for how to reassemble a work in a collector's home. Two-dimensional depictions are also the first way Ojo interacts with many of a sculpture's component parts, consumer products he orders from the web and unboxes in his bedroom studio. "These things exist online and in images and then you have to figure out how it can be a sculpture," says Tennessee-born Ojo, who majored in photography at SVA, graduating with a BFA in 2012.
When he moved to New York after high school, Ojo wanted to be a fashion photographer. Growing up in Cookeville, Tennessee, fashion and advertising were a lot more visible than contemporary art, but even access to what you'd see in a magazine ad or on a tv commercial was pretty limited. "There was a mall," he says, "but if you wanted brands you'd have to drive to Nashville." His family didn't do that. "My parents were immigrants. They weren't huge consumers." Ojo's parents moved from Nigeria for his dad to teach engineering at the university in Cookeville. There, he grew up around kids who wore hunting camo and brought homemade jerky to school.
Since he was a kid, Ojo's always been interested in the misuse of objects, in prizing things like a suitcase lock for something other than its prosaic function. The entire luxury industry in a way is a perversion of an object's utilitarian function, turning clothes and furniture into tools of self-transformation rather just a dress to wear or a chair to sit on. But these tools can be slippery, their value unreliable.
"I was talking to someone the other day who thought everything I made looked super-expensive, but actually I'm looking for an object where the exact value is sort of unclear," says Ojo. "Something trying to be high end but it's not or something harkening back to a certain era of high end."
In one of the self-portraits included in "Equilibrium," made as a commission for the Studio Museum in Harlem's inaugural issue of Practice in Print, Ojo wears a Naomi Campbell-esque wig, a glitzy costume jewelry collar, and a glam gown he ordered from boohoo.com. The drag extends beyond just cross-dressing. "At 2 a.m., I'll be looking through every beige polyester dress online and the website will be like, 'buy now, only one in stock' or '50 percent off only for the next two hours.' Even though I'm not buying this dress to wear to a party in the Hills, I become that consumer. I abide by all the same rules as someone who is."
Ojo's work suggests the performance of class and anxieties of taste inherent to decisions like what to wear and how to decorate. "How do I express a level of intelligence and wealth? Is it okay to have money? Where should it be displayed? These are things people are worried about," he notes. But his interrogation of objects and their value has another connotation. "This idea of objecthood is related to the fact that for a long time you could buy a black person," he says. And this not-so-distant history is related to how racism functions today. "It's this thing that can always be in your head. Every interaction you wonder, 'Is this fetishization?'"
In "Equilibrium," Ojo includes a video featuring a white Belgian dealer of African objects. He's handling a 19th-century Nigerian divination object, a figure carved into a bowl, as he gives his pseudo-academic sales pitch turning the object over and over again in his hands. "It's kind of this uncomfortable touch," says Ojo, who notes both the macro and micro context, Belgian's fucked up colonial history and his parents being Nigerian.
Ojo often appropriates video from movies, commercials, or social media — this one with the Belgian dealer he found on Instagram. They're visual ephemera that he stumbles across and can't get out of his head — "cursed images," he calls them. In the show in Berlin he included a Jockey underwear advertisement that featured a shirtless, muscled white man cradling his adopted black infant baby. "I was returning something to Macys and this was on these giant screens. You really can't help but not be triggered by this."
Offsetting these videos featuring racialized power imbalances, Ojo's New York and Berlin exhibitions include photos capturing intimate moments of interracial banality that foreground both his presence as a black person and his agency constructing the images. In several from the Berlin show, Ojo's hand reaches out from behind the camera to caress the white subject in the photo. A thumb against teeth. A hand underneath a cross pendant. One from the New York show is a you-and-me selfie, Ojo's face pressed against an older white man's, their glasses colliding. "I like how this picture looks like a glasses ad," he says.
Another picture in the show is actually an ad of sorts, an image from a series Ojo shot for Balenciaga's Instagram. In it, he's sitting on a clear plastic Ikea cantilever chair, shirtless and wearing the jeans Balenciaga sent him in the mail. "Everything they sent me was very '90s and very thrift store," he says. The irony of course is these bootcut jeans are one of the only designer items in the show and look they least like it.
The fantasy of looking regular is different than the luxury-industry mythology Ojo (and I) came of age with. Fairy-tale Chanel perfume ads shot by Baz Luhrmann or the Chloé Spring 2000 campaign frosted with Y2K glitz. The latter is full of lithe shiny bodies underneath ridiculously impractical, barely there shirts made from spiderwebs of body jewelry. Ojo points out the utopian world-making of this sort of imagery while also puncturing its fantasy with his skepticism: "I just think, where is the safe space where she is wearing this shirt?"