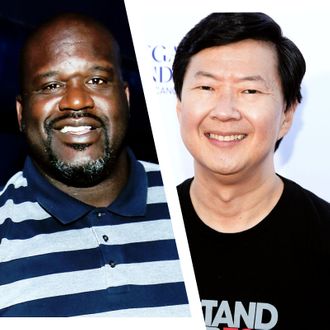 Shaquille O'Neal and Ken Jeong.
Photo: Getty Images
Having competed against each other in TBS's Drop the Mic series earlier this year, Ken Jeong and Shaquille O'Neal are now teaming up for a new show at the network. TBS announced today that it's ordered an unscripted comedy pilot, tentatively titled Unqualified, in which Jeong and O'Neal will tackle a series of odd jobs — some that have "always intrigued them, along with a few they'd rather avoid." Here's more from the pilot's log line:
Between them, there are very few things these two iconic Renaissance men can't do. Shaq easily shifted from court to courtside commentary as an analyst for Turner Sports' Emmy Award-winning Inside the NBA on TNT. And Jeong really is a medical doctor as well as playing one on TV. But can they be scuba instructors? Line cooks? Dental hygienists? Nude art class models? All in one day?
TBS also shared a first-look photo from the show's set:
Jeong and O'Neal will serve as executive producers on the pilot alongside Tim Heidecker, Eric Wareheim, and Dave Kneebone of Abso Lutely Productions as well as Jensen Karp, Perry Rogers, Colin Smeeton, Mike Perris, and Brett Carducci. "We are built to hustle," O'Neal and Jeong said of the project. "We're thankful to TBS for giving us the opportunity to embrace any challenge that comes our way and we hope to surprise everyone with our ability to learn the ropes on the fly."