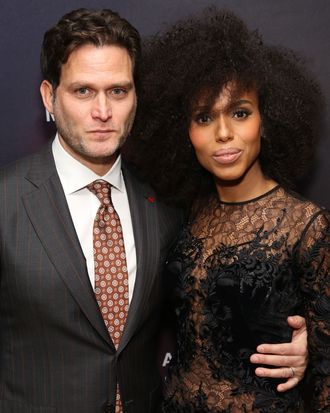 Photo: Walter McBride/WireImage,
The new play American Son is sure to spark conversation. "It asks almost every hard political question that we're dealing with right now," Steven Pasquale, who stars as Kerry Washington's onstage husband, told Vulture at last night's premiere party (among them, our varied social epidemics: police brutality, racism, misogyny, classism, etc.). "Some of it is an easy answer, which is that white people need to listen a little bit more clearly about what it's like for non-white people to live in this country." Washington stars as Kendra, a panicked mother whose son has gone missing and turns to the police to aid in her search. Through four main perspectives, the colliding mentalities of Black Lives Matter and Blue Lives Matter are brought center stage.
"We have to get to the place in our conversation where 'all lives matter.' It's okay to say that blue lives matter if it's also okay to say that black lives matter," Washington said. "But we should all be able to agree that we all matter and that individually our own groups have their own challenges. I feel like one of the things that's so beautiful about our play is that it doesn't just say the words 'black lives matter,' but it embodies the idea that this life of this young African-American child matters deeply — not only to his parents but to the community in the Booth. We don't even meet him, and he matters to us."
When asked, then, how they'd feel if President Trump were to attend one night, the play's stars weren't thrilled at the thought; Washington, for one, exclaimed, "Oh, God!" at the prospect before calling back to Brandon Victor Dixon's response to Mike Pence attending Hamilton in 2016.
"I was really inspired by how the Hamilton cast handled Pence's visit, so I think I would reflect on that and take the opportunity to say something to him and whoever is in his group," she said. "[Trump] can go where he wants and watch what he wants, and if he's courageous enough to come to our play, I would hope that it would crack his heart open, too, and that more people would matter to him than […] currently do."
Pasquale, on the other hand, didn't mince words: Trump, whom he called a "lunatic" and an "open, naked racist," is unequivocally unwelcome.
"If he found himself in our audience, there is zero percent chance we would do this play," he said. "I would come out onstage and I would say, 'You are not allowed to legislate against our great American cities and against non-white people and against the LGBT community, and then enjoy our culture.' We would have him removed, and then we would do the play for the decent people who came and paid for their tickets."