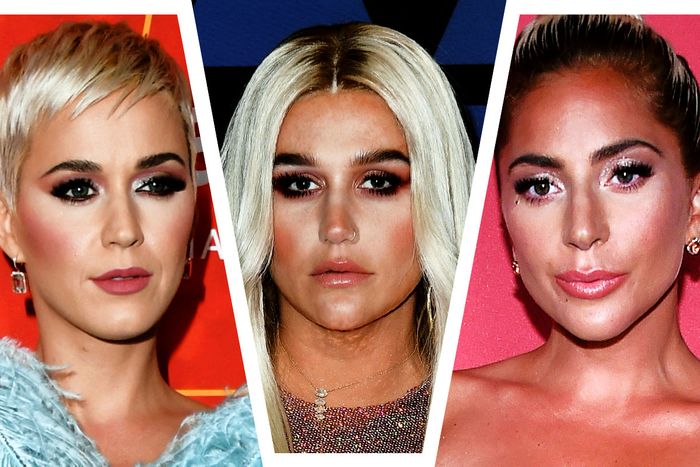 Katy Perry, Kesha, and Lady Gaga.
Photo: Getty Images
Kesha and Lady Gaga swapped text messages calling Katy Perry "mean" for not denouncing producer Dr. Luke, ultimately leaving Perry feeling used by both sides, according to newly released court documents.
Kesha, whose legal name is Kesha Rose Sebert, was sued by Dr. Luke in October 2014 over her public claims that he drugged and sexually assaulted her. Dr. Luke, whose legal name is Lukasz Gottwald, has denied Kesha's accusations, and has not faced criminal charges relating to them.
Dr. Luke's legal team said in a June court filing that Kesha had also smeared him in texts with Lady Gaga — by her claiming that he had also raped Perry. Perry, whose real name is Katheryn Elizabeth Hudson, has denied Kesha's allegation that Dr. Luke assaulted her, including in a sworn deposition.
The text-message exchange between Kesha and Lady Gaga, legally named Stefani Angelina Germanotta, was made public Thursday night in a massive document dump of previously sealed court filings.
"I'm really upset with Katy Perry," Kesha texted Lady Gaga on February 26, 2016.
"She could bring the whole thing to a head," Kesha also texted, saying in yet another missive, "but she won't."
"She was raped by the same man," Kesha texted.
Gaga said at one point, "U are really strong standing up to him, she's not as strong as u yet." She then asked, "Have u talked to her?"
Kesha replied, "Your right. I need to find sympathy and empathy for her. she's so mean. it's hard."
"Do u want me to see if I can talk to her?" Gaga offered. "I know she's mean."
Kesha said, "Are you friendly with her?"
Gaga replied, "NO."
"Omg no," Gaga said in a subsequent message. "She makes me angry about shit by I just try to have empathy for her."
In the same June 2017 deposition where Perry said Luke didn't rape her, Perry explained why she hadn't taken sides.
Perry said during the deposition she "felt pressured" to voice support for Kesha, but "I also knew both of them and a lot of people did not. So it was easy for them to be disattached and support an idea rather than an actual instance."
After seeing the texts between Kesha and Lady Gaga, Perry said she felt "[a]nnoyed, pissed off that she would bring me into it in this way, annoyed at both Luke and Kesha."
Perry explained that she was annoyed with Dr. Luke "[b]ecause he knows I'm a tie breaker."
Pressed to explain, Perry said: "Because when I say that I wasn't raped, 19 because I was not, that means that someone's lying … And I want to stay out of it because I know them both and I empathize with both of them and obviously it's a horrible situation for both of them. And the only two people that know what really went on are those two people.
"But Luke was using me as a pawn because it's a good play," she also said, later adding, "to get some more truth."
Perry also told Dr. Luke that she wouldn't work with him on Witness "[b]ecause working with him at this moment would mean — would not be — would not be received well because of this lawsuit."
Additional just-uploaded documents in Dr. Luke's Manhattan Supreme Court case include claims about his production work following Kesha's allegations, as well as notes from her mental-health providers.
An adviser hired by Kesha's lawyers claims in one document that Dr. Luke has worked with artists such as Sean Paul, T-Pain, Fergie, Jason Derulo, Kim Petras, Ty Dolla $ign, and Iggy Azalea since Kesha made her allegations — undermining his claims of lost work.
Reports from Kesha's mental-health providers appear to indicate that she confided about Dr. Luke's alleged abusiveness as early as 2011.
Both Dr. Luke and Kesha's lawyers claim the documents bolster their positions.
"There is nothing worse than abuse and sexual assault. Dr. Luke supports any woman or man who seeks to address sexual abuse in the legal system," his legal team said in a statement. "That is not what happened here. It is also horrendous to falsely accuse someone of a heinous act."
Said Kesha's reps: "The truth of Kesha's longstanding abuse allegations is borne out by the evidence."
Lady Gaga issued a response on Twitter on Friday, saying, "These are old texts."