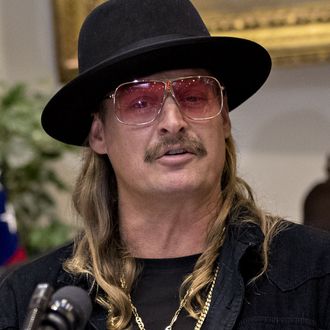 Kid Rock.
Photo: Andrew Harrer/Bloomberg via Getty Images
The people of Nashville will have to do without a throwback pop star to rally around this Christmas, as Kid Rock has been pulled from his position as Grand Marshal of the 65th Nashville Christmas Parade, according to Nashville News Channel 5. The move came shortly after he made an appearance on Fox & Friends, where he decided to call Joy Behar a bitch, because apparently she made a joke about him he didn't like over a year ago. His act of vengeance resulted in both Nashville Mayor David Briley and Metro Councilman Freddie O'Connell canceling their participation in the parade. For his part, Kid Rock decided to issue a statement – because, hey, he has even more free time now – in which he defended his words:
Behar has been an outspoken critic of President Donald Trump and when Myself, Sarah Palin and Ted Nugent visited The White House last year, Behar called it "the saddest day in in the history of the White House since the British burned it to the ground in 1814." 

Today I said "Screw that Joy Behar bitch"

Mess with the bull, you get the horns. End of story.

I apologized for cursing on live tv, I will not for my sentiment nor do I expect an apology from her or anyone else who has choice words for me or doesn't like me.

God Bless America.
Parade organizers have invited James Shaw Jr., the man who stopped a shooting at a local waffle house, to serve as Grand Marshal instead. God Bless America, indeed.