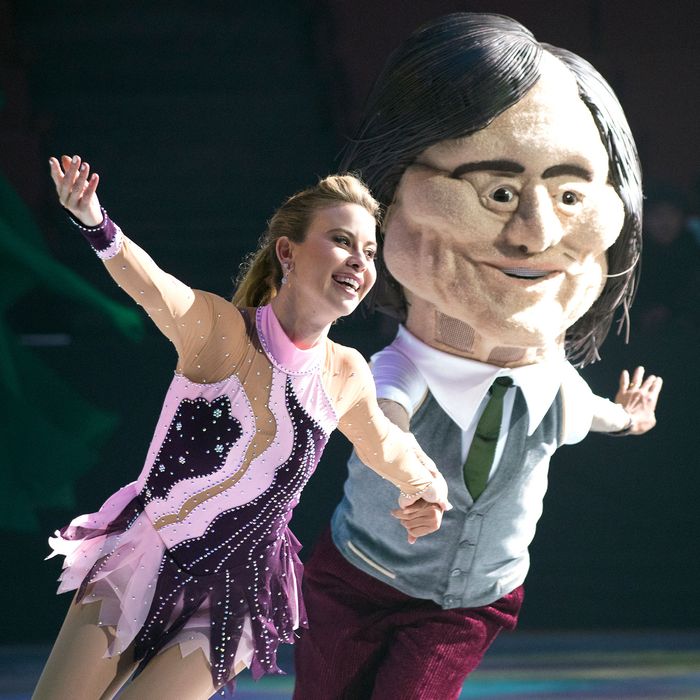 Photo: Erica Parise/SHOWTIME
Jeff Pickles has come unstuck in time. His breakdown, which sort of started two weeks ago but really has been precipitating since before this series began, continues to escalate. Like us in the audience, he can no longer tell what's real and what's hallucinatory. Also: Tara Lipinski's back in a big way, as is the horrifyingly enormous Mr. Pickles head. This episode asks us to consider how much control Jeff has over his world, after all.
Apparently, a college student put together a violent video game where one plays as Mr. Pickles (or "Lt. Pickles") shooting his puppets. It makes sense why Seb would demand his lawyers get it taken down, but it also underlines an essential capitalist hypocrisy: Jeff has been begging Seb not to dilute his identity/brand through marketing and commercialization, and Seb consistently ignores him or subverts that request. Here, because someone else is offering a Mr. Pickles game for free, Seb swings into action. But can it really be said that the Lt. Pickles game is more damaging to the Mr. Pickles brand than a talking doll that parents will fight to purchase for Christmas?
While dealing with this issue, Seb discovers the destruction Jeff has left in Seb's office. Immediately after this discovery, Jeff begins receiving haunting, threatening phone calls from soundalikes telling him to get on board with the coming animated spinoff. We know that Seb has been recruiting Mr. Pickles voice actors, but it seems unspeakably cruel for him to respond to Jeff's freak out by instigating this psychological torture. Maybe that's not a bridge too far for Seb! He's a pretty cruel guy. But it's also not impossible that these phone calls are all in Jeff's head. As one voice actor tells him, "I have a large Serbian family." That's plausibly the kind of thing Jeff would imagine a Serbian actor saying to him. They could be real, or not real, or exist in the liminal space between realities in which this show has been spending more and more time. Either way, it would shake me to my core to receive threatening phone calls from strangers with my exact voice.
Jeff confronts his father about it and doesn't get any answers, other than further confirming for Seb that Jeff is losing control of reality. Seb thinks Jeff's having a breakdown, Jeff insists it's a breakthrough — a few weeks ago, when Jeff was changing the show to address complicated real-world issues, they might both have had a strong argument. Now that Jeff is spending so much of his free time smashing things, it's hard to argue that he's making great choices. Despite what Seb says, I feel like Jeff is definitely going to appear on live TV for Christmas in next week's season finale; what a perfect setting for a climax to these events. And I can't help but think that so much of this pain could have been avoided if Seb had just aired Jeff's grief episode way back when all this started.
Unsurprisingly, Scott walking in on Pickles-san's puppetry of the penis has not repaired his and Deirdre's marriage. Scott has escalated since he insisted to Deirdre that he can be straight: now he refuses to even acknowledge that anything happened at all. But he's convinced she and Pickles-san are having an affair, and that's where he identifies their family's crisis. Perhaps out of frustration with being gaslighted, Deirdre decides to have an affair with Pickles-san after all, against his protestations that all Pickles-sans (himself and his predecessors being the only ones) must take a vow of chastity. We only hear and don't see their hookup, but, uh, it does not seem that Pickles-san is consenting to it? And what's more: Now that they've had sex, they can no longer communicate magically through puppets. We can only assume that their puppet-talk superpower was horniness all along.
Meanwhile, Jeff and Jill are called into Will's school to deal with his prank: letting loose three chickens in the cafeteria, each with a number painted on their backs: No. 1, No. 2, and No. 4. This is a classic prank, and like Jill, I am proud of Will for being an asshole sometimes! The school here tries to handle Will with kid gloves, but for once Jill and Jeff are on the same page: They think Will was being an asshole and they love him anyway (a far cry from Jeff's draconian parenting of Phil).
Afterward, they go out for a family dinner in a restaurant that looks suspiciously like the one they ate at with Derrell in last week's flashback episode. While that was a Chinese restaurant, this is a breakfast diner, but Jeff can't stop seeing facades peeling away revealing this as a location from his past — and in particular somewhere that he screamed at Phil. Despite this, he's acting more or less normal, until Jill tells him that she wants Big P to move in with her. Suddenly the room is spinning, the wallpaper returns to the way it looked when this place was a Chinese restaurant, and Will is performing the Prestige magic routine that requires two twins. Jeff yells and bangs the table and returns to what seems to be reality: He's sitting around the table with Jill and Will while they eat brunch.
Jeff decides to check out the ice show after all, now that he's convinced Tara Lipinski to perform as herself in a truly bizarre show where Tara Lipinski meets all the puppets from Mr. Pickles' Puppet Time. What Jeff doesn't know is that Seb has once again pulled the rug out from under him, and hired Sara Lipinski to play Mr. Pickles in the show. Sara has a new parakeet (this one's a Sarakeet) that mostly affirms her and tears down Tara, and with that bird Sara has a new confident attitude and is fine pronouncing her name to rhyme with Tara. And she's totally up for playing Mr. Pickles in what is now, I guess, Tara Lipinski Meets the Puppets and Also Mr. Pickles.
Arriving at the show and seeing a skater play himself, Jeff confronts Seb over this betrayal, but Seb shrugs it off. Jeff tries to cool down by playing the violent Lt. Pickles game on his phone, but it's been removed by lawyers. And so, he starts to see the stage as though it was the game screen and the skaters through a rifle scope. Jeff is just sitting in the audience; he cannot enact violence against anyone onstage from that position. And yet, as he watches, Sara skates too close to Tara and slashes her throat with her skate! Tara's down and things seem really, really bad.
Video Game Spin-offs
• I know I bring it up a lot, but it is so weird that Kidding and Death to Smoochy both involve horrific violence at ice shows.
• A few commenters disagreed with my assessment of last week's episode. I'm sincerely glad so many of you are so passionate about this show! I will say, though, that Derrell has almost nothing to do this week, which for me emphasizes how insulting last week's episode was to that character.
• I wonder if the Tara Lipinski superfan kid from this episode would like this show.
• Also, one commenter insists that Will is a girl. I don't think that's so? Do other people think so?
• I always love Deirdre and Pickles-san puppetry stuff, and the oven mitt/moka pot conversation was really fun.
• Next week is the season finale. Who's ready?