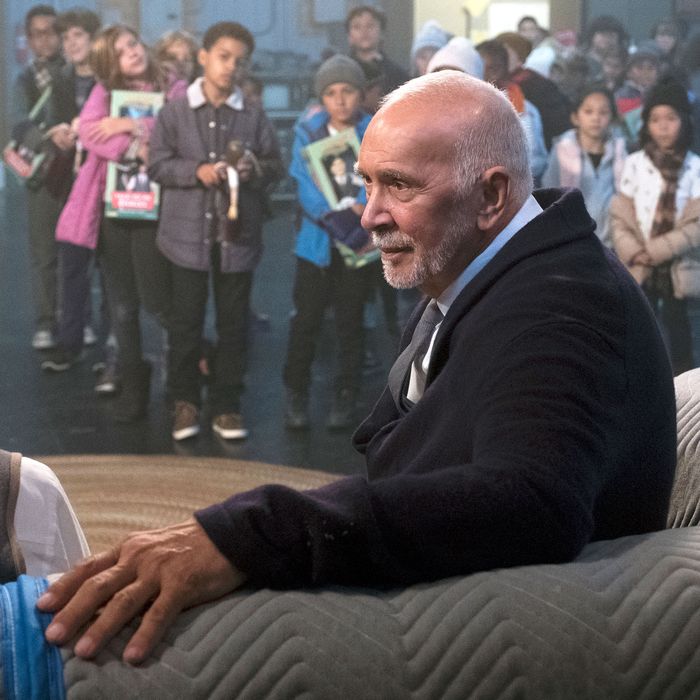 Photo: Erica Parise/SHOWTIME
Well we've finally reached the bottom of Pickle Barrel Falls. This week is our season finale, and for the most part all of this season's tumult is still in play, even as Mr. Pickles' Puppet Time is wrapped up for the foreseeable future.
This episode begins at the nationally televised Christmas tree lighting ceremony, which had been teased for a few weeks now. While I was expecting the event to be a climactic disaster, it was really more or less the beginning of a new phase for Mr. Pickles. In his speech, he decries parents letting television (and by extension him) babysit their kids. He also touches on pollution, drug addiction, and commercialism. So, okay, it's not the most focused speech, but it really does resonate in some key ways: parents should treat their kids like they really care about them, and that means engaging with their concerns and also not destroying the planet their kids will be living on.
Jeff acknowledges (on live TV) that he wasn't a great father to his son Phil; he now sees how his worst qualities were reflected back to him in Phil and he couldn't handle it. With that said, Jeff insists that kids open up their Christmas presents and pull the string on their talking Mr. Pickles dolls. Finally we get to hear what Jeff recorded for the dolls! It is: "I am listening." It's terrific and on-theme, and maybe an extremely depressing thing for a doll to say.
Seb sees the writing on the wall and immediately dials up voice actors to audition them for the immediate replacement of Jeff with an animated Mr. Pickles. Running through some common Mr. Pickles lines, Seb also requests that a voice actor say "I love you, Daddy" in Jeff's voice. It's a rare peek at Seb's vulnerable side, but also Seb has spent this whole season being a really nasty guy and an emotionally withholding father, so forgive me if I don't suddenly feel for the guy whose son doesn't say "I love you" very much.
Jeff's speech results in the indefinite hiatus of Mr. Pickles' Puppet Time (honestly I don't think the speech was that egregious, but PBS disagrees), with an animated version unlikely (suck it Seb). As they begin to mothball the sets, Jeff and Deirdre chat about her process with puppets. She explains that all her puppets are based on the essence of someone in her life, and then we're treated to a montage of scenes from the series so far, but with characters replaced by the puppets they inspired (e.g., Deirdre considers divorcing Secret Chef, the peanut butter and jelly puppets perform a two-person magic trick, and Jeff fingerbangs Viva Las Pages). It's a fun sequence to watch, but it makes me wish we had more time with the puppets this season; we barely know most of them, so the revelation that each is based on someone we know doesn't land as well as it could have. Some of my favorite scenes have taken place on the Puppet Time set, and I think the show could have benefited from more of it — at minimum, it was one of the best and occasionally most subtle ways to convey how Jeff was feeling. Also, the montage suggests that the heart puppet is based on Jill because she's "someone's heart," which is so emblematic of how little interiority Jill has been given this season.
Without a show to do, Jeff is approached by a kid with his doll. She pulls the string and Jeff hears himself tell her "I am listening." This inspires Jeff to hold a The Artist is Present-style listening session on the Puppet Time set, with a line of kids out the door waiting to discuss their issues with Mr. Pickles. I really loved this! For one thing, it's a sign of genuine growth that Jeff finally realizes that kids need someone to hear them, not someone to tell them what to do — a lesson he learned from Will repeating it more or less constantly all season. Even Seb waits in line to talk to Jeff, and when it's his turn, he offers instead to listen to Jeff. Is Sebastian growing? Is it too late to repair this relationship?
The other thing I loved about it was that it appeared to be, yes, another Mr. Rogers reference. Early on in Mr. Rogers' Neighborhood's run, an event was scheduled in Boston through WGBH, the local PBS station. They expected a few hundred kids to show up, but instead, several thousand did, and waited patiently while Mr. Rogers gave individualized attention to every single one. His coworkers and family complained a bit that for his whole life, if a child approached him to talk, he would give that child all his attention until the child was satisfied. He really, really cared.
Jill finally sees Jeff's grief episode (they're airing whatever episodes they have left until they run out) and reaches out to him. They have been growing closer lately, particularly once Jeff started dating Vivian and stopped fixating on Jill. Jeff still really hasn't addressed the toxicity that made their marriage impossible, so Jill's suggestion that Jeff stop by whenever he likes really feels dangerous. Jeff is in a good place this episode, but he's also only a couple of weeks removed from destroying Seb's office out of rage.
Will is also repairing his relationships, apologizing to Cassidy while his friends light a hanukiah in Jeff's abandoned punk house. He doesn't always feel like himself, and he sometimes does things he wouldn't ordinarily do. A couple of commenters have suggested that Will is the one who actually died in the car accident and Phil took over his life, which is an interesting theory! However, the idea that Will is going through adolescence and struggling with his own identity after the loss of his twin also checks out. Either way, Cassidy forgives Will for macking on other girls, though I can't really understand why.
As Big P walks next door to ask the teens to keep it down, he runs into Jeff heading over to Jill's house for a late-night visit. Jeff tells Big P that he likes him now, because he's a really cool guy, which he is. Big P, however, knows now that the house next door belongs to Jeff, and confronts him over secretly buying a house to spy on Jill. Big P also notes that Jeff should be working this out with Jill, not him, which is completely true — so why don't we get more Jill development? Anyway, Big P offers Jeff to share a joint (he IS a really cool guy), and Jeff sees red and runs Big P over with his car. Did I call that Jeff was still not dealing with his real issues? I completely did, and now he ran over his ex's new boyfriend. In the show's last moments, Jeff finds himself at the bottom of Pickle Barrel Falls, looking up, wondering how to get back to the top again.
And that's it for this season of Kidding! I've really enjoyed parachuting down the Falls with all of you, and thank you so much for your comments — almost every week you pointed out something that I missed, and I'm very grateful. We'll have to wait a bit to find out if Jeff faces any consequences for hitting a guy with his car, and also if he returns to our reality ever. What did you think of this ending? What will next season bring? Leave a comment. I am listening.
Christmas Tree Lighting Speech Notes
• Tara Lipinski: canonically alive.
• The fact that Deirdre gets credit for building schools while she's been squirreling money away and getting high deserved way more details, but her personal issues took a backseat to her relationship problems.
• Now that I've seen the whole season: I don't think Kidding makes sense as a title? Mr. Pickles' Puppet Time isn't really a comedy show. Kidding is a great title for a show about a comedian dealing with serious stuff (which I guess Jim Carrey himself is); this show was about a kids' show host dealing with adult stuff.
• The Pickles-san/allahu akbar gag was, like, whatever. I don't really get what the point of it all was.
• What DO you call more than one clitoris?
• Do Will's prank chickens live at Jeff's house now?