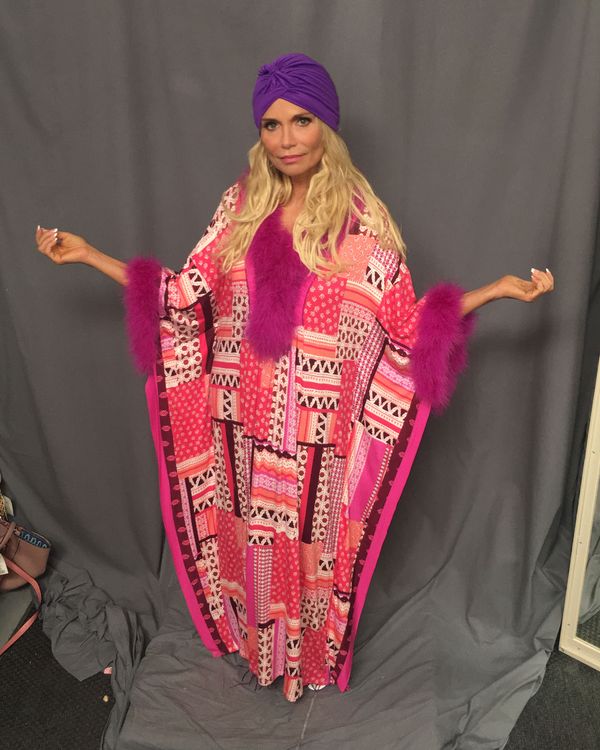 Gaze upon the lost looks of Lavinia Peck-Foster.
Photo: Kristin Chenoweth.
As we near the end of the year, it is time to look back upon all the best shows we watched over the past 12 months — specifically those that involved Kristin Chenoweth overpronouncing the word "lawyer." That would include the second season of Trial & Error, in which Chenoweth played the wealthy, reclusive, egotistical, demented, and possibly murderous heiress Lavinia Peck-Foster. Chenoweth's performance was one of the most delightful things on TV this past year, and it was all supplemented by a completely over-the-top wardrobe (from costume designer Andréa Des Roches). So when Chenoweth offered to talk us through a few of the Lavinia Peck-Foster costumes that didn't make the cut for the show, we couldn't resist the opportunity for more of her Lavinia Peck-Foster commentary.
"As you can see here, Lavinia was definitely stuck in another time," Chenoweth said. "I think she wears her mother's clothes and I think this swimsuit is a perfect example of her swimming wear. We ultimately picked a blue velvet dress, but I just thought [this] was so good."
"I never thought I would be this age where I get a turban, but it's happened," Chenoweth said. "I was pretty sick that this one didn't make it [onto the show] just because this was a little Flowers in the Attic."
"I think what makes me happiest about this is that it's almost guru-like, in that everybody worshipped me," Chenoweth said. "We just went with another color, that's all that happened there. I'm afraid that I might have taken a muumuu with me [from the wardrobe] and that I do wear it on occasion."
"I thought this was sophisticated and elegant, but I didn't want to start looking too 'Kristin,'" Chenoweth said. "I would wear that to an interview, sans the hat, of course. So we had to cut it. "
"I felt like this was a little Miss Mona in the Dolly Parton musical The Best Little Whorehouse in Texas," Chenoweth said. "I didn't want to be in a costume, I wanted to be in her wardrobe."
"I thought it was too 1980s," Chenoweth said. "I just thought, We're getting off track, here."
"On the rack, I thought, I'm never going to wear that. But when I put it on I thought, this seems like something Lavinia might wear, I don't know, by the pool," Chenoweth said. "There was nowhere to put her. And that's the devastating one."
"I'm going to be singing with some Mormon Tabernacle Choir this December and I thought this suit would be perfect to have," Chenoweth said. "But it doesn't look Lavinia."
"I loved, loved, loved, loved the black and gold striped dress," Chenoweth said. "But again, not that Lavinia's not sexy — I think she is — I wanted to keep it a little doll-like. She probably has a collection of dolls. She can probably wear her dolls' clothes."
"Both of these gowns looked like I could walk out and do a concert [in them]. But again, they are not quirky enough. They are just not quirky enough. You need an appliqué or something weird going on with these dresses or they are just not Lavinia."
"I begged to have this dress for the scene where she goes to the ball and the only person who's there is Josh [her lawyer] because that's the only one she's invited," Chenoweth said. "I thought she probably would have put on her mother's wedding dress. For some reason nobody could agree on it but I love it so much."
"It could have worked," Chenoweth said. "But together, with the hat, the gown, the necklace, it just started looking like Best Little Whorehouse. Again, it goes back to the period. And even though I'm sort of making up the period, I want it to be correct."
"This one didn't make it just because, well, I didn't like it," Chenoweth said. "I loved the purse but … I don't know. I guess because of the ruffles down the front … and then the hat … Once you see where Lavinia lives […] things stick out when they're not right."
"This last dress I actually did have on hold because I thought that it could be vintage-y-looking lace, I thought it could work," Chenoweth said. "But as you can see I really stuck by the turbans and the little tiny hats and I stuck by the skirts or even jumpsuits. It just seemed to work better."