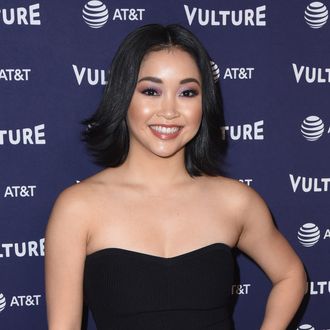 Lana Condor, not in a wig.
Photo: Vivien Killilea/Getty Images for New York Magazi
In an extremely low-key, not at all dramatic change from the kindhearted Lara Jean in To All the Boys I Loved Before, Lana Condor plays a deadly, tatted-up assassin in training named Saya in SyFy's new series Deadly Class. Condor booked the role after filming To All the Boys, but before the Netflix film was released, and while she cut her hair to play Saya, she filmed the pilot's fight scenes while wearing a wig, which is both itchy and stressful. "I was whipping my hair around and I kept holding onto my wig like, 'is my wig gonna fly off?'" Condor said of shooting one fight scene at a screening of Deadly Class's pilot during Vulture Festival L.A. Luckily, the wig never flew off, but Condor kept thinking, "Oh, no! Here we go! This is the moment!"
Condor has since cut her hair and is "so happy I don't have a wig anymore." She's also taken to her dramatic transformation for the series, which includes sleeves of tattoos ("the character work is done for us already"). Show creator Rick Remender added that he now imagines Lana as Saya while working on new installments of the graphic novel, which he still writes. But Condor did experience some shock when she first looked at herself in her new persona. "I was afraid my parents would not recognize me," she said.