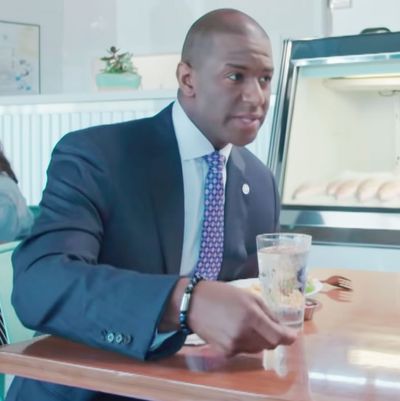 Florida Democratic gubernatorial nominee Andrew Gillum with
The Daily Show'
s Trevor Noah.
Photo: Comedy Central
Have you heard the news? It's Vote Time! Twitter knows it, commercials for and against various props know it, and late night knows it too. Ding-dong, who's there? A canvasser for Beto, even though you live in Delaware. The time for civic engagement has come, motherfuckers, and even the most normally apolitical of hosts won't let you forget it. When James Corden is having gun-control debates on his usually breezy couch, you know things have gotten very very votey.
Katie Hill is trying to flip Orange County, one of the few red districts in otherwise blue California. If elected, Hill will be the first Democrat in years to hold the seat for California's 25th. She'd also be the first woman, ever. It feels a little odd for a House candidate to share couch time with Greg Kinnear, but Hill was hardly the only actively campaigning politician on late night this week. Nancy Pelosi went on The Late Show to represent the whole Democratic party, and The Daily Show dedicated nearly an entire episode to Andrew Gillum, the Florida Democratic nominee for governor.
The Daily Show went to Miami in this week leading up to the midterms, because it's the closest they could get to Mar-a-Lago. They partied in the city where the heat is on, arguably in an attempt to sexify the midterms. Samantha Bee has been on a months-long quest to gamify the midterms, upping the ante with a cameo from Patton Oswalt on Halloween. It's expected that political comedy shows are weighing in on this election. A few years ago, it wouldn't have been surprising to only see The Daily Show and The Colbert Report be the only late-night shows to even pay attention to a midterm election. Talk shows, as a rule, used to be content to comment only on national affairs. And before Bush 2, the jokes would have been about as pointed as a beauty blender (not pointy, in fact soft). Shiny-floor TV was all about appealing to the middle. "What would a man be without a brain?" Foster Brooks asks Dean Martin. "A politician," Martin replies, to the studio audience's delight. Can you believe he's saying this stuff?
That general disdain for politicians has gotten a lot more specific over the years. The Clinton years were certainly full of stained dress jokes, but Monica Lewinsky and Ken Starr got as much of the skewering as the president himself. "We're equal-opportunity offenders," was the rally cry. Everybody gets joked at, nobody gets hurt. It was really the Iraq War that changed late night's non-offensive offense policy. During the Vietnam War, late night was still the purview of old heads, the Bob Hopes of the world who didn't see why all these longhairs were fussin'. Save for an occasional rant by Dick Gregory, late night was the smooth white icing on a cake of generational tumult. (Dick Cavett would be the jam between layers in this metaphorical cake.)
Oddly, Samantha Bee is closer to the old version of late-night politics than her peers. The woman who called Ivanka Trump a feckless cunt says she doesn't care who you vote for, so long as you vote. Meanwhile, Corden is openly endorsing candidates, and Stephen Colbert is literally crossing his fingers for a blue wave. Guests are bringing it up, too! Diane Lane wore her "I Voted" sticker to Seth Meyers, and Jimmy Kimmel had Emily Ratajkowski talk about how cute and fun getting arrested during a direct action can be. When voting is insufficient, occupy the Capitol Building. That's the message we're getting on a show that's more well-known for seamless brand integration with Guillermo.
It makes sense that late-night comedians feel they have a stake in these races. It's their job to comment on the news, and they will goof their way into an early stress-induced grave if they have two more years like we just had. Perhaps that's why even the musical guests are political this week. Willie Nelson went on Kimmel to Outlaw Country the Vote. Back in the Cake Days, musical guests were often the only progressive element of a late-night show. Today, everything is politicized, and the musical guest can often be the only party still trying to appeal to all sides. A typical late-night lineup in 2018 is Wanda Sykes, MSNBC's Chris Hayes, and BTS. BTS is probably going to have the least to say about the caravan (even though they're the only ones who have spoken at the U.N. — 2018 is weird). But this week is balls-to-the-wall boosterism. No stops will go un-pulled. This week we have MacArthur Genius Grant winners singing Patti Smith songs about people power, and Amber Ruffin singing about killing a cat if you don't vote.
We mean business. The sanity of our late-night luminaries depends on your vote.