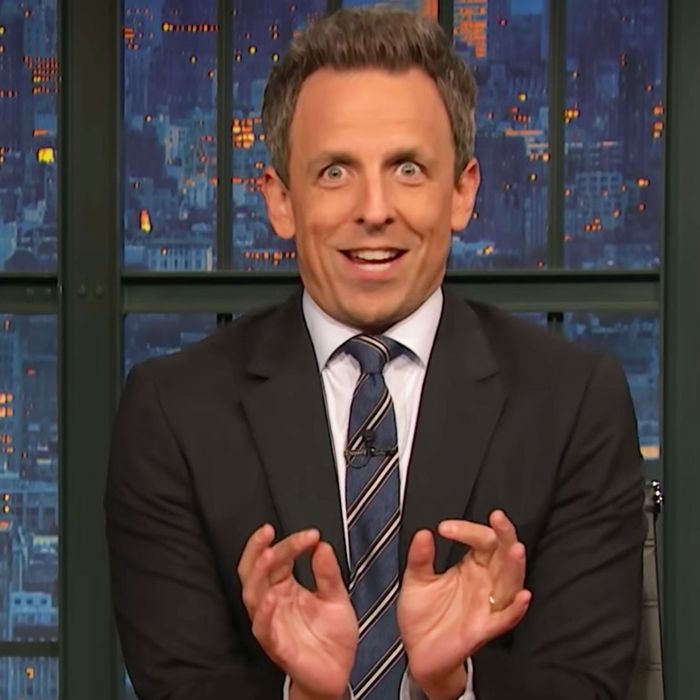 Seth Meyers on
Late Night
.
Photo: NBC
The Daily Show pushed late night into its news-commentary lane, and our current highly politicized era has only exacerbated that tendency. Talking about Trump is the job, and you can tell. It must be tedious to produce; it's definitely monotonous to consume. Everyone's "lol he didn't have a second umbrella" joke blends together, along with their "lol look at his face when he sees Putin" and "lol Melania must hate him" takes. With the exception of Stephen Colbert (and sometimes Seth Meyers), nobody really seems to be getting their life from daily verbal jousting with the Trump administration. Even the other ex-Daily Show folks only have to do it once a week. Perhaps that's why Colbert is dominating in the ratings. His passion wholly overlaps with what the Zeitgeist is demanding.
But there are moments, for so many late-night hosts, where I see joy zing out. I see a sketch or an interview where they seem truly in their element, and it makes me want to shake them and yell, "THIS IS YOUR TRUTH! FOLLOW THIS!" Like how Seth Meyers has been getting really into impressions lately.
Last week, Meyers riffed on what Obama would be like as a stand-up. This week, he served Hillary Clinton and Crypt Keeper. What makes these impressions fun is that they are not great. They are serviceable. He's hitting specific notes that tell us exactly what Meyers thinks makes Hillary funny: The way she projects. Either everything is performative for Hillary Clinton, or she's old enough to be going deaf. All that really matters about an impression is that you are using it to give a thesis statement about someone's character with that impression.
Busy Philipps thrives when she's generating blind items. Last week, she appeared on The Late Late Show and declared that one of her writers was ghosted by Noah Centineo. Much to the chagrin of Noah's handlers! And which writer??? This week, it's her show that's hosting the goss. Which SNL musical guest had their choreographer perform during dress rehearsal instead of doing it themselves? (It was Rihanna.)
Busy's book was incredibly dishy, and many of her monologues have been about calling out what she sees as bad (usually sexist) behavior. Not only is she doing a good job of making room in her show for the thing she excels at, she's giving her famous pals a chance to overshare, too. In the few weeks her show has existed, we've heard Julia Roberts talk about her armpit hair, Kristen Bell talk about fainting pulling out a diva cup, and John Stamos talk about jerking off to his own face.
James Corden seems most comfortable when surrounded by people more famous than himself. As a late-night host, this is a good itch to want to scratch. He was positively giddy counting Migos's money on Tuesday's "Carpool Karaoke." But nothing could compare to his equal parts delight and repulsion while working out with Mark Wahlberg. The Bostonian disaster-film magnate has been the subject of much late-night jollity, due to the truly bonkers daily schedule he posted on Instagram. James stopped by Chez Wahlberg to participate in Mark's 4 a.m. workout, but more importantly to get in the way of someone else getting shit done.
This is Corden's truth: He loves being a gadfly, and he especially loves when he can do it to famous people. He's kind of like the Yakko, Wakko, and Dot of late night, razzin' the famous and generally being a little shit. In fact, most of the late-night hosts seem most comfortable being little shits. Kimmel is making Michelle Obama say raunchy shit, Colbert genuinely enjoys being the bee in Trump's wig, and John Oliver positively delights in condescending to us Americans. Maybe that's one reason Fallon is struggling in the ratings. Jimmy Fallon seems to want to be seen as a Nice Young Man, kind of the opposite of a little shit. The last completely un-impish host of The Tonight Show was Steve Allen.
What has been working for me recently personally, artistically, on The Tonight Show has been every time Fallon makes himself into Michael Scott on The Office — a put-upon, slightly off-middle manager whose employees just don't respect him. If that's your truth, James Fallon — that you just want everybody to get along — then I say stand in it. Barely control your staff as they abandon and talk over you. Let them call you Jimbo. Everyone brings a different flavor to the BBQ, and that's what makes it delicious.