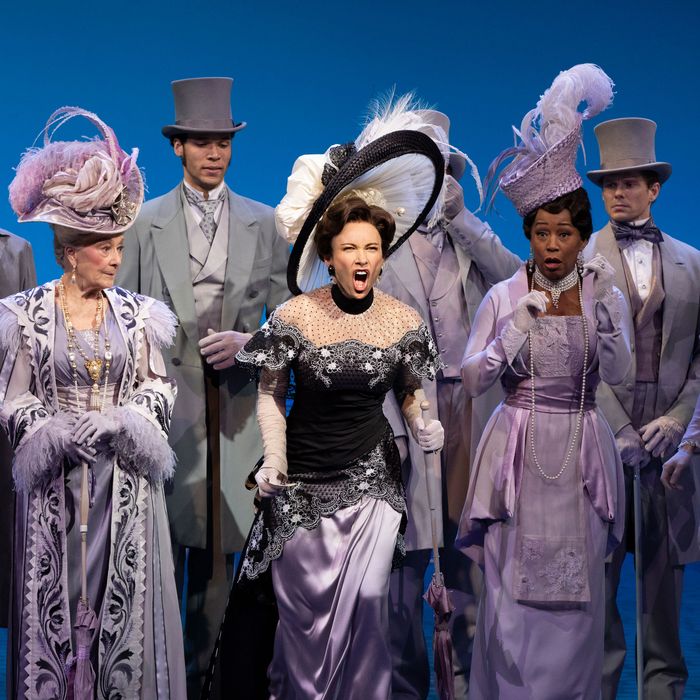 At the Ascot.
Photo: ©2018 Joan Marcus
Laura Benanti always wanted to play Eliza Doolittle in My Fair Lady. To get there, she just had to give up on that dream first. Back when the Lincoln Center Theater's revival was first announced, Benanti, a Tony-winner for Gypsy who often talked and tweeted about wanting to play Eliza, seemed a likely candidate. As she tells the story, she was asked to audition, but realized she couldn't commit herself to the role so soon after giving birth to her daughter Ella Rose. Benanti had made peace with the idea that she'd never get to play Eliza, until star Lauren Ambrose left the production and Benanti got the offer to replace her. Starting October 23, Benanti took the lead of the classic musical. "I'm probably going to regret saying this," she says with characteristic humor, "but I really do feel like I was born to play this part."
A few performances into her run, Vulture sat down with Benanti to discuss what it's like to play the part that nearly got away, working with the co-star she'd barely met before she started performances, and how her perspective has changed on the other character she's famous for playing: Melania Trump.
As someone who has always wanted to tweet myself into a dream job, I find this all very inspiring.
I tweeted myself into Nashville, I tweeted myself into My Fair Lady. I'm just going to keep tweeting. I'm going to tweet myself into the presidency! No.
I mean, that has worked before, but don't do that.
"Worked" is a very interesting choice of words.
From what I understand, you originally were going to audition for My Fair Lady when it was announced, but then you realized it didn't make sense to go in to audition right after you had a baby.
I think it was happening right when I had my baby and I was like, "Are you kidding me?" Then Bart [Sher, the director] and I talked on the phone. I had been planning to audition and those sides just sat in my home for like a month and I thought, "if I can't get it together to audition, I can't do this." He said, "I completely understand. You have a new baby." I made peace with it. I've been wanting to be a mom really as long as I've wanted to be Eliza Doolittle. Then I did Meteor Shower, which was a wonderful experience. It was a really good lesson for me in letting go.
Was it hard to get to that mind-set?
I definitely was sad when I saw it was happening, but I had this amazing human. It really was a great lesson in, if something is meant to be yours it will come back to you. When I look retroactively at my life, I realized the things that I was clinging to so fiercely that I felt were taken from me or I lost — they weren't the right thing.
Was there anything specific you found yourself letting go of?
I'm going to be 40 in July. I started in this business so young, I was 18 when I was understudy for Maria in The Sound of Music, and when that happened I thought, "Well surely I'll have a hit television show when I'm as old as 30!" That didn't happen. I've done a lot of TV, some of which I'm really proud of and some of which I'm not, but I haven't had that "thing," other than Colbert and Sound of Music Live and maybe Nashville here and there. I haven't really had that "thing" where I feel like, "this is what I do. See world? See what I can do well?" I'm looking forward to maybe having that opportunity after this, and if not, then not.
So when My Fair Lady came back to you with this role what was your reaction?
I was in a taxi with my mom and my sister. We were headed to try on my sister's wedding dress and I was like, "Okay, I cannot make this moment about me." My sister is seven years younger than me and is a school psychologist and just a remarkable human, but I can't imagine it was the easiest thing in the world when she was 11 and I was 18 and people were excited that I was working on Broadway. It was a really interesting lesson too in thinking, This isn't about you right now.
To join this show, you had to do a lot of rehearsing with a stage manager alone. That must be surreal.
I just wasn't aware because I've never replaced anyone, except Rebecca Luker [in The Sound of Music] when I was 18, but I was already in the cast. I would do My Fair Lady the one-woman show downstairs with Jennifer Rae Moore [stage manager] reading all the parts. Bart was there maybe three or four times, and then Maggie Burrows, the associate director. Right now I feel like I'm in previews. The Tuesday I went into the show was the day that I worked with Harry Hadden-Paton for the first time.
Because he was shooting the Downton Abbey movie.
I met him very briefly before I started rehearsal. But we worked together for the first time that day. It was pretty exciting because it really activated my listening. I know this is going to sound gross and I'm probably going to regret saying this — but I really do feel like I was born to play this part. I feel like it's the culmination of what I understand on a cellular level in the way that Gypsy was too. I love an arc, I love an underdog. I love somebody who goes from A to Z.
And it's in your range.
Yes, I mean, it's very challenging to maintain your vocal health with this part. I'm so grateful to be doing seven shows a week but even with that it's hard. The Cockney really requires your tongue to work in a different way. Then you're belting and then you're singing super-high. To me the next phase is going to be how do I stay vocally healthy.
Even doing seven shows a week, as you are, it must be hard to maintain your health.
I almost feel like it should just be six. You should never do the matinees and you should never do the show twice in one day. I, however, chose to have my day off be Tuesday so that I could be with my daughter, so we'll see. Maybe I have to change it to Wednesday.
When did you first see My Fair Lady as a kid? How were you first introduced to it?
I never saw it. I would listen to the record and my Mom would read me the inside of the album where the lyrics were and tell me the story. I refused to watch the movie because I was so upset that Julie Andrews was not chosen for the part. At 6 years old I knew she won the Oscar for Mary Poppins over Audrey Hepburn [who wasn't nominated] and I was just like, "In yo face!" When people would sometimes say when I was younger that I looked like Audrey Hepburn, I'd be like, "Traitor!" I'd only ever listened to the Julie Andrews record we still have in my mother's house.
It's funny because [in rehearsal] Ted Sperling our music director was like, "Stop doing your Julie Andrews scoops." I was singing "I could have da-a-nced all night," and he was like, "No. I could have danced all night." Michael Rafter also had to tell me on The Sound of Music, "No, you're not British."
You also do the Melania Trump impression on Late Night With Stephen Colbert. It feels like that impression has gotten more critical of Melania as time has gone by. Was that intentional?
It was. When we first started in the primaries, when they were just like, "Donald Trump? This isn't gonna happen!" it felt less terrifying because it didn't really seem like he would ever win. I wanted to tease him through her, because I can't do a Donald Trump impersonation. But I can make fun of him through her. I didn't want to make fun of her. I'd vamp her up because she's a model, and I'd play on those things, but I was very clear, as was Colbert, "We don't want to be making fun of her. We don't want to talk about her child," because I do think she's a good mother and she does a good job keeping him out of the public eye in a way that's really marvelous. She's obviously an intelligent woman, she speaks five languages.
But when she wore the jacket, "I really don't care, do u?" I came in and I was like, "It's time." That really made me so angry because family separation is abhorrent. We were like, "Okay, the gloves are off." I actually went back and watched some videos of her talking about how Barack Obama was not born here and he was born in Kenya.
Right, if you believe she's an intelligent woman, then she's one who has made the decision to endorse his ideas.
She is culpable, and we really made a turn where we were like, "We can no longer excuse her." In the sort of way that Will Ferrell made Bush lovable, I felt like I was still kind of making her fun and lovable and it was as if she was secretly trolling him. I'll always still play with some of that, but we still like to remind people that she's actually not an undercover troll who's going to one day prove herself to be some type of American hero. I don't think she will — I'd love if she did.
Well, even if she did, she's enabled a lot along the way.
She really has. [Doing the impression] has been great for me in that I feel like it's really solidified the fact that I'm a comedian — and I'm happy to bring people laughter during what feels like a very, very dark time — but sometimes I'm just like, "I don't want to be her." I don't want the first line of my obituary to be "Melania Trump impersonator." But A) I love Stephen and everyone at that show, and B) I really truly believe that it will lead to more TV comedy, which is something that I'm really interested in doing.
You recently put together an album Singing You Home in response to child separation at the border. How did that come together?
I was despondent. I was like, not able to get out of bed-levels of anxiety that this was happening and there was nothing I could do. Then I realized that I have these remarkably talented and socially conscious friends who all have these tremendous followings. So I decided, I just texted all my friends and I said, "Hey, would you be willing to sing a song?" The organization RAICES gets 85 percent of the net proceeds and ASTEP gets 15 percent.
Four of the songs are traditional Spanish songs. I know for a fact that a lot of the children have heard it and that it has brought them a lot of comfort, and that makes me feel so happy. The front cover, the drawing was actually done by a little boy who was separated from his father. They've been reunited by RAICES but now he and his father are currently detained. Because we have such a fast news cycle, because so many crazy things happen day after day, we can't stick to anything for too long. For me, I was putting one percent of my energy into 100 things, and I thought, "Let me put 100 percent of my energy into this one thing," and hopefully it will make a difference in some way.