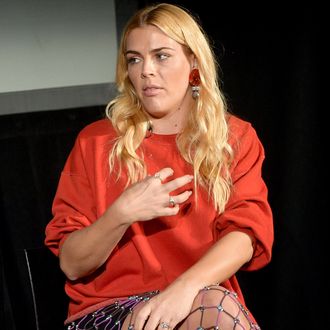 Busy Philipps.
Photo: Matt Winkelmeyer/Getty Images for New York Magazi
It's wild to think Freaks and Geeks is nearly 20 years in the past, but just like those freaky and geeky kids at William McKinley High School, the anecdotes will always live on. Busy Philipps, a.k.a. everyone's favorite bad bitch Kim Kelly, reminded us of that all too well during her panel at this year's Vulture Festival in Los Angeles, reminiscing about some culinary memories she shared with her good pal and co-star Linda Cardellini. "I remember falling in love with Linda and becoming such good friends," Philipps said. "She taught me about breakfast burritos. That was a very important moment in my life. How could I have never had a fucking breakfast burrito? I was young, you know. Sitting in her trailer and cozying up and talking to her about other jobs she was doing or what she was up for, or giving me advice about the industry." Unfortunately, that kinship didn't extend to the show's male cast members, whom Philipps never particularly buddied up to: "I never felt like I really fit in with the dudes on set. I bonded with Seth [Rogen] a little bit. I always felt like I didn't really understand my place."
Funny enough, Philipps would again embrace her inner foodie while filming Dawson's Creek with Michelle Williams and Katie Holmes years later, when she got her first taste of the nice dinners afforded to A-list actors — all while affirming her BFF status with Williams. "We really thought steak was very fancy. I remember being with Michelle and thinking, This filet mignon is amazing. And it really was!" she said with a laugh. "I was walking into a situation with kids my age making so much fucking money, and I was basically broke before I got on Dawson's Creek. It was just on another level from what I was dealing with. Steak dinners with fancy bottles of wine at age 21." Lucky for us, we can witness Philipps' countless stream of steak dinners with fancy bottles of wine in 2018, all thanks to her iconic Instagram Stories.