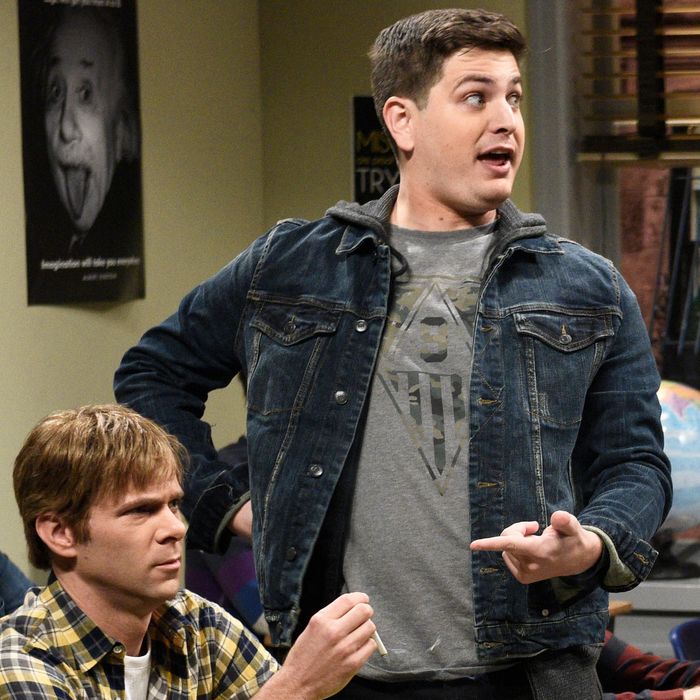 Luke Null on
Saturday Night Live.
Photo: NBC/NBCU Photo Bank via Getty Images
During a recent Saturday night at Ottobar, located in the Baltimore neighborhood of Remington, former Saturday Night Live cast member Luke Null is nursing a beer. The venue is closing early tonight — something about the neighborhood power grid. It's 10:30 p.m.
On the wall, Ottobar management warns against moshing, and upstairs you can hear the reverberations of house music. But Null is in town performing a series of shows with his guitar, as part of the lead-up to a comedy record he's putting together in a few weeks. Onstage, he's silly, and wry, and pretty charming. He's also funny in a familiar midwestern kind of way, like the fratty cousin you only see twice a year, but always have a great time with.
Over the summer, it was announced that Null would no longer be on SNL, joining ranks with Sarah Silverman, Robert Downey Jr., and Jenny Slate as one-and-done cast members. Now, he's honing his material, finding the right combination of original songs, jokes, and stories as he begins to pivot away from Studio 8H.
My wife just said to me that you're like a cross between John Mayer, Bruce Springsteen, and Lonely Island. How would you describe yourself?
An idiot with a guitar. [Laughs.] I don't know. I definitely go about the music stand-up thing a little differently than a lot of music-comedians I've seen. Just because a lot of them are playing music, same as me, but are trying to get as many jokes out. How many words can I get out before I'm done with this song? I'm fine with it being two jokes in a good song. I want the song to be good.
I feel like you start with a humorous concept then build jokes into it.
Right. At the end of the day it sucks, because a lot of things I write, I probably throw out 95 percent of it. Because it's either not funny — that's most of the problem — or it's not a good enough song. Or it's not funny enough to sustain a two-minute song.
So are you workshopping your material right now? You recently played Arlington Drafthouse, and before that you opened for Kenan Thompson at Truman State. Has the set been different every night?
Yes, I'm working on recording an album right now, so I'm doing an hour whenever I can to suss out what I want to include. You can't judge a song based on one go-through.
What's the process?
For me, it's whether it feels in sync, which ones I would like to include in an hour. It's not all songs — it's stories and little in-betweeners. Stupid shit.
How are you distributing? What's next for the album?
I am signed with a comedy label called 800 Pound Gorilla. I am recording on November 30 in Chicago at the Beat Kitchen. It's a hometown crowd, which is fun, since they've heard some of my old material, so I'll need to keep it fresh.
In your set you describe a coming-of-age moment in your life that happened while you were watching Talladega Nights. Is Will Ferrell an influence?
Of course. I met him. He hosted the show this year. I was in a sketch; it wasn't a big part. I was beatboxing on a plane. Honestly, it became one of my favorite things from the year. He came up to me and made my life: "They didn't write this to be funny, but you're killing it." It really blew some air into me. I was deflated by that point in the year. Just nice.
Now you are doing gigs at music venues like Ottobar in Baltimore, which typically hosts shows for the likes of Death Cab and Jimmy Eat World.
This is exactly my speed. I never did any music on the show really, so people really don't know what I do. So when they come and see me, it's like, What the fuck is he going to do?
Why was that? When you were first hired for SNL, the online consensus was that we'd see your musical side at some point.
I wish I fucking knew, man.
I assumed we'd see you on "Update" playing guitar, like what Sandler or Jimmy Fallon used to do.
I certainly tried. It's weird: Even though they hired me and I do a lot of music, they did not hire me to do music. They made that pretty clear. They liked a lot of the other stuff I did. I auditioned twice and they hired me for that. The music stuff I think was more sprinkles on top. They don't give you any feedback. It took 13 weeks for me trying to pitch stuff to be like, Okay, they don't want this.
So you never had a conversation with the "Update" guys? What would Colin Jost say?
Of course I did. It's one of those places, especially when you're a freshman cast member, [where] you don't have much sway to be like, "Why can't I fucking do …?!" Uh, because it's your first year and Kate McKinnon isn't in the show much this week, so she's going to fucking do "Update." So for me, to get something into "Update," I have to absolutely be one of the best people to pitch that week, but a lot of other people have to have a bad week. Even if I do great, I'm the lowest man on the totem pole. I had a few "Updates" that were cut for time, cut at dress rehearsal. But none of them were songs.
That's surprising. You performed this amazing song about Clay Aiken tonight that seems tailor-made for the show.
I pitched that one. Actually, I auditioned with that song, too. And nope.
Is there anything you now know, having been on SNL, that you wish you knew going in?
I was only ever there one year. I had one season, and you definitely have a lot of questions looking back: Did I do something wrong? Was I not writing good enough stuff? Honestly, looking back — knowing how the show works, the mechanisms and the politics, and its energy — it's a very tense and stressful place. No one there is "having fun." Air quotes.
Are you having fun now?
I'm having a blast now. I get to do whatever I want. [On SNL] a lot of people are jockeying for position, and it's a lot of closed doors: "What are you guys doing this week?" It's hard. So what I would tell myself is, Nothing you do or say is going to change your fate. Don't let them see you sweat. Have fun. And by the end of the year, I was doing that, but early on, you want to do well, and if it's not going your way you get sad.
Many fans feel you got shortchanged last season. The show never gave you a chance to show what you can clearly do. Do you agree with that?
I think the show's producers would probably agree with that. It's probably the biggest cast and biggest writing staff they've ever had. So it's a bloated and crowded room with a lot of great people in there. But there was never a moment where I was like, "Man, I deserve more." Because I look ahead and I see 15 people who are absolutely amazing.
I did find myself wondering, from time to time … they hired me and moved me to this city to do something, and the feedback I got was I was writing good stuff. I was getting cut at dress rehearsal. No one gets to see or hear about that. So it was hard to leave and not think I didn't get much of an at bat. Can't be bitter about it, though. I would happily take a year of being a waiter and giving Kenan his water, and waving at the camera and walking away, than not doing that. So I couldn't be happier they made the mistake of hiring me.
Are you close with anyone at the show?
Yeah, it's very class-based. You're very close with the people you came in with, the first-year writers, now second-year. I shared a dressing room with Chris [Redd]. He's the fucking best. Heidi [Gardner] and I are super close. Then a few of the older people, writers I became friends with.
You just opened for Kenan. Was he an idol growing up?
I love Kenan. He is one of those guys — to be starstruck by anyone this year — he's someone I've loved since I was 5 years old. Between All That, and Good Burger, and Kenan & Kel, all that shit. He's absolutely one of the nicest, best people there. He's a shining example of being a child star not fucking you up. He's also an easy laugh! He laughs at everything, genuinely.