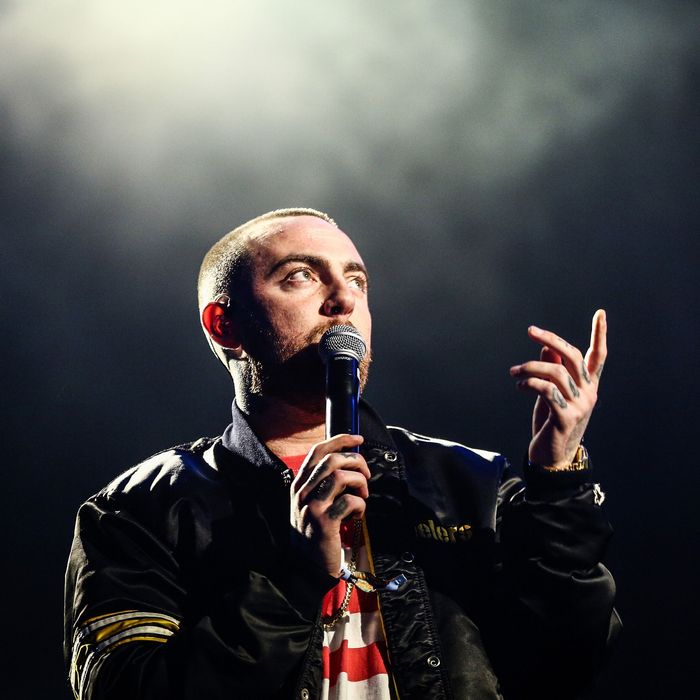 Photo: Rich Fury/Getty Images
Mac Miller would have been on tour right now. He would have been promoting Swimming, his fifth studio album. He released that record at the beginning of August, to a warm reception by critics. A month later, he was found dead in his Studio City home from an apparent overdose.
So, on Wednesday night, he would have been performing songs from Swimming, an album about sadness and recovery. Instead, a collection of his friends and collaborators gathered, and they played songs in his honor.
"Mac Miller: A Celebration of Life" — which benefited the Mac Miller Circles Fund established by the late artist's family to help provide resources to kids in underserved communities — took place at the Greek Theatre on a night made all the more eerie by the presence of costumed audience members. A zombie bride. A glittering fairy. I walked past twin Frida Kahlos during Vince Staples's set. Killmonger leaned casually against a wall. Generous plumes of weed smoke wafted above these heads, in loving tribute to Miller. When Action Bronson took to the stage, early in the night, to perform "Red Dot Music," a blunt dangled from his lips.
Festival bookers must have been envious of this night's lineup: Earl Sweatshirt. Anderson .Paak. Rae Sremmurd. SZA. Chance the Rapper. Even Zane Lowe showed up, and initiated a moment of silence for the victims of the Pittsburgh synagogue shootings. The Free Nationals backed every artist, providing a cohesive support system for the night's tributes.
Mac Miller was the kind of artist who didn't just have collaborators. He had friends. So it felt like these artists were performing in service of their own healing, for their own grieving group of friends, rather then for the fans in attendance. When Anderson .Paak took the stage, his tears caught the light. Miller's childhood friend, an artist by the name of Dylan Reynolds, who had known Miller since he was 5, came in early in the night to sing "Come Back to Earth," the haunting first track on Swimming.
John Mayer performed "Gravity," a song that perhaps belongs to a version of his former self, that felt singularly stirring. Schoolboy Q played "That Part," a song, he said, he wrote with Mac Miller.
A Rae Sremmurd performance in the middle felt jarring, a little too rowdy, a little too irreverent for the rest of the night, especially while watching clips of Mac play on the screen behind them. These vignettes, edited documentary-style, caught Mac in unguarded moments. At the gym. At the amusement park, on a roller coaster. In the privacy of his own home. With his mother. Backstage, at a concert, he confided boyishly to the camera, "I don't know how Beyoncé does this shit."
Though occasionally sorrowful, there were moments that felt purely joyous. Juicy J showed up to perform in a vibrant orange fur jacket, Mac's silhouette projected behind him. Ty Dolla $ign performed "Blasé," a song he claimed was one of Mac's favorites. "He smiled a lot when he performed," Zane Lowe told the audience.
Death so frequently sanitizes life. But, when Mac died, the outpouring of praise and love did not ring false. The artist was warm and generous, this we know from the testimonies of those close as well as from those less close to him. Many of them sent iPhone videos of themselves, which were stitched together to provide an interlude for the music. Lil Wayne. Rick Ross. Donald Glover. Syd tha Kyd and The Internet. Jason Sudeikis, even, who said to the camera, "I've been thinking about you a lot. Like almost every day, at least once. Does that mean I love you? Maybe. Maybe."
Aminé, one of Miller's collaborators, also contributed. "Mac, I look around and every other artist that I know or that I see is saying the exact same things I'm saying about you," he said. "You were always so loving and so kind and so humble. I just don't understand how someone could be like that always, just 24/7. That's what so beautiful about it. You make me want to be a better person."
It should not feel special, but it is, in the music industry, to encounter kindness. Not politeness, or sycophancy, but real, unselfish kindness. And Mac Miller not only practiced kindness but appears to have inspired it in others, enough so as to bring a diverse and talented group of people together on a stage in Los Angeles on Halloween night to perform in his honor. At the end, they all took the stage and gave him one final send-off, and the tour performance his album deserved.