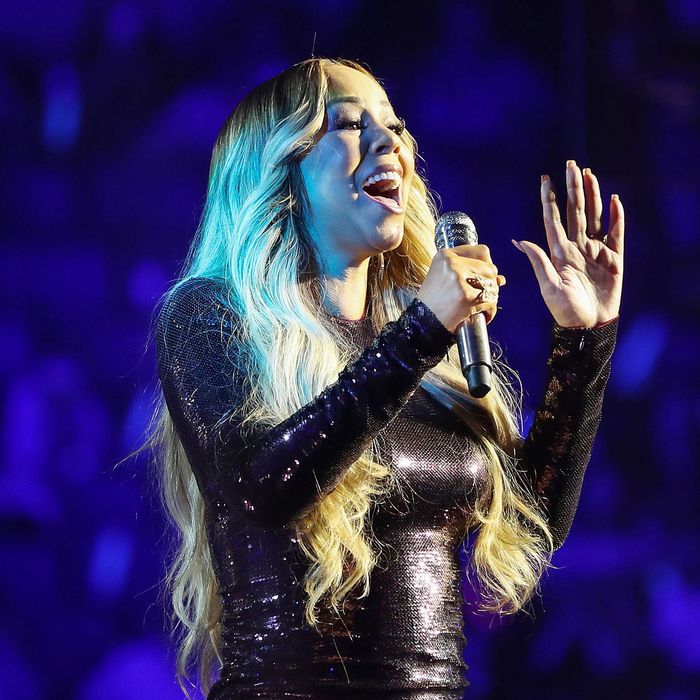 Photo: STR/AFP/Getty Images
It was a grave mistake doubting Mariah Carey over the last three years of analyzing live performances like little Zapruder films and dismissing one of the most indelible voices and successful songwriters of our time as a nostalgia act beyond her prime. We celebrate music-industry men long after their singing voices decay into dust; Mariah's instrument isn't quite what it was, thanks to some natural wear, but it is still a powerful weapon. There are different rules for women. It's not fair. But I don't know if that's the whole story. Part of the reason people acted shady is that Mariah was introduced to us as a total-package artist. She came into the biz writing her own stuff — and singing the holy living shit out of it — and stayed put through decades of radical sea changes. The bar for Mariah is excellence. The New Year's incident was below par, even though the circumstances weren't necessarily her fault. Treating Mariah like an artist in the twilight of her relevance was premature, though, another case of the internet playing judge, jury, and executioner before it had reviewed all of the evidence.
Would we have gotten Caution, this month's new ten-song almost-all-killer-almost-no-filler Mariah Carey album, if she didn't feel like she had something to prove? Without the benefit of real live X-Men to shepherd us across alternate timelines and possible futures, let's appreciate what we have. And what we have is the tightest, shortest Mariah album in ages, a collection that leverages the singer's skills, quirks, and history with the sonic architecture of modern mainstream R&B. (Mariah's sense of the pulse of the R&B/pop spectrum and her immovability from it is unique in her generation. The list of early-to-mid-'90s heavy hitters still moving the dial in 2018 is frustratingly short.) The balance is careful because Mariah knows who to call. They answer because she delivers. The list of collaborators who pitched in work on Caution is a pop nerd's dream team. "GTFO" was produced by Nineteen85 of DVSN, secret weapon of Drake's OVO Sound collective, who uses a sample from DJ and festival staple Porter Robinson. "The Distance" pairs guest vocals from Ty Dolla $ign with a beat by Skrillex and Norwegian producer and remix master Lido. "Giving Me Life" teams Mariah up with Slick Rick and Blood Orange. The median sound is delicate late-night R&B with subtle trap, electronic, and old-school hip-hop accents. It's wise to what young listeners want and observant of what brought their parents to the table over 25 years ago.
The surprise of an album packed with star talent like this is that the songs they've made together are incredibly airy and sparse. "The Distance" is sleek, slow funk not unlike the elite synthetic grooves populating last year's Calvin Harris album. "GTFO" is slight and deliberately chintzy, like a faithful re-creation of the graduation song on a Yamaha. (Nineteen85 produced Drake's "Hotline Bling" as well, and it could be argued that "GTFO" is a crack at revisiting a little of that magic.) The Blood Orange track re-creates the late-summer light-headedness of the British singer-songwriter and producer's August studio album Negro Swan in its woozy synth lines and wide-open space. It's like everyone is giving Mariah room to work. Caution sees the biz's best and brightest lobbing a great singer the coldest, most effortless beats they can muster and watching her knock out great tunes. The album is lean and sweet, but Mariah's lyrics have teeth.
Caution is a song cycle about clearing out dead weight in your life in order to make room for new faces and experiences. The album volleys between dewy love songs and devastating kiss-offs, starting with the lead single "GTFO," where Mariah invites someone to "get the fuck out" in a whisper tone so chipper that it was received as instant internet meme gold. "A No No" borrows lines from the Lil Kim and Biggie duet "Crush on You" and taunts a former acquaintance who couldn't handle the singer's expectations in five different languages at the end. The title track is a hushed threat: "Proceed with caution, don't be dishonest / I need you closer to love me harder." Later, "One Mo' Gen" throbs with desire, and "Portrait" elegantly examines unnamed sorrows. Caution's balance of private longing and public guarded distrust is the perfect axis to pitch a full Mariah Carey record on in 2018. It puts her pride and her pratfalls in perspective, and it adds dynamic depth to the slight, sultry vocal delivery she uses to sell the lyrics.
Following the professional hit Mariah took in the wake of that New Year's Eve debacle and the emotional fallout from her break last winter from billionaire ex-fiancé James Packer, Caution is a signal that the signer is ready to play the game again. She also wants you to know that she controls the rules this time, and it's nothing to knock you off the board. People need to hear that sometimes, to know your time is not freely given, that their position in your good graces is contingent upon reciprocating love and honor and respect. People take liberties with all three every day, getting cozy in the idea that because you like having them around that this makes them indispensable. Caution is an invitation and a warning. Come through, make yourself useful, or get the fuck out.