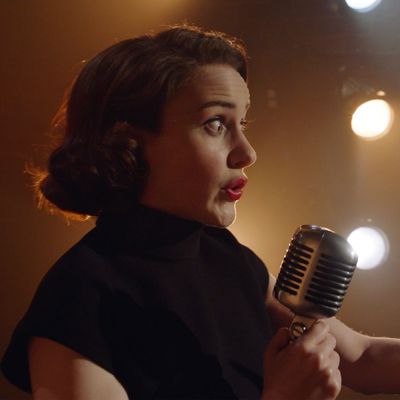 Rachel Brosnahan, back at the mic in season two of
The Marvelous Mrs. Maisel
.
Photo: Amazon Studios
The Marvelous Mrs. Maisel is a comedy. But on numerous occasions during its second season, it comes close to turning into a musical.
The dialogue by series creator and frequent writer-director Amy Sherman-Palladino, which has always bopped, bounces back and forth to even quicker rhythms this time around. In one episode, a sequence in which couples dance alongside the Seine in Paris creates a meticulous tableau that wouldn't look out of place on a Broadway stage. In multiple scenes, the camera swoops through its environs as though it, too, is dancing like those people in Paris, or perhaps like Midge Maisel, in a perpetual rush to get to wherever she's going next.
In fact, that's how the first episode of this very fine second season begins: with a tracking shot that gloriously bobs and weaves its way through the main level of B. Altman's department store and all the way down to the basement, where the humming hive of switchboard operators work. This is where we find our Midge (the fabulous Rachel Brosnahan), connecting calls and scooting her chair up and down the line to help colleagues overwhelmed by all the flashing lights and incoming ringy-dingies. This all unfolds to the sound of Barbra Streisand singing "Just Leave Everything to Me" from the film adaptation of Hello, Dolly!, a song choice whose message supports what we're seeing: Even though Midge has been demoted from her previous day job at the makeup counter and also isn't onstage doing stand-up at this moment, you still can't keep this funny girl down. Or to put it another way: Nobody puts Midge in a basement … or a corner. (Did I mention that this season takes a vaguely Dirty Dancing–reminiscent trip to the Catskills?)
That opening sequence is a tremendously energetic, ambitious way to kick off what is an energetic, ambitious series of episodes, all ten of which drop on Amazon on Wednesday. (I've watched the first five provided to critics and am itching for the rest.)
Mrs. Maisel season two picks up its story basically where it left off: Midge is trying to make it as a New York stand-up while keeping her "night life" a secret from her parents; Susie (Alex Borstein), Midge's cynical manager, is still hustling to get her gigs; Midge and Joel (Michael Zegen) are still trying to figure out if they can repair their ruptured marriage; and Abe (Tony Shalhoub) and Rose (Marin Hinkle), Midge's parents, are in the midst of trying to revitalize their own union. Oh, and let's not forget Ethan and Esther, the young children of Midge and Joel, who continue to be pretty much left to raise themselves like characters in a Peanuts comic strip. Let's not forget them, since everyone else around them usually does.
As was the case in season one, the biggest assets in The Marvelous Mrs. Maisel arsenal are Mrs. Maisel herself and Susie. Every time the show pivots away from them to focus on Abe and Rose or Joel, who's now living with his overbearing parents, it loses some of its fizz. Fortunately, those detours never last for too long. Sherman-Palladino & Co. seem to know that the great joy of the series comes from watching Midge find herself onstage — and, as she does in episode two, find herself while busting on some dismissive, inferior male comics — and listening to Susie's nonstop, New York–accented litany of wiseass remarks.
Brosnahan, who won an Emmy earlier this year for her star turn in season one, plays Midge as a whirling dervish of a woman who's always operating on high speed. When she performs onstage, her voltage gets turned up even higher and Brosnahan makes the electricity that Midge feels fully palpable. And Borstein, also an Emmy winner, is an absolute delight as Susie. Midge may be the comic, but Susie's the one who gets the best lines. "He'd fuck a corpse if it was less than six hours old," she says at one point of an industry collegue. And when describing Midge's appearance, she offers this: "Look at you: It's like a dollop of whipped cream grew a head." Borstein delivers every gem with a generous dash of salt, then dips it in malt vinegar. She's great.
The rest of the cast is very good, too, particularly Shalhoub, who can't go for more than two minutes without waxing neurotic about something. There's also a very welcome addition this season in the form of Zachary Levi, who plays a doctor with whom Midge gets set up during the family vacation to the Catskills. Where Zegen and Brosnahan have, appropriately, the kind of chemistry most often found between a well-worn jacket and its owner, Brosnahan and Levi zing to a degree that makes you instantly root for him to become a regular presence in Midge's life.
Speaking of regular presences, the creative standards set in season one continue to be met, if not exceeded, in season two. The late 1950s is evoked beautifully in every detail of every set, and the costumes by Donna Zakowski are glorious. In case there was any doubt, the hat game on this show is still very much on point, along with the dress game, the shoe game, and the handbag game. (When Midge arrives for a date with Levi's doctor in heels whose print is identical to the fabric of her purse, he asks how she did that. "Witchcraft," she responds.)
The second season also continues to reckon with the ways in which Midge's obvious femininity is an obstacle in the comedy world. When she shows up ready to do a set at a large club in the Catskills, the owner — who, thanks to Susie, was under the impression that Midge looked more like Mamie Eisenhower — almost doesn't let her go onstage because he's convinced it's impossible for her to be pretty and funny at the same time.
But, spoiler alert, Midge Maisel keeps proving that she possesses the same qualities as the Amazon series that bears her name. She's lovely to look at, but also brash, sailor-mouthed, hilarious, and not willing to slow down for one second. As season two's opening moments announce, this lady and this show have places to go. You'd best get onboard or you'll miss the ride.