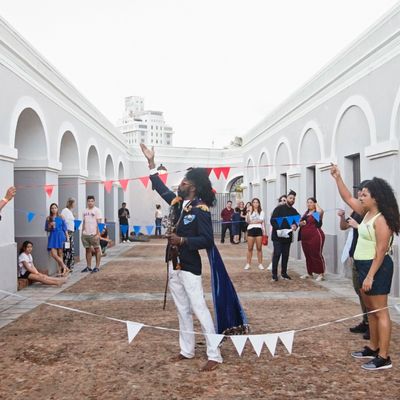 Nyugen Smith performs
Lest We Forget
(a collaboration with Marvin Fabien) at the MECA Art Fair in Puerto Rico.
Photo: Raquel Perez-Puig
Outside the narrow Embajada gallery in a semi-industrial area of San Juan far from the vacationing tourists, a merry crowd gathered around Radio Red's DJ Payola in her makeshift booth. Artists, gallerists, curators, and journalists holding beer cans shared thoughts after the second day of the MECA (Mercado Caribeño) Art Fair. It was, perhaps, a sign that things were beginning to get back to something like normal in Puerto Rico, a year after Hurricane Maria, and the shockingly ineffective response from the United States government devastated the island. Puerto Ricans are American citizens, after all. Embajada just got its electricity back last January, and now its owners, Manuela Paz and Christopher Rivera, were delighted to watch fair attendants swinging to the tunes. A live salsa band played at a nearby street festival, and people wandered back and forth.
Last June, the first edition of MECA launched mere months before the storm, an attempt to call attention to the vibrant local art scene even as its government faced a debt crisis and verged on the edge of bankruptcy. The fair's founders, Tony Rodríguez and Daniel Báez, saw an opportunity for experimentation and community. There's long been a strong tradition of Puerto Rican artists moving to the U.S. to study and expand their careers, such as Angel Otero and B. Santiago Munõz, but lately there was a feeling that the local scene needed to be explored: Phaidon declared San Juan an "Art City of the Future" in 2013, and pioneers such as PS1 founder Alanna Heiss and her successor Klaus Biesenbach, always well-attuned to what is next, had bought homes there and were building projects with the country's artists and institutions.
Rodríguez and Báez invited some of their friends and colleagues in the art world, and 26 galleries, including Gavin Brown's Enterprise (where Báez worked for seven years), Marlborough Contemporary, and White Columns, which joined a slew of local projects for the inaugural edition. It was a joyful, informal, and artistically serious event, and brought in journalists and curators from both the U.S. and all over Latin America to not only peruse MECA itself — a series of booths, performances, music events, and talks held in a music school — but also to visit the city's museums, galleries, and artist studios.
Then the deadly winds and rains hit the island on September 16, 2017. And the Puerto Rican art world had to switch gears, joining all Puerto Ricans to help with emergency rescue and repair. Following a tradition of social practice promoted by artists such as Zilia Sánchez, Jorge Gonzales, and Chemi Rosado-Seijo, they pitched in to patch up houses, taught traditional indigenous crafts workshops, and painted village homes in the community of El Cerro, where Rosado-Seijo has been working since 2002, covering each façade a different shade of green. They reached out to friends and family on the mainland: The Puerto Rican diaspora is extensive, and many people live in both places (and when they live in the U.S., they can vote).
Old San Juan arts space Beta-Local launched El Serrucho, a hurricane-relief fund for cultural workers, which the Andy Warhol Foundation, Robert Rauschenberg Foundation, Hispanic Federation, Pollock-Krasner Foundation, and Ford Foundation contributed to. When food got scarce, supermarkets shut down, and transportation became a challenge, they served lunch to their neighbors and delivered meals to stranded elderly Puerto Ricans. As it became clear that local and federal government relief operations were failing to rebuild homes and the rain persisted, they solicited tarps and helped cover collapsed roofs. Biesenbach rallied politicians and celebrities to raise funds for Maria Fund, and organized a fundraiser at MoMA PS1.
"The art scene is not exempt from the needs, struggles, and indignation that followed the hurricane and the disastrous government response to it," explains curator Marina Reyes Franco. "Everybody was frustrated and exhausted, but there were immediate efforts to help each other, from ad hoc brigades to distribute food and other goods, to forming mutual aid centers, or rallying U.S.-based foundations and others in the diaspora to help bring financial support to those most affected."
Showing extraordinary resilience in the face of the economic and environmental tragedy, the art community persisted with their projects. Against all odds, and with minimal funding (Puerto Rico Tourism and the Institute of Puerto Rican Culture offered some support), Báez and Rodríguez went ahead with the second edition of MECA as planned, relying on friends' help and the good will of workers they couldn't afford to pay before the fair.
"I was really impressed after the hurricane that artists stood their ground," says Báez, who is Dominican, lives in New York, and plans to transform MECA into the first roving Caribbean fair, with a next stop in Santo Domingo. "They said, 'We're going to keep going, what else do we have?'" And it was clear that they could put it on. "San Juan looks kind of the same as last year, but that's because it's the main port, any [recovery] efforts go to San Juan. There are still towns with no electricity and that's really sad. Many people were asking, 'Why are you doing an art fair when a hurricane just happened?' I said, 'We wanted to show that we came to support.'"
Plus, the art-fair model has the potential to bring in capital. "In the eye of chaos, the rich person's still going to be spending," says Báez.
The fair opened on November 13 at the landmark Antiguo Arsenal de la Marina Española with over 30 exhibitors, including Bridget Donahue, 47 Canal, Gavin Brown's Enterprise and White Columns, all from New York, SAMSØÑ from Boston and the Green Gallery from Milwaukee. Two weeks before Art Basel Miami and right after Artbo and FIAC, they each spent $3,500 per booth. And people showed up, including Museum of Contemporary Art Detroit chief curator Larry Ossei-Mensah, the Bronx Museum's Deborah Cullen, and Storefront for Architecture's new director José Esparza Chong Cuy. Writer and influencer Kimberly Drew, Untitled Art Fair artistic director and curator Omar Lopez-Chahoud, Ghetto Gastro co-founder Pierre Serrao, and MoMA museum educator Valentín Concha-Núñez gave talks. Rirkrit Tiravanija's SMILES WITHOUT FREEDOM T-shirts, available in the VIP lounge, more or less summed up the vibe. (Báez once assisted Tiravanija).
At the Navy Arsenal, an open structure of Tuscan-style columns, towering arcades, and galleries built around a fountain, the works on display ranged from large, colorful tropical paintings to metaphorical sculptures, art vending machines, tarot readings, and ritualistic performances. Many artists had roots in the region and engaged with the Caribbean's complicated past of colonialism, trade, mass tourism, and everlasting crisis. At Fierman gallery, Cristine Brache, a Puerto Rican artist born in Miami, created a mausoleum to the four national winners of the Miss Universe pageant, reflecting on Donald Trump's involvement with the contest and his neglect for the island. Four delicate porcelain sculptures sat on vanities holding large red rose bouquets. (They were priced at $7,500 each). This year Brache is a resident artist at Embajada's partnership with the Artists Alliance and the Clemente Soto Vélez Center in New York.
At Embajada's stand across the gallery, Puerto Rican artist Gabriela Torres-Ferrer inserted cryptocurrency meters onto a Bible, a pack of Marlboros, and Frantz Fanon's book about colonization, Los Condenados de la Tierra, for her sculpture (FUF) Fuck You Forever, as a reaction to the recent waves of crypto entrepreneurs moving to the island to profit from its tax breaks and financial collapse. Caribbean-American artist Nyugen Smith collaborated with Dominica-born and Martinique-based Marvin Fabien on the performance Lest We Forget, a meditation on climate change, tourism economies, and tragedy in the Caribbean.
Ana Mas Projects showed more traditional paintings in tropical hues and large formats, which could readily appeal to the local collector base, such as large works by Puerto Rican artist Emanuel Torres Pérez, the 28-year-old winner of the recent Pollock-Krasner award, whose abstract pieces were priced at about $5,500. Km 0.2, whose space was decimated by the storm, sold works by local "master" José Rosa, born in 1939, for around $3,000. The fair partnered with Km 0.2 and a network of other local galleries for a satellite program that brought visitors to a dozen spaces scattered around the Santurce area and Old San Juan. VIPs were also shuttled to the prominent collector Cesar Reyes's countryside home on Saturday.
"An art fair is a commercial endeavor," explains curator Reyes Franco, "but it's also a meeting place, where fruitful relationships can be formed, through sales or collaboration. Everybody involved knows we have to be in it for the long game for it to succeed. Funding arts and culture — through government grants, sponsorship, or private collectors — is absolutely necessary for everybody to live more dignified lives and keep making art in Puerto Rico."
As the four-day event drew to an end, its joyous community celebrated at an evening of live salsa, jazz, and soul at Old San Juan's La Factoría. Gallerists complained that sales were meager and attendance was underwhelming in the aftermath of the ecological and economic collapse, where people are still coping with trauma and loss. But it was clear that the spontaneous connections, collaborations, and conversations sparked during this four-day affair held the promise of brighter days ahead.