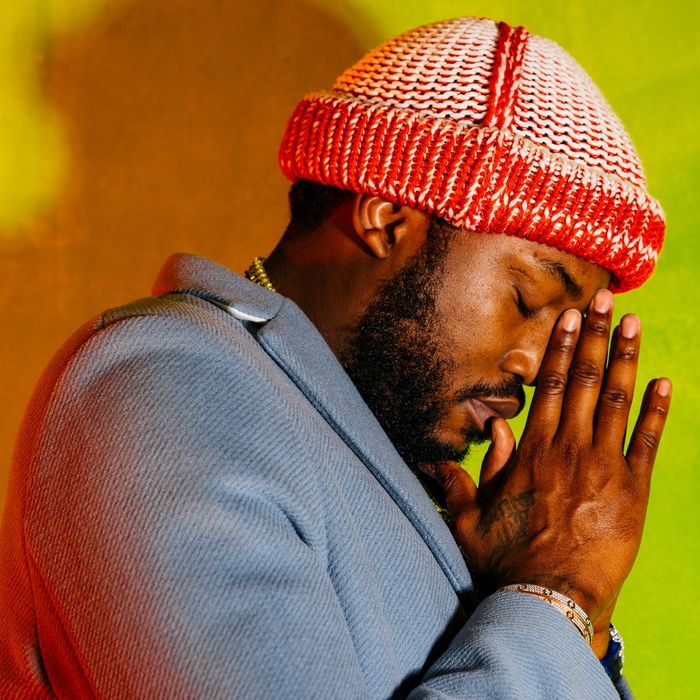 Meek Mill.
Photo: Mamadi Doumbouya
Meek Mill's life can be split almost down the middle, into BP and AP: before probation, after probation. Lately, moments from the first half don't come to him so easily; he's spent more of the past decade bound to the system than he's spent out of it. Struggling to recall his last memory of freedom, he says, "Maybe not since I was 10 or 12, sitting at home playing a game all day." But his snap response feels more truthful: "I've never felt free, coming from where I came from."
Once thought of mainly as a skilled battle rapper, Mill, 31, was raised in North Philadelphia ("Millidelphia" to his fans). Ever since he was sentenced to probation in 2008 for brandishing a gun at a cop during a drug raid — both Mill and witnesses maintain he didn't do this — he has been at the mercy of local judge Genece E. Brinkley. Every few years, like clockwork, she has had him jailed or put under house arrest at her sole discretion. These days, he legally cannot be away from his hometown for more than 30 days at a time.
He's about halfway through his current stint away. We're currently on set — a barren lot in Baltimore's Greenmount West neighborhood — for Mill's acting debut. He's playing the leader of a revered dirt-bike gang in an adaptation of the documentary 12 O'Clock Boys, which is named for the group. Street art decorates the exteriors of the otherwise dilapidated buildings. Mill has been splitting his time between Baltimore, Miami, and New York, where he's recording his forthcoming fourth album, Championships. Since he was released from prison in April, Mill has become something of a criminal-justice-reform activist, but the rapper has long been a fixture in hip-hop, first as a member of the Philadelphia group the Bloodhoundz and later as a solo artist.
If his luck had broke a different way, the film could've been Mill's biopic. "I love riding bikes more than rapping," he says without hesitation. For a kid growing up around 18th and Berks, an area debilitated by crime and poverty, the sport was the ultimate marker of status and independence. If anyone in Mill's neighborhood came into some cash, he or she spent it on a bike — not to physically escape, but to find some sanity on the streets. It is the tragic irony of Mill's life that this first love nearly cost him everything. In August 2017, while in New York for a taping of The Tonight Show, he drove past a group of kids riding dirt bikes uptown and got out of his car to join them. Harmless, he thought. But also illegal, he knew — and typically punishable as a minor traffic infraction. He took the risk and popped a wheelie on Instagram Live. Less than 24 hours later, Mill was arrested and charged with felony reckless endangerment.
Although the charge was later lowered to a misdemeanor, then dropped, assuming he stays out of trouble, Judge Brinkley had originally given Mill a sentence of two to four years in jail. (The dirt-bike trick ultimately cost him six months of his already-limited freedom.) The absurdity of the ruling sparked international outrage, along with the hashtag #FreeMeekMill.
Today, on the anniversary of that sentencing, Mill is joyriding, legally, with a garage's worth of bikes. Still, a somberness inhabits him. Mill has never been a rapper with a lot of swagger, which is part of his appeal. Around set, he keeps himself scarce. During the nine hours I spend waiting to talk to Mill — a heavy downpour shifted the filming schedule and pushed our interview to late in the evening — I catch a glimpse of him only once, through a window. He materializes about 8 p.m., wearing a gray peacoat not quite long enough for his six-foot-two frame. "Did I lose your energy?" he asks, apologetic for keeping me waiting. He has just wrapped a 12-hour day, and while he's physically exhausted, he's mentally sharp; if Mill is extra-mindful of being present in interviews these days, it's because he can't afford to be passive.
He's fuzzy on the specifics of his sentencing, but he lives with its repercussions daily. "Meek is not free," he says. "I'm walking on my tippy-toes." There's a house he recently purchased in Atlanta waiting to be lived in whenever the state says he can. He's closely monitored by a probation officer, whom he must update daily. When Mill checks in with him before bed tonight, he'll likely have to disclose a shooting near the set that rang out close to day's end; when they meet in person, he's probed for any traces of drugs and given patronizing lectures about staying out of trouble. "My PO don't even believe I should still be on probation," Mill is quick to note.
At the time of his latest sentencing, Mill assumed that was it for his career. His decade of probation had gone mostly unnoticed by the greater public—he still traveled, toured, recorded, and made headlines. But another two years away from the ever-fluctuating popularity game of rap would have jeopardized his continued relevance. "She knew that sentence was to kill me," he says of the judge. "Not me physically, but to kill who Meek Mill is."
But Brinkley's ruling last November ended up having the opposite effect. #FreeMeek supporters mobilized online while powerful white politicians and sports owners lobbied for his release. On April 24, the Pennsylvania Supreme Court ordered Mill's immediate release on bail; he learned of the news on TV. In an instant, he went from spending 23 hours a day sequestered in his cell — the celebrity treatment, he says, ordered for his "safety" — to sitting courtside at a 76ers playoff game that night. In the scurry, Mill lost a 26-page memoir he'd begun writing in prison about his personal traumas. ("Somebody probably got it in they stash," he says.) It's the only piece of art he made there. "I rap off feeling, and I wasn't feeling good as a person," he remembers. "All I was doing was eating a lot, getting fat, and being stressed." He returned to music his first week out of jail, recording 50 songs in about a month.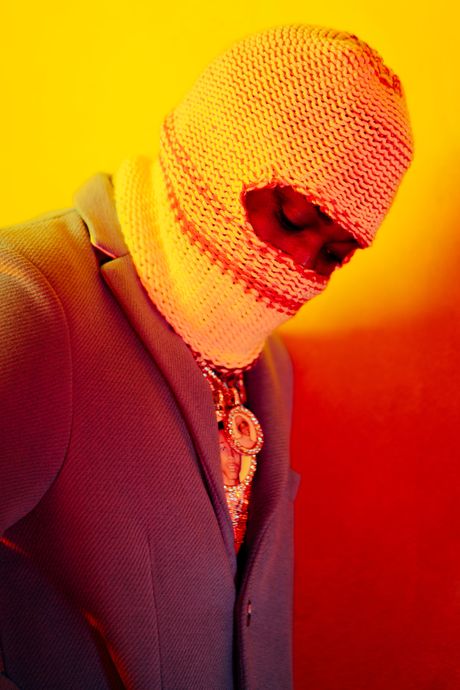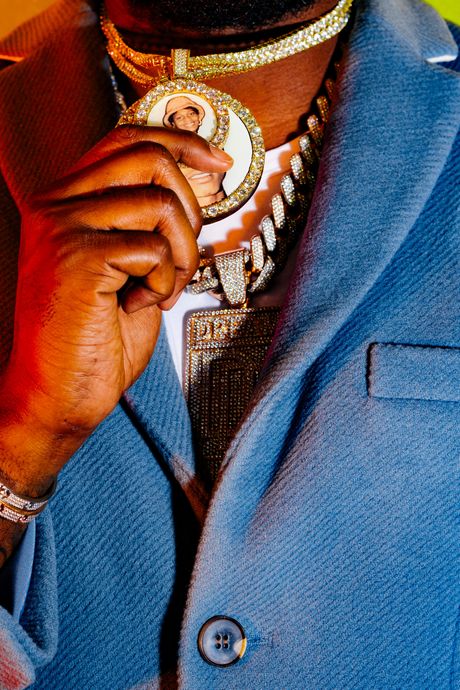 This summer, he released his first new music since getting out, the Legends of the Summer EP. When the first single, "Stay Woke," came out in June, fans noticed a change. "A lot of people were like, 'I see you talking about the system, but I never heard you talk like that before,' " he recalls. "I said, 'No, you wasn't listening to me. You're listening differently now because of the platform and the way people are viewing the situation.' "
Mill is right when he says he's not rapping about anything he hasn't rapped about before, but it's also not surprising that more casual listeners have heard a shift. In the past, Mill typically made the news in celebrity-gossip columns documenting his latest beef with Drake or his rocky relationship with his ex Nicki Minaj. Now he makes headlines for turning down an invitation from the White House to discuss prison-reform legislation with the president. "I already knew that he don't give a fuck about me or my kind," says Mill, who prefers to keep his political action local. "It was too much of a game, and I wasn't trying to be used like a pawn."
Like much of America, Mill watched Kanye West's White House visit with Trump last month with a mixture of disappointment and disgust. "It was a mockery, really," he says. "I don't think [Kanye] addressed anything that had to do with what was tough on justice reform. He wasn't prepared for it, and he shouldn't have done it." But unlike the rest of the world, whose only recourse was to shout at West on Twitter, Mill had spent many conversations trying to talk him out of going. "I had phone calls with Kanye for hours. He was trying to get me to go to things like that," he says. His conversations with Kim Kardashian West, he says, were more promising — "She knew a lot more information than I thought she would know" — but ultimately just as fruitless. "I just couldn't reason with them."
Mill speaks up more now both because he feels a responsibility and because more eyes are watching him. He knows this spike in his cultural relevance has the potential to secure him a spot in rap history, but he also knows it could set him back. It's become a source of paranoia for him. "I feel like I have a lot of targets on my back," he explains. "I'm young and black and trying to bring change to America. I live with those types of fears." He's on probation until 2023, and at any point, Mill's bail could be revoked and his sentence reinstated. But he's acutely aware that he's built for this. "I was living with fear just as a black man before I even became a rapper. Tackling these issues," he says, "just makes the situation greater."
*This article appears in the November 26, 2018, issue of New York Magazine. Subscribe Now!