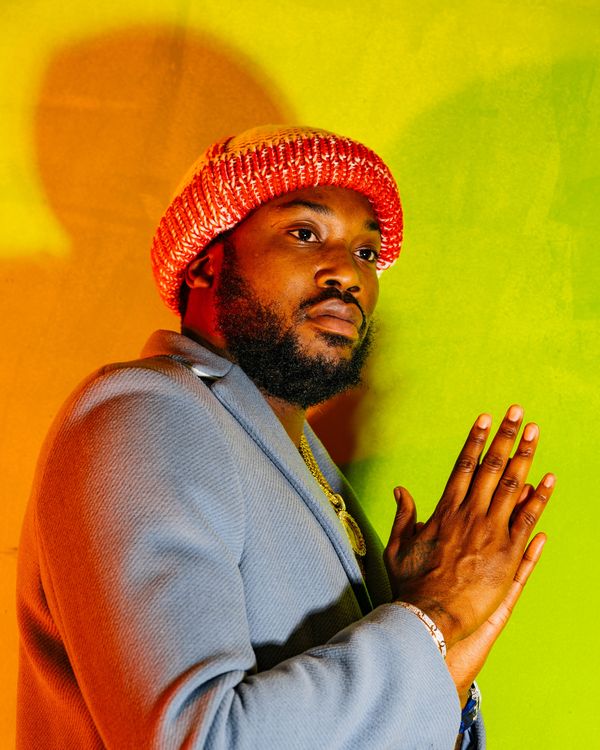 Meek Mill.
Photo: Mamadi Doumbouya
Meek Mill is the kind of rapper who straddles the line between Very Famous Person and Very Common Black Man. He's battled Drake and dated Nicki Minaj, but also served multiple prison stints for circumstances that defy judicial reason. His latest — a two-to-four-year sentence for the minor parole violation of popping a wheelie — sparked an international call for his freedom and prison reform.
When we met last month on the Baltimore set of his acting debut in the feature adaptation of the dirt-bike doc 12 O'Clock Boys, his fame could be felt around set. He was trailed by an assistant whose primary job, it seemed, was to shield his "wig" — some weave blended into his grown-out hair to make it appear fuller — from the rain with an umbrella. But in person, after a long day of filming, celebrity micromanagement wasn't necessary. Meek spoke soberly about America's broken justice system, but allowed the conversation to wander into other areas of his life, too. Here are some more things we learned about Mill while on set, from his beef with Drake, where he stands with Nicki Minaj, and not voting — plus some details about his new album, Championships.
He was high when he started that beef with Drake. Mill very publicly landed in hot water when he accused Drake of not writing his own raps on Twitter, back in 2015, after discovering that Drake had used a ghostwriter for his verse on Meek's album at the time. The Twitter spat escalated into a full-blown beef — diss tracks aplenty — with Drake's labelmate and Meek's then-girlfriend, Nicki Minaj, caught in the cross fire. "I was just out of control at that point in my life. Getting high and doing whatever I wanted how I wanted to do it. In front of the world, not behind the scenes," he says. (Mill recently revealed his past opioid addiction.) "I don't know his writing situation or how he really carried it. I just jumped out of anger and what I thought was the truth at the time."
He would work with Drake again. Recently, he and Drake publicly made amends onstage at Drake's tour, a moment that was more than a year in the making. "Me and Drake have actually been communicating for the last year. Even before I went to prison. It was based on the right time. We ain't have nothing going on but a rap beef, we didn't cause harm to each other," Mill says now. "I think it took both of us going through some ups and downs, me in my career. It made me stronger. I'm moving off love right now, so it was only proper to link with someone I actually did business with before and called my friend before." He adds of the potential for future collaborations with Drake: "I think that's possible. What we did was genuine. We didn't just do it for the love of the people 'cause we could've been done that. We waited until we were ready and did that."
He isn't actually sliding into Nicki Minaj's DMs. Meek and Minaj broke up in early 2017 after two years of dating, but that was far from the last we heard of their relationship. On her recent Biggie homage/free-for-all "Barbie Dreams," she facetiously took jabs at many of her rap peers, Meek included. "Meek still be in my DMs, I be having to duck him / 'I used to pray for times like this' face ass when I fuck him," she taunted. For the record, Mill says he did no such thing. "I ain't get no heads-up [about the song], but I definitely wasn't in nobody's DMs. And definitely wasn't nobody ducking me, shit. That's a fact," he says. Truth aside, he's willing to take a joke. "I actually was laughing at it, too. 'Cause there's no limits! I felt it and I liked it. That's a dope rap."
His album samples Beyoncé. Meek's new album, Championships, arrives on November 30. Vulture got an early preview at Jungle City Studios in Chelsea where his manager, Mike Brinkley, and engineer, Anthony Cruz, were putting the finishing touches right up until Thanksgiving. The album, a whopping 18 tracks, features none other than Cardi B, Ella Mai, Fabolous, Anuel AA, and the also recently freed from prison Kodak Black. "On Me," Meek's club-tailored song with Cardi B, sees Cardi dropping unsubtle subliminals at her nemesis, Minaj: "I been hardworking and humble," she counters Minaj's accusations about payola. Meanwhile, Meek seemingly throws shade at Minaj on the Tay Keith–produced "Automatic" with Kodak: "I don't want my old bitch back but I still wanna fuck." And in a nod to the support he's received from the Carters, "24/7," which features Ella Mai samples, interpolates the Beyoncé classic "Me, Myself and I." (Beyoncé advocated for Meek's release earlier this year on DJ Khaled's "Top Off" rapping, "In the hood hollerin, 'Free Meek.'")
He's changed his tune on ghostwriting. Though Meek used to adhere to the ethical code of rappers writing their own raps, he's less strict about it these days. Asked if it was a deal-breaker that Cardi B, featured on his album, admittedly uses co-writers, he offers an immediate "Hell no." "That would never hold me back from working with someone. Even Kanye admits to using writers and working with people. And Dr. Dre," he continues. "It's just that there are certain titles you can't claim if … like even Puff Daddy, of course, he had writers. He wouldn't claim he was a fucking all-time lyricist. Even Michael Jackson, I assume he had people like Teddy Riley write for him. But he's still one of the greatest of all time. It's just all about what your aim is. I have no right to judge the way anyone makes their money and creates."
He doesn't believe in boundaries in rap beefs. After Pusha T outed Drake for having a secret son earlier this year, it spurred a debate about whether or not some subjects — notably family — should be off-limits in rap beefs. Meek strongly disagrees. "There ain't no lines in rap beefs, never been. When I was going through it with Drake, he was up," he recalls. "He was holding it down to a very high level. There wasn't no limit. You speak on girlfriends, moms, dads, anything. With any beef in rap, that shit will always calm down as long as it doesn't go to violence. It's only words." Meek has seen firsthand how personal a rap beef can get and how thick your skin must be to come out relatively unscathed. "Anybody that ever dissed me when I was dealing with Nicki Minaj, they always made it about her and not really about me," he says. "'Cause it wasn't too much really crazy shit you could say about me. I'm a street rapper. We know I came from being broke, from the bottom."
He's never voted. For as long as Meek Mill has been of voting age, he's been on probation. When we met on the day of the midterm elections, he hadn't yet had the heart to check if he's eligible to show up to the polls. "I don't think I'm even able to vote. I've been on probation so long, my whole adult life, that voting wasn't even an option," he says. (He was eligible, per a state rule change enforced in 2000.) "Never voted in my life. I've been a felon my whole life." Instead, he endorsed incumbent Pennsylvania governor Tom Wolf, Georgia gubernatorial candidate Stacey Abrams, and Florida gubernatorial candidate Andrew Gillum on social media, and supported Florida's Amendment 4, which restored voting rights to felons.
Even if he did vote, he's disillusioned by the system. Though it was the Supreme Court of Pennsylvania and the state's governor that ultimately got Mill out of prison, he's not ready to put blind faith in the government. "To tell you the truth, I hope we have straightforward people, people with dignity, in office that can help make a better change for America. But I'm so used to seeing the other thing. Politics — I never even gave a fuck, really. It's hard to even try to care now because I lost so much faith in seeing change that it's not even realistic." He adds, "Me being let out on bail was the first time anything went in my favor in this court system of Pennsylvania — ever. It was a good feeling for that day, but it was still … I had a lot of people paying attention to my case. I just came out lucky. The person who don't have attention on their cases like me wouldn't come out the same way."
Will and Jada Pinkett Smith cast Meek Mill in 12 O'Clock Boys. The Smiths' company Overbrook Entertainment is producing 12 O'Clock Boys, an adaptation of a documentary on the biker gang. According to Meek, they're the reason he got cast. "I've always been into riding. I fell in love with that," he says. "Then Will Smith and Jada Pinkett Smith bought a documentary that I always used to watch called the 12 O'Clock Boys. They felt like I was the right person to fit the script of playing the starring role in this movie."
Acting didn't exactly come easy for him. For his acting debut, Mill faced a bit of a learning curve his first week on set. "It was harder than I thought it would be. We start at 7:30 a.m. so it's like an actual nine-to-five, and you sit in the trailer when we're not shooting," he says. "Rappers make our money a little bit easier. And I'm finishing my album at the same time. I'm at a very fragile part of my life where I'm going into over-grind."
He, T.I., and Lil Wayne have traded prison stories. In 2010, Lil Wayne served eight months in prison for criminal possession of a weapon. T.I., who originally signed Meek, also served 11 months between 2010 and 2011 for violating probation. Meek questions the validity of both their cases. "Their cases may have been unjust. I heard Lil Wayne didn't even have a gun, that somebody on their bus had a gun and they gave it to the rapper. But when you're found guilty, how can you speak on that?" he says. "With T.I., his friend was shot and murdered while he was in the car. He's a felon so he can't carry a gun. What do you do?" After his latest prison stint, Meek recalls trading war stories with his rap peers. "You know, they lock celebrities in their cell 23 hours of the day [allegedly for their protection], and I always felt like that shit was crazy. What about the protection of your mental [health]? We talked about how that shit was crazy. I think Wayne liked being in the room by himself, but for everybody else, that's a crazy situation."
He's apprehensive about therapy. Mill has been out of prison for seven months, but he's spent the bulk of that time working on everything but himself. Mental health, he notes, wasn't a subject broached easily where he grew up. ("Where I'm from, we just be like, 'Oh, he crazy.' They don't tend to shit like that.") He's considered therapy, but the idea of it feels overwhelming. "I'm not really into pouring myself out to strangers all the time. I do it for a living all day," he says. "And this shit I'm telling you in this interview ain't even the real shit that bothers me. There are so many levels to growing up in the streets. I still got family in the streets. It'd go so fucking far with therapy."
He sees himself as one day having as great a cultural impact as Jay-Z. Midway through our interview, Meek draws an interesting comparison: At one forgotten point in rap history, Nelly and DMX were commercially bigger than Meek's mentor Jay-Z, but never as lastingly influential. Meek would rather be a Jay-Z: "I feel like I bring a lot of influence to the game, no matter if I'm going through good or bad. Most rap careers [would find it] hard to make it through the things I've been through. At the end of the story, whenever that is, if 20 or 30 years from now and there's a documentary on my life, that'll be the conversation."