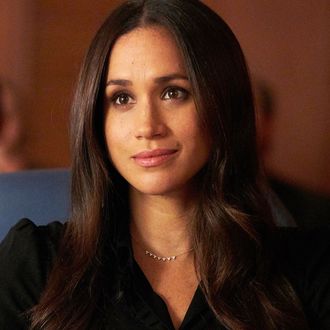 Meghan Markle.
Photo: USA Network/Ian Watson/USA Network
Much to our chagrin, Meghan Markle and Prince Harry's delightful royal tour of the South Pacific has come to an end, which means no more posts about her carousel of tasteful frock outfits. (For now!) But until their next "tour" of "the Commonwealth" kicks off, allow us to divert your attention to a video that emerged during the couple's stop in Auckland, New Zealand, earlier this week, where a band and choir tried to get Markle's attention by playing the theme song to USA's hit law drama Suits.
Or should we say, USA's hit law drama Suits that formally starred Markle for seven seasons, until she left the series to become a duchess. It's a catchy lil' tune — "Greenback Boogie" by Ima Robot, to be precise — but Markle doesn't acknowledge what's going on, so please interpret her reticence however you'd like.