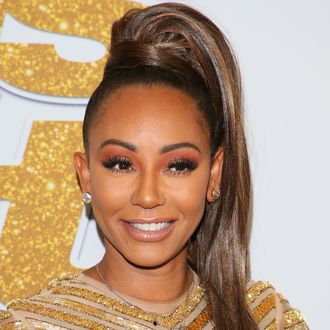 Mel B.
Photo: Jean Baptiste Lacroix/WireImage
While working on her memoir Brutally Honest this year, Mel B chose to enter rehab after she was diagnosed with PTSD, which she said stemmed from an "abusive" relationship and divorce from her husband, producer Stephen Belafonte. Months later, the Spice Girl is now in a much better mental space, although she admits to keeping one thing related to Belafone close to her — surgically removed skin from a rib tattoo she got bearing his name. "I've saved it in a jar, which sounds a bit strange, I know," she explained during a Loose Woman appearance in the U.K. "It's at the top of my wardrobe. Nobody can see it, but I know it's there and it's off my body." Per her wishes, the tattoo, which reads Stephen, till death do us part you own my heart, was cut off her body by a doctor as opposed to a laser removal, to ensure Belafonte's "remnants" were completely off her.
"It sounds horrific, but what I went through was so horrific," she continued. "A lot of my surgery was to do with getting out of my abusive relationship. It was almost like a cleanse. I just wanted to feel fresh and new again and untouched by that person." You do you, girl. Whatever makes you happy.