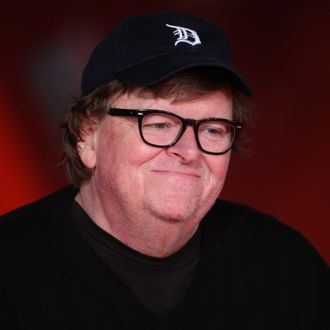 Photo: Franco Origlia/Getty Images
Accepting a lifetime achievement award on Saturday's Critics' Choice Documentary Awards, Michael Moore took care of some unfinished business. Fifteen years ago, Moore was booed off the Academy Awards stage for using his Bowling for Columbine acceptance speech to decry the Iraq war. "I never got to finish that speech," Moore said. "So if you wouldn't mind … I'll start with how I began, what you actually saw on television." In 2003, Moore got the metaphorical shepherd's crook right around when he said, "We live in fictitious times," words that have only gotten more resonant as the years have passed. The full text of the speech was transcribed by IndieWire.
It's weird to think of a time when Hollywood wasn't monolithically against the president and the War on Terror. But criticizing the war was still off limits in the flaggiest years of America. The Dixie Chicks lost their career, Michael Moore got boo'd away from his only Oscar to date, and Matt Damon got mercilessly roasted by Team America: World Police. Truly, he hasn't escaped the shame.