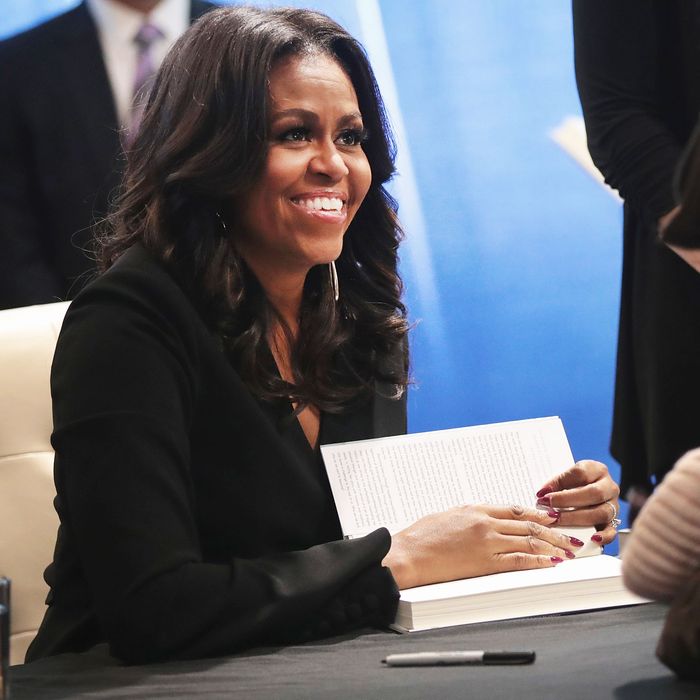 Photo: Scott Olson/Getty Images
Lit Parade is Vulture's regular guide to what the book world is writing, talking, and getting exercised about. This week: Michelle Obama's Becoming.
An A-list celebrity tell-all is always an Occasion for the publishing world — you know, Today show drop-ins, fellow celeb Instagram endorsements, photos in all your feeds of fans tearfully clutching copies. A memoir by a former First Lady ratchets up the intensity even more (anyone remember Betty Ford's gut-baring Betty: A Glad Awakening?). And when it's the first book from the most popular First Lady in recent memory — an inspiring speaker and accomplished attorney, the OG J.Crew fashion icon, and the coiner of "When they go low, we go high" — don't expect to look at a screen for the next two weeks without seeing that book's cover, and cover girl, flashing back at you.
Despite Publishers Weekly's assessment that the book was, financially, "a gamble," there's been a frenzy over Michelle Obama's Becoming since Penguin Random House announced the deal back in March 2017 (to the alleged tune of $65 million for this book and an upcoming memoir by President Obama). Just a few days after the midterm elections (nice timing Mrs. O), she's out on a ten-city tour, hosted by the likes of Oprah and Reese Witherspoon.
Obama is on the cover of this week's People and the December issue of Elle, wherein she and Oprah sit down together for the accompanying story. Becoming has a first run of 3 million copies. As John Williams writes in the New York Times, "The publishing industry might have to think back to Harry Potter's heyday for a book that has garnered as much attention as the former first lady's has."
Is the book any good? Former first ladies aren't famous for their scintillating prose. NPR claims that "this is one of those rare political books with truly excellent writing." Vox says that "it is for the most part a safe and anodyne political memoir that does not aspire to any more ambitious territory. But it is enormously effective at distilling Obama's poise, intelligence, and warmth into a single 421-page package." Honestly, most people — and critics — don't care if the language sings. They're too impressed by the perfect balance Mrs. Obama strikes — personal, but not an open book; inspiring, but admittedly human in her faults. It's been her calling card for years, and in Becoming she pulls it off yet again.
Yes, it's full of little tidbits that have media outlets reveling in a joyous delirium of clicks — Obama explains why she didn't sweat over that little snafu in which she hugged the queen of England, defends yet another hug (and her relationship) with George W. Bush, and tells the story of how Malia begged her parents to "be cool" on her prom night. And there was the more serious revelation (broken early by the AP) that she'd suffered a miscarriage and conceived her two daughters through IVF.
But the main subject of critical discussion is what she is and isn't willing to share. The Washington Post notes that it's "not a Washington read full of gossip and political score-settling." In one of the multitude of pieces the Times has run about the book in recent days, Alexandra Alter explains that "Mrs. Obama, not surprisingly, doesn't let her guard down entirely, a protective posture that is consistent with her public persona." When it comes to Obama's confessions about her marriage (she and Barack attended counseling) and her fertility issues, an NPR review noted, "It's clear that the point of telling these stories isn't to dish … Rather, one gets the sense that Michelle Obama has grappled deeply — and is still grappling — with questions about what it means to enmesh two lives together." At the first stop on her tour, Oprah exclaimed that the book "let us experience the fullness of you." But then, while describing her years in the White House, "this is where her protective walls seem to go up."
If this memoir were to be released almost two years into a Hillary Clinton presidency, rather than a Trump administration, it's hard to imagine that we'd be as delighted by her restraint. But now she's an anomaly, a throwback to a not-long-ago time. As Stacia Brown wrote in her gushing piece for the Times, "Why Michelle Obama Is 'Everything'," "The brand of transparency offered in the book — the kind Mrs. Obama often had to temper during her time as first lady — is a reminder of what made women like us feel so deeply endeared to her in the first place."
So what's not to like? She's a joy; she makes people happy, damn it! The book is a tonic we're all happy to take a swig of right now.