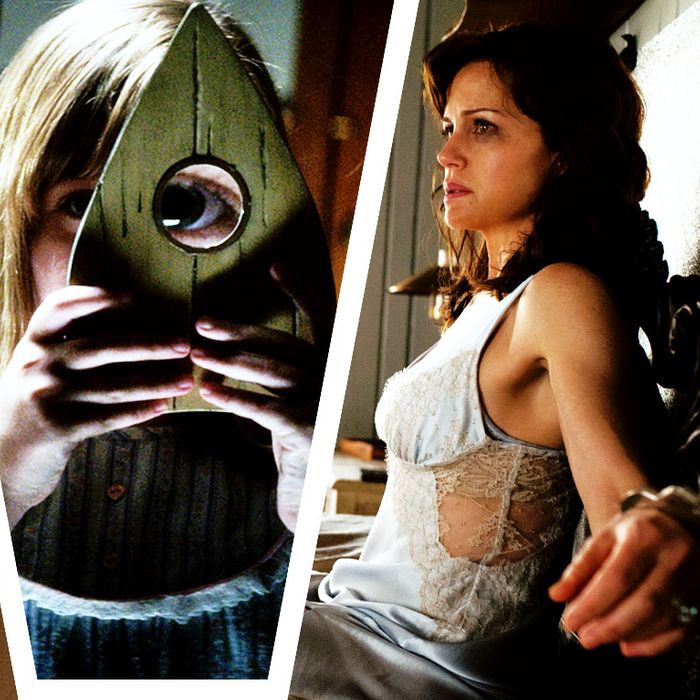 Photo: Netflix and Universal Pictures
So you watched The Haunting of Hill House and couldn't get enough of the domestic discord, hidden ghosts, or special time with your friends Elizabeth Reaser and Kate Siegel. That's all perfectly natural. But now you're sad because you've binged all ten episodes of the Netflix series before Thanksgiving break, and you're wondering where you can get your fill of grief horror over the upcoming long weekend. Well fear not, because Hill House creator and director Mike Flanagan has a catalogue of horror films uniquely built for your needs. Over the past five years, Flanagan has steadily established himself as one of the best directors working in horror today. He's got a sure hand with weighty emotional narratives that typically incorporate the themes that made Hill House so resonant — profound loss and the most toxic manifestations of grief — while giving his female stars a lot of great work to do onscreen. So if you want some good old supernatural scares featuring excellent actresses that will put you in your (terrified) feelings, here's a guide to the horror movies of Mike Flanagan.
Absentia (2011)
Absentia came after the dramas Flanagan made in the early 2000s, but arrived just before his move into studio films. It's sort of a bridge movie between the eras of Flanagan's filmography, and establishes the familial terrors that would become a signature of his work. The story centers on a pair of sisters, Callie (Katie Parker) and Tricia (Courtney Bell), who are together again under one roof after a period of separation. Callie is a recovering addict, and Tricia is in the midst of trying to get her missing husband declared dead in absentia after being gone for seven years. Flanagan built the movie he made before this one, Ghosts of Hamilton Street, around a central character dealing with loss when all the people in his life start vanishing, but Absentia marks the move into more explicitly supernatural territory — i.e., a monster. As Tricia has terrifying visions of her missing husband, Callie starts suspecting a creepy tunnel near her house might have something to do with his disappearance. Flanagan's films would get considerably more shiny-looking starting with Oculus, but Absentia is a good origin story if you're a burgeoning Flanastan.
Oculus (2013)
Based on a short film called Oculus: Chapter 3 — The Man With a Plan, which Flanagan made in 2005, Oculus is about a brother and sister at odds with an evil mirror. When Tim (Brenton Thwaites) and Kaylie (Karen Gillan) were just kids, their parents were driven homicidally mad by a darkly powerful mirror in their home, and after one terrible night, both grown-ups end up dead, and Tim is locked up on suspicion that he was involved in their murders. Cut to adulthood and Kaylie has spent years researching the haunted furniture item while Tim has been under psychiatric care and conditioned to believe no supernatural events were involved in the murder of his parents. Kaylie is determined to learn the truth, but that means bringing the mirror back home where the siblings will either triumph over it or be killed by it. The story is told with the earlier and current timelines spliced together, with Flanagan serving as writer, director, and editor, as he does for all the films on this list. If you loved episode six of Hill House, know that sibling fights are one of the filmmaker's motifs from way back.
Hush (2016)
If you loved Theo in Hill House and have always thought John Gallagher Jr. was a little unsettling, you will be super into Hush, which is either Flanagan's first- or second-best movie. Co-written by star Kate Siegel (yes, that's Theo, and also Flanagan's wife), Hush is an airtight home-invasion thriller in which Siegel's Maddie plays a deaf woman terrorized by a creepy psycho (Gallagher) while she is staying at a house in the woods. This is the director's only horror movie that revolves around human-on-human violence, but it's riddled with anxiety from start to finish, and was one of the best scary movies of the year when it came out in 2016. It's a great showcase for Siegel, and a nice switch-up in themes for Flanagan's work.
Before I Wake (2016)
The second of three films that would debut in 2016 for Flanagan, Before I Wake returned to the themes of ghosts and unresolved grief. Thomas Jane and Kate Bosworth star as a married couple who are adopting a child (Jacob Tremblay) after the tragic loss of their biological son. The hitch with their new boy is that his dreams manifest tangibly in the real world, which is cute when we're talking about butterflies, but horrifying when he has nightmares about some freaky-ass ghost mummy. Both Tremblay's character and his new parents will have to fully reckon with their inner demons to vanquish the literal demon that's hunting them, and as with almost any good Flanagan project, the real villain was the trauma we accrued along the way! For shades of Hill House, revel in the spooky manifestations of dead family members.
Ouija: Origin of Evil (2016)
After a critically disappointing first film, Blumhouse tapped Flanagan to breathe some life into its Ouija sequel, Origin of Evil. And it worked! Origin turned the focus onto a single mother and her two daughters trying to make ends meet and cope with the death of their father. At this point, we have enough common Flanagan film components to make a Bingo board. So for Ouija, you can check off family, ghosts, latent mourning of a loved one, fighting sisters, and a nicely appointed home, and we can even add some new tiles for a few Flanagan players who will appear in more of his films: Elizabeth Reaser as the well-meaning con artist's spirit-medium mother, Lulu Wilson as the cute and possibly creepy daughter, and Henry Thomas as Father Tom. (Siegel also makes a brief appearance as Jenny Browning, and all of them appear in Hill House.)
It's important to note that Flanagan's return to familiar frameworks doesn't make his movies feel stale. It just means these are the preferred colors on his palette. More filmmakers should give Reaser as much quality screen time as Flanagan does, and he weaves the family's pain together with the origin story of a witch board effectively enough to make you enjoy their emotional arc as much as you do the jump scares.
Gerald's Game (2017)
Remember when we said Hush was Flanagan's first- or second-best movie? Well, Gerald's Game is its top competition. This adaptation of the Stephen King story stars Carla Gugino in a knockout performance as Jessie Burlingame, a compliant wife who goes off with her husband for a romantic weekend getaway, and ends up handcuffed to a bed alone after some sexual role-playing goes fatally awry. The Flanagan-esque themes aren't immediately apparent in the film, but as Jessie starts hallucinating a subconscious version of herself and arguing with the ghost of her dead husband, her survival becomes contingent on whether or not she can access a buried reservoir of strength to cheat death. And how does she do that? But confronting her long-repressed childhood trauma (in flashback scenes that feature both Thomas and Siegel, too)! Gerald's Game was one of last year's best horror films, and Gugino would stick with Flanagan for Hill House, thereby completing Flanagan's subconscious long con to amass actresses who could very believably be cast as biologically related members of the Crain family. His mind!