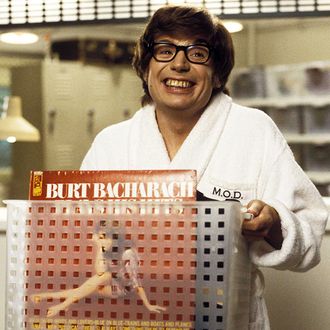 Mike Myers in
Austin Powers.
Photo: New Line Cinema
The International Man of Mystery hasn't seen his last day on the big screen … at least according to Mike Myers. Speaking to Access Online earlier this week, Myers provided a new update on his long in-the-works fourth Austin Powers movie, which has reportedly been in development for over ten years now.
"Well, you're going to see Dr. Evil soon somewhere in the culture. The movie … they take a long time to write. They always have," Myers said. "Jay's [Jay Roach, Austin Powers director] been super crazy — he's doing a fantastic movie right now that he's working on, but it's looking good."
Roach is currently working on a film about Roger Ailes starring John Lithgow, Charlize Theron, Nicole Kidman, Margot Robbie, and Kate McKinnon. Myers resurrected Dr. Evil earlier this year when he paid a visit to Jimmy Fallon on The Tonight Show, and he told ET soon after that he'd like to focus on the Austin Powers villain for the franchise's next film. "I would love to do a movie from Dr. Evil's perspective," he said. "So it would be Dr. Evil 1, Austin Powers 4, is how I would roll." If we're going to get another Austin Powers movie, perhaps a film about Dr. Evil's origins — luge lessons, meat helmets, and all — would be the best way to go, considering the current U.S. administration.