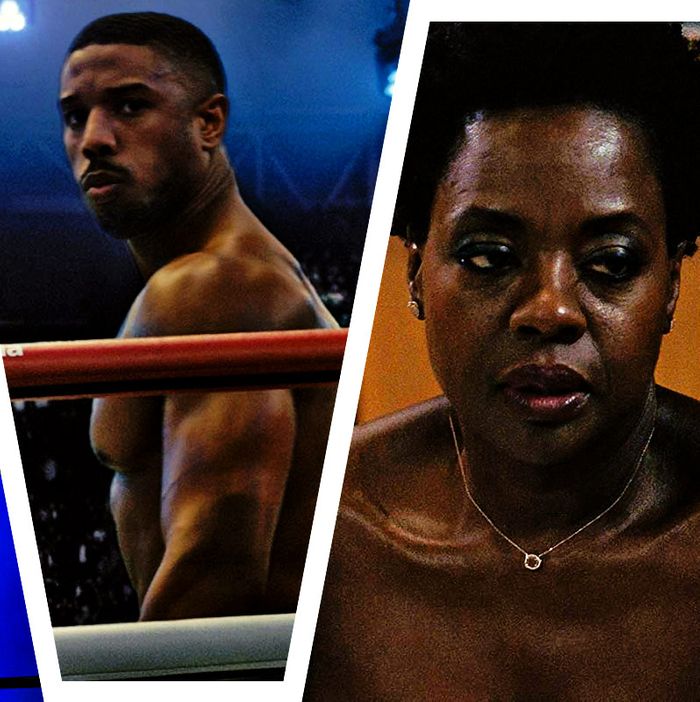 Photo: Twentieth Centruy Fox, Warner Bros,
Movie theaters: the perfect place to digest a heavy Thanksgiving meal, dodge your family, and a much better alternative to football. Whether you're doing the holiday on your own, or bringing along a few relatives, there are movies in theaters right now (and newly streaming, if you'd rather not leave your house) for any and every situation. Plus, everyone could use something to talk about at the dinner table that's not politics, relationships, or This Is Us (we're not caught up; don't you dare say anything). Here are 15 movies vetted by the Vulture critics that are either in theaters or streaming right now.
Fantastic Beasts: The Crimes of Grindelwald
Fans of the Harry Potter franchise will like getting another glimpse into the magical world, regardless of how well the movie stands up on its own. There's enough nostalgia and magical mishaps to keep the movie delightful. Even after "slogging" through the bulk of the movie, the ending is enough to make Bilge Ebiri "wonder if this series might still have a few decent tricks left up its sleeve."
Bohemian Rhapsody
Everything from the director to the eight-year wait could have caused Bohemian Rhapsody to flounder, but two very important things kept critic David Edelstein in his seat: Queen's music and Rami Malek's acting. "The actor might not be as handsome as Mercury and might not do much actual singing (it's all Freddie)," Edelstein wrote, "but he's nearly as magnetic, and he makes you believe that that voice is coming out of that body — an amazing feat."
Roma
Emily Yoshida compared this "grand, epic tale" to Gone With the Wind; both paint a portrait of a time and place, rather than specific characters. Roma centers in on Cleo, a domestic worker (played by newcomer Yalitza Aparicio), in 1970s Mexico City. Everything from director Alfonso Cuarón's long, all-consuming dolly shots to the set's minute details to the fact that there's never really a resolution "leaves such a deep and lasting impression." Roma will have a four-week run in theaters beginning November 21 before streaming on Netflix on December 14.
At Eternity's Gate
Director Julian Schnabel wants you to enter Vincent van Gogh's mind and feel what he feels. On this part, Edelstein wrote, "The movie is only partly successful, but that part can take your breath away." Handheld shots follow Willem Dafoe's van Gogh as he whips himself into a frenzy, "channeling van Gogh's tipsy, questing, endlessly dissatisfied spirit." Oscar Isaac and Mads Mikkelsen also feature in the film as artist Paul Gauguin and a priest in van Gogh's sanitarium, respectively. Wherever At Eternity's Gate may fall short, Schnabel and cinematographer Benoît Delhomme make up for it with stunning visuals.
Creed II
Michael B. Jordan returns to Adonis Creed, the role he played in Ryan Coogler's Creed. Without Coogler this time (Steven Caple Jr. directs), the sequel manages to conjure up more of the fighting spirit the original held. For Ebiri, the film "admirably toys with our emotional allegiances just enough that we're not always sure of how we feel about where it's all headed." The film doesn't quite let go of its place in the Rocky franchise, but fans may not find that so bad.
Shoplifters
With a title that immediately labels the main characters, it may be easy to assume that the Palme D'Or–winning film romanticizes poverty. But director Hirokazu Kore-Eda does nothing of the sort. For Yoshida, when "the family's true nature comes into the light — not one single dramatic revelation but a cascade of them — it becomes clear that Shoplifters has much more to say about the active choice of being a family member, especially a parent, in a way that goes far beyond the Sumidas' particular situation." If you thought your family was complicated, Kore-Eda challenges that with "one of the most consequential films he's made in a very long time."
Green Book
This film, inspired by the real lives of Don Shirley, an African-American musician, and Tony Vallelonga, an Italian-American bouncer turned driver, owes a lot to its main actors. Mahershala Ali and Viggo Mortensen play off of one another beautifully. "The more animated he is, the stiller Ali becomes and vice versa," Edelstein reviewed. "They make beautiful silly music together." The film sugarcoats the real racism occurring at the time, but those still interested should see it if only for Ali and Mortensen, keeping Edelstein's words in mind: "The acting is better than the dialogue, which is better than the plotting."
The Clovehitch Killer
Just in time for a weekend with your family, here's another thriller where anyone could actually be a murderer (or in a demon-worshiping cult or a witch or demon-worshiping witch). When a young boy (Charlie Plummer) finds evidence that his own father might be a famed serial killer, he digs for more information. This movie, directed by Duncan Skiles, plays it slowly, begging the viewer to get suspicious. It's not about who the real killer is, even if your guess ends up being correct. Instead, as Emily Yoshida wrote, "It's all about twisting the knife in the process of confirming those fears."
Instant Family
Finally, a lighthearted flick that your whole family can agree on — or will distract you enough to forget there's a house full of distant cousins waiting. The cast alone is good enough to bite: Mark Wahlberg, Rose Byrne, Tig Notaro, and Octavia Spencer all feature in this comedy. A married couple fosters three siblings and, of course, high jinks ensue. The film also manages a dose of heartfelt and topical commentary. "Instant Family is a surprisingly foul-mouthed, filled-to-bursting roller coaster of a comedy-melodrama that tosses you in eight different directions before leaving you a teary, conflicted mess," Ebiri wrote. "And when it works, it's genuinely funny and moving." It might even have you excited to see those second cousins.
Ralph Breaks the Internet
A sequel to the successful Wreck-It Ralph, the film follows Ralph and Princess Vanellope (Sarah Silverman) as they discover the internet. Following last year's Emoji Movie, Ralph Breaks the Internet attempts to paint us a portrait of online life by placing ads for "eBay, Amazon, Pinterest, and of course the entire Walt Disney Company portfolio" across the film. Just like real life! The real gem of the film comes from Wreck-It Ralph's voice actor, John C. Reilly, whom Yoshida credits as the perfect choice for the contemplative character, "perfectly deft at capturing that stubborn, restless feeling of inadequacy."
Widows
Viola Davis is in this movie. Any other points are just icing on a perfectly delicious cake. Widows, directed by Steve McQueen, has enough power and talent to be an HBO or Netflix limited series, but Edelstein finds it works best as a compact film, a "crowd-pleaser in which all the strands come together, the twists make audiences gasp, and there are multiple satisfying payoffs." Here's a list of other cast members to read while the showtimes load: Liam Neeson, Michelle Rodriguez, Daniel Kaluuya, Colin Farrell, Cynthia Erivo, Brian Tyree Henry, Jon Bernthal, Elizabeth Debicki, and more.
A Star Is Born
If you've been holding out on seeing this movie because you're a true purist, preferring one of the three originals to this new, Gaga-fied version, do yourself a favor and stop that right now. Edelstein concedes that the latest A Star Is Born "leaves all three previous versions in the dust in the meet-cute department," and the beginning's so good, it'll get you through the rest. As for the rest of the population, it's been out just long enough that you might get away with belting "Shallow" along with Ally in a sparse theater.
Boy Erased
Lucas Hedges's performance as Garrard, a gay teen forced to conversion therapy by his Baptist parents, is incredible. It's a hard role to play and Lucas more than manages "to portray a teenager whose best option is to reveal nothing of himself." Edelstein continued: "The key is to make that lack of 'reveal' an active rather than passive process, and Hedges does it with remarkable intelligence."
The Front Runner
Starring Hugh Jackman, Vera Farmiga, J.K. Simmons, Sara Paxton, Steve Zissis, Molly Ephraim, Alex Karpovsky, Kevin Pollak, and others, The Front Runner gets a lot of energy from its cast. Directed by Jason Reitman, the movie paints the press as a villain in the story, but doesn't give as much scrutiny to its real-life protagonist, Gary Hart (Jackman). That soft hand does the film a favor. "Its greatest strength is that, however much contempt Reitman has for the press, he and his co-screenwriters haven't made up their collective mind about their protagonist," Edelstein wrote.
The Long Dumb Road
Bilge Ebiri can't praise Jason Mantzoukas enough, writing, "Jason Mantzoukas is some sort of national treasure, and director Hannah Fidell's delightfully agonizing road comedy The Long Dumb Road proves it — though not quite in the way we might expect." Rather than "escalating lunacy," which we've seen Mantzoukas do on more than one occasion, his character here is given more depth. It makes for a refreshing take on the actor and an interesting watch overall.