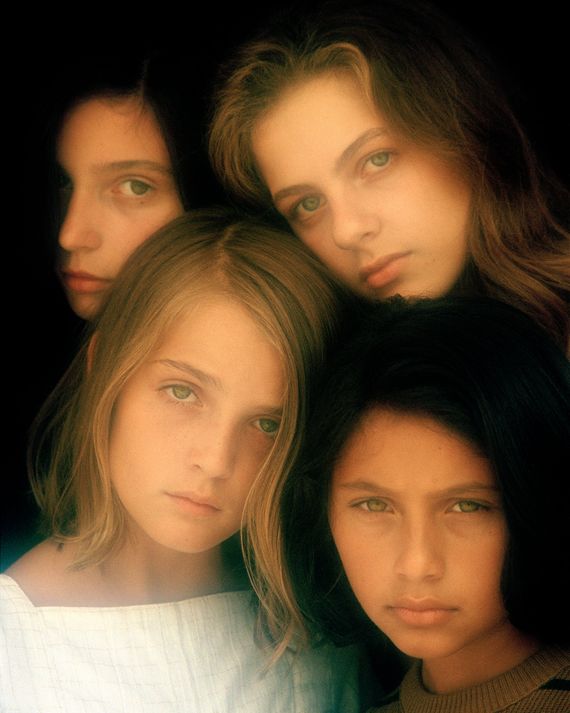 Clockwise from top: Gaia Girace, Margherita Mazzucco, Ludovica Nasti, Elisa Del Genio.
Photo: Amanda Charchian for Vulture
Sitting with the Italian stars of HBO's My Brilliant Friend adaptation is like observing two sets of sisters. The Lilas — Ludovica Nasti, 12, and Gaia Girace, 15 — are raven-haired and intense. Ludovica frantically waves her arm every time she wants to speak, while teenage Gaia offers a haughty stare. The Elenas — Elisa Del Genio, 11, and Margherita Mazzucco, 16 — are timid by comparison. With their dirty-blonde hair and large green eyes, Elisa and Margherita appear shy and serious and somehow more accessible.
Up until now, lunch at an L.A. restaurant has proceeded calmly through interpreters, as the girls devour pasta and pizza that miraculously doesn't offend their palate. But when the topic turns to the true identity of author Elena Ferrante, who famously writes under a nom de plume, the table erupts in a chorus of si, si, si and no, no, no as everybody — including the actresses' mothers — starts speaking at once. The interpreter struggles to keep up. "They're all saying they think they know who it is," she explains. "It's a writer that we met in L.A., but she's Italian!" shouts Gaia. "There's so many things that don't jive, so we think it must be her." She reaches across the table to high-five Elisa, who grins in agreement. Ludovica and Margherita shake their heads. They prefer the prevailing rumor, introduced by a New York Review of Books blog two years ago, that Ferrante is a Rome-based translator, or possibly a college professor.
Anyway, at present, these young women are probably the bigger curiosity. Some 10 million people worldwide have read Ferrante's four-book Neapolitan Novels, the story of a turbulent lifelong friendship between two girls growing up in the violent, impoverished outskirts of post-WWII Naples. Presumably, all of them have a picture of the heroines in their heads: Lila Cerullo, self-made and motivated, the alpha of the friendship, defiant in her talent and intelligence; our narrator, Elena Greco, bright and thoughtful, but deferential to and competitive with her friend in every way. Their dynamic is perfectly distilled on the page. "I did many things in my life without conviction. I always felt slightly detached from my own actions," explains Elena early in the novel. "I trained myself to accept readily Lila's superiority in everything, and even her oppressions … I soon had to admit that what I did by myself couldn't excite me, only what Lila touched became important."
The stars of the series — which premieres on November 18 — were plucked from obscurity to portray perhaps the most profound female friendship in modern literature. None of the girls except Gaia had acted in so much as a school play. That's because Italian director Saverio Costanzo (Hungry Hearts) and Ferrante herself wanted the ensemble in this densely populated, eight-episode production to be from the authentic Neapolitan region. The casting process took eight months, beginning in early 2017. In total, roughly 9,000 children were considered. "It was really hard," says Costanzo, speaking the day before, during the Television Critics Association July press tour. "The weird part is that these four girls are the only real option we had."
Complicating matters, of course, was the need for the younger and older versions of the characters to resemble one another. "This was the great dilemma of the casting process — whether to choose Elena and Lila as adults first, and then look for the girls based on resemblance to their adult counterparts, or do the exact opposite," says casting director Laura Muccino. "We opted for the latter because we wanted the search for the young girls to be as unrestricted as possible. Still, we had to look for children who were similar, both in their looks and personality. We relied greatly on Elena Ferrante's descriptions of them. Our priority was to be faithful to these descriptions, not only from a physical point of view, but also from a psychological and behavioral one."
During the first phase of casting, the girls were asked to participate in an interview. "They talked about themselves, in particular about their fears and how they saw themselves in the future," says Muccino, though she doesn't divulge what was shared. Then came multiple auditions from everyone. The younger girls rehearsed climbing the stairs to confront Don Achille after losing their dolls in the cellar. The older two were given a scene from episode three (among others) in which Lila defends Elena by taking a knife to Marcello Solara's throat.
The role of Elena proved a harder find. "Elena is out of focus. She's our point of view in the story, but you never feel her weight," says Costanzo. "I was looking for someone acquiescent, soft; someone who is always unseen." In an uncanny overlap with their sometimes passive character, Elisa and Margherita stumbled upon the part almost completely by chance. Both were absent from school on the day auditions were held. Elisa was only discovered when she accompanied her older brother to an audition for Enzo, the troubled schoolboy who eventually becomes a major love interest (he didn't get the part). Margherita received a flier for the open casting call from a friend on the street and asked her mom if she could check it out. Costanzo recognized both of his narrators as soon as he saw them, though their qualifications were practically ineffable. "It's so hard to find a presence that is as strong as a protagonist needs to be, but that doesn't cover the light of Lila," he says, noting that Ferrante shared her approval via email.
The Lilas were scrappier and more assertive. "When I met Gaia, she told me, 'I'm going to be an actress, period,'" says Costanzo, laughing. (Even today, when asked her favorite movie star, Gaia's answer is Lila-worthy: "Myself.") But despite being front-runners — Costanzo calls Ludovica "an unbelievable gem" — they had to wait seven months before officially securing the role, in part so the search could be thorough. Ludovica tried to stay hopeful. "My sister had read the book," she says. "She said to me, 'You are Lila. You have bruises and scratches on your legs. You're just like her. You have dark hair. You're identical.' I immediately liked the character very much."
Costanzo wasn't daunted by working with untrained actors. If anything, he found their naturalism to his advantage, noting that the younger stars in particular, who anchor the first two episodes, become one with their characters. "By the end, everyone in the crew was surprised by how Elisa was taking care of Ludovica," he says. "If Elisa's acting was better, she felt bad because the attention was on her instead of Ludovica, much like [Elena and Lila]." According to the actresses, the director's feedback was minimal. "Saverio would give us some advice, some direction," says Ludovica. "But in the end his message was always the same: 'Be yourselves.'"
For the older girls, the stars of the remaining six episodes, there were challenges. Margherita's similarity to Elena at times complicated her performance. "I'm also a person who doesn't really show others exactly what I'm thinking or feeling," says Margherita. "I had to make many things understood through my eyes, through my expression." She didn't love the hours it took to apply acne to her face, either. Gaia, on the other hand, struggled with the Neapolitan dialect — which differs from region to region, and has also changed over time — as well as a scene that required her to captivate a roomful of her peers by dancing with abandon. "I was like a plank," she says. "I was hopeless. It was bad. I have to thank our dance coach for her months of patience."
They had better moments, too. For Elisa and Ludovica, it was hiding the money they got from the shadowy Don Achille in a crack in a dilapidated wall (which doesn't appear in the book). "A dog kept getting in the shot and making us laugh," Ludovica recalls, adding that she did not care nearly as much for the herd of sheep that she had to wend her way through when the characters skip school to visit the sea. "They made me squirm." Margherita loved going to Ischia to film Elena's beach vacation, while Gaia preferred Lila's shoe store. "Lila has designed this beautiful shoe, and to make sure that they were resistant, the shoes had to be placed in a pot of water," she says. "Every time, we got soaked. That was fun."
A chocolate birthday cake arrives for Elisa and everyone sings, "Tanti auguri a te." I ask if any of them has a friendship like Elena and Lila. The older girls immediately shake their head no. The younger ones pause. "I have a very deep relationship with my best friend," says Elisa. "We also fight a lot, but for dumb things. Like, for instance, if I stand in line with someone else, or if I steal her pen. But we make up after three minutes." Ludovica raises her hand. "My best friend was much, much older than I was — she's 14," she says. "She started becoming distant, then we had a big fight, and that was it. We haven't spoken since." Next to her, Elisa runs her finger through the icing and wipes it on Ludovica's cheek. "Thankfully, I have many, many new friends."