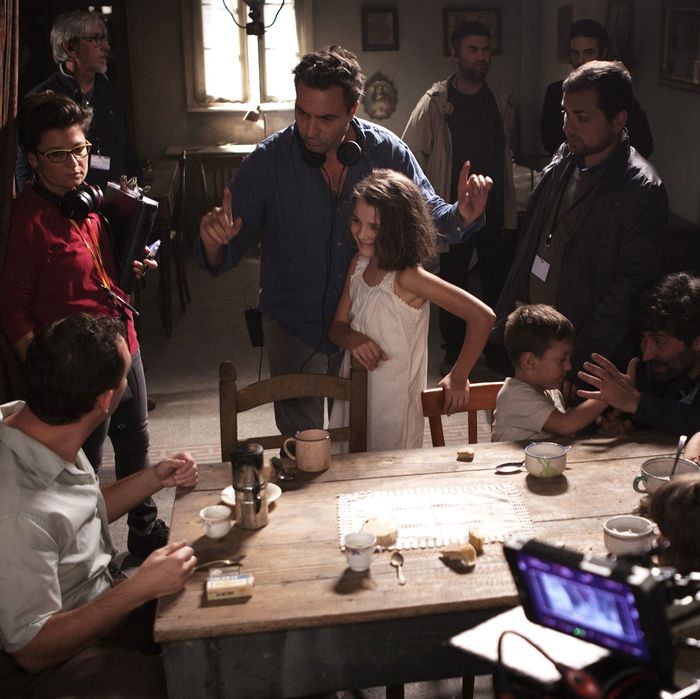 Behind the scenes of HBO's
My Brilliant Friend.
Photo: HBO
When it was first published in 2011, My Brilliant Friend resonated with readers worldwide in a way that few contemporary novels without magic or dragons do. The first of Elena Ferrante's four-book series introduced a premise that was deceptively simple: Two gifted girls, Lila Cerullo and Elena Greco, growing up in post-WWII Naples, bring out the best and worst in each other. "It happens, sometimes, that your best friend is also your best enemy," says director Saverio Costanzo, who was selected by the pseudonymous author to write and direct an eight-episode adaptation of the book, premiering November 18 on HBO. "It's a little secret that we keep for ourselves: Friendship is not just the story of love, but also the story of hate."
Adapting beloved books to television is always a tricky business, particularly when the plot largely revolves around Latin scholarship and a pair of shoes, in a setting where families can barely survive without putting their children to work. It's fitting, then, that My Brilliant Friend, which deeply privileges its characters' love of literature, should have made it to television precisely because it incited a similar passion within its readers. When executive producer Lorenzo Mieli (The Young Pope) finished the books three years ago, he immediately began chasing the rights.
"Think back to what neorealism has done — Bicycle Thieves became one of the most important movies in the history of cinema," he says, citing Vittorio De Sica's classic 1948 drama as a defense against My Brilliant Friend's arguably uncinematic narrative. It took Mieli six months to convince a producer friend of his, who had been planning the adaptation for Italy's RAI, to think internationally. In 2016, Mieli approached HBO to come onboard with Italian production house Fandango, making My Brilliant Friend the network's first foreign-language series. (All told, the show will be broadcast in more than 50 countries.)
Given the book's nuanced exploration of female friendship, it's perhaps a little surprising that a woman isn't at the helm, a point Costanzo hesitantly concedes. "I feel privileged to take part in Ferrante's wonderful and profound universe, but if my being a man has indeed been a limit [to the story], I hope that my feminine side came to the rescue," he says.
Costanzo, whose work includes the indie drama Hungry Hearts, starring Adam Driver, and an Italian version of In Treatment, had reached out to Ferrante via her publisher several years ago to see if he could secure the rights to her 2008 novel The Lost Daughter, but a film never materialized. As My Brilliant Friend started to come together, Ferrante — who is rumored to be a translator living in Rome — invited her compatriot to get involved. Costanzo was already a huge fan of the saga, which he sums up rather poetically: "The girls do a romantic dance that at times may seem like a violent fight. They run after each other and overlap, but tenaciously share the goal of becoming, one through the other, two whole individuals."
The challenges of adapting My Brilliant Friend were multitude. To begin, the scripts had to be significantly embellished, given that the narrative is told from Elena's perspective and largely lacks dialogue. Though she doesn't speak Italian, writer Jennifer Schuur (Hannibal) was brought on as an executive producer to consult on the story, particularly for input on an American audience's sensibility. Schuur had written a letter to Ferrante to tell her how "completely obsessed" she was with the books; she brought a copy of it, as well as her dog-eared copies of the Neapolitan Novels, to the Italian team. "That seemed to win the day," she recalls.
Costanzo is vague about the specifics of Ferrante's input, which was shared via email, but Mieli admits: "Giving those characters lines has been the most challenging. That's where Elena Ferrante from the beginning really stayed with us, watching and noting whether everything was good or not." In a rare recent interview with the Italian publication La Repubblica, Ferrante said only, "I intervened with my suggestions where it seemed necessary."
Furthermore, Costanzo, Mieli, and HBO development executive Francesca Orsi wanted to honor the novel's Neapolitan dialect, which many Italians don't even speak. This meant finding unknowns from the Campania region to star. The process took eight months, beginning in January 2017. Casting directors Laura Muccino and Sara Casani looked at 9,000 children alone just for the protagonists — irrepressible Lila, who "gave off an odor of wildness," and supplicating, observant Elena — as well as their classmates, many of whom needed to be cast both at primary-school age and as adolescents. (Vulture wrote about the four main stars here.)
My Brilliant Friend's universe is densely populated — some 150 actors and 5,000 extras. Meanwhile, the series won't have the advantage of the books' identifying character legend. "In terms of the adults, the perception Lila and Elena had of them, how they looked to them, was crucial to Saverio," says Muccino, who, like several people, spoke via translated email. "It was important to find faces and bodies that would be convincing from a historical perspective. Looking at pictures of Neapolitan families of the 1950s was very helpful." Schuur notes that the script also had to do a lot of the heavy lifting to differentiate characters. "There are no movie stars, so it's not like, Oh, right, Robert De Niro is playing Cappuccio," she says, referring to an early character. "So how do you build a story that introduces [everybody] memorably?"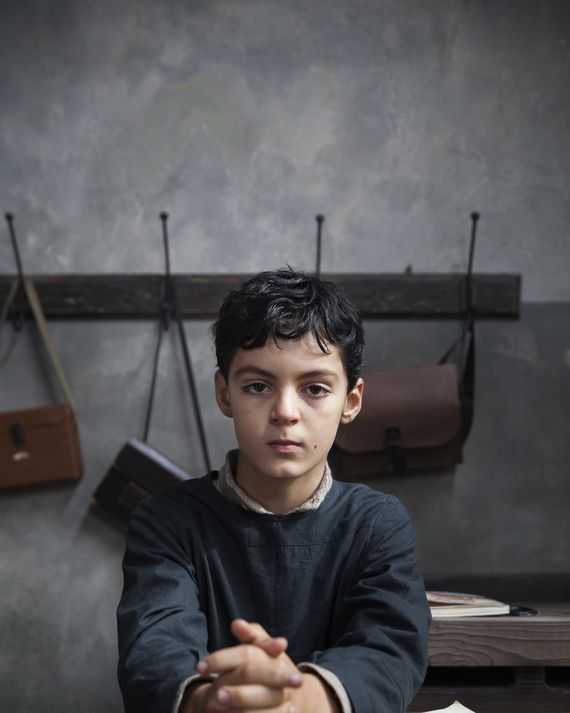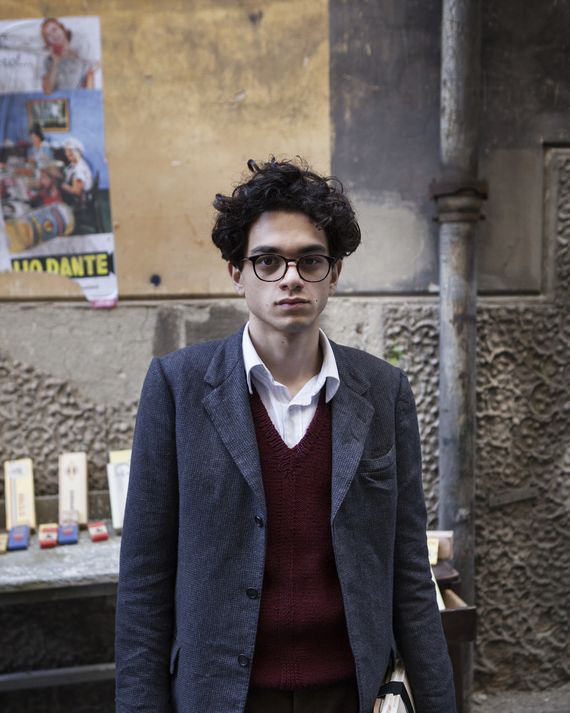 Nino Sarratore, Elena's childhood crush who becomes a much bigger part of later novels, caused the casting department the most anxiety. "We were nervous about dealing with such a powerful character that for so many women embodied the epitome of first love," says Casani. According to her, only the role of the girls' teacher Maestra Oliviero, who pushes them to realize their academic potential, was "a no-brainer," played to perfection by the stern, wizened Dora Romano (a favorite among everyone I spoke with). In general, fans of the books will probably agree that the cast is uncannily accurate, and faithful to Ferrante's descriptions. The elusive author tacitly approved, too, telling La Repubblica, "The few times I have been asked to speak up I have only complicated things. In fact, if I had to choose the two actresses, I would never have come out of it. The images I have in my mind as I write are iridescent, sometimes hyperdefined, sometimes blurred."
Next, the production had to figure out how to re-create the stradone, the main strip featuring the bar, the delicatessen, and Lila's father's shoe store, where so much of the early action takes place. The neighborhood is thought to be based on the working-class Rione Luzzatti, built in the 1920s in accordance with rationalist architecture: spare and functional. Today, the area offers My Brilliant Friend tours, but it has fallen into too much disrepair to have been transformed back into its postwar infancy. Instead, production designer Giancarlo Basili found an abandoned factory about an hour away in the city of Caserta, which provided enough space for a 12-acre reconstruction of the neighborhood.
"I was attached to the idea of creating a visually metaphysical atmosphere," he says. Inspired by the gray palette of Picasso's Guernica, and working with a confidential but relatively generous budget, Basili and his team took about four months to build 14 buildings, the façade of a church, and the interiors of Lila and Elena's home, among others. Mieli adds that Ferrante was involved here, too, correcting early plans for the placement of the tunnel, that foreboding telescope of darkness that young Lila and Elena must brave in order to get to the sea.
Finally, there are those shoes. The second half of My Brilliant Friend journeys beyond classrooms and courtyards to New Year's Eve parties, city excursions, and beach vacations — more inviting scenes for an HBO series — but the book's tissue coils around a pair of men's footwear designed by Lila after she is thwarted in her pursuit of a higher education. Despite Elena's academic opportunities, the shoes stir her envy "because [Lila] knew how to be autonomous, whereas I needed her because she had her things that I couldn't be a part of." They also signify Lila's ferocious intelligence, her ability to recognize the changing fortunes of the neighborhood and harness emerging capitalist forces, despite her impoverished circumstances.
"This was exactly my question the first time I read the book: What would a pair of shoes look like if they were designed by a little girl from a dusty 1950s neighborhood who was used to wearing wrecked shoes?" recalls costume designer Antonella Cannarozzi. "Since Lila was involved, it had to be something unusual, iconoclastic, very different from what she was used to seeing on a daily basis. In this regard, my collaboration with Pierpaolo Piccioli, creative director for Valentino, proved instrumental."
Also a Ferrante enthusiast, Piccioli designed a pair of moccasins, white on blood-red leather, which were already in vogue at that time, she explains, but suitable for leisure, a lifestyle distinct from Lila's. "This is the idea," she says. "Lila designs a fun pair of shoes although she is not familiar with, nor was she ever exposed to, fashion canons. Using Valentino's iconic archive, it took us several adjustments on classic moccasins before we attained the model." A wedding dress was also created and supplied by Maison Valentino. The series is indebted, Cannarozzi adds, "to this high level of Italian craftsmanship."
With Ferrante hovering at the edges of the production, it seems impossible that there are no further insights into who she really is. Is this her story? Who is her brilliant friend? Will she watch the show? But the mark of a genuine fan is that they respect, and even prefer, her anonymity. "If you told me that Elena Ferrante is right next door, and that by opening that door I could find out who she is, I would not open it," says Costanzo. The producers agree. "There's no part of me that believes this could have been written by anyone other than a woman," says Schuur, "but I feel very lucky in these situations that I have nothing I could offer as far as clues to her identity."
HBO has yet to green-light a second season, which would tackle the next installment of the Neapolitan Novels, The Story of a New Name. Should that happen, Costanzo doesn't think he will return to direct, though that was the original plan. Already, the level of attention and expectation has overwhelmed him. "I don't want to be in Hollywood," he says. "It's too noisy and crowded for my sensibility. I am very happy to help with the second season, if there is one, but my duty here was just to help this to be born."