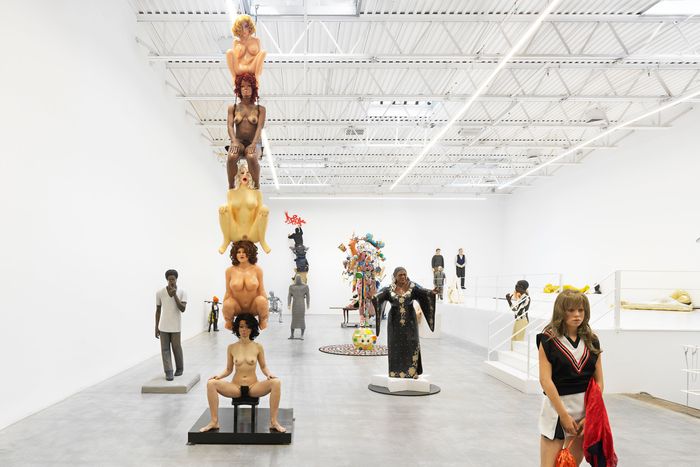 Performance artist Narcissister, director and subject of NARCISSISTER ORGAN PLAYER.
Photo: Genevieve Hanson
Narcissister, the lithe, biracial, gender provocateur and performance artist has been exposing to the world everything but her real identity for the past decade or so. Her face is always covered by a creepy Barbie-esque mask, and she's often not wearing too much else, sometimes pushing and pulling all manner of objects in and out of herself on stage. This proclivity was made sculptural with an installation of multiracial sex dolls stacked on top of each other called Totem displayed at both Participant Inc. It was later reinstalled this past spring at Jeffrey Deitch gallery, where the performer sometimes sit at the base of it, blending in to the porn-y inanimate. Once, at Abrons Art Center, she bounded out of an outsize replica of her own breasts dressed as a glittery, scientifically detailed human heart while Billie Holiday played.
Narcissister's work is subversive, funny, and beautiful, in part, because of the clever intricacy of her physical acrobatics and her DIY sensibility. Focused on the female body, particularly its orifices and internal passageways, her work explores how this messy, viscerality coexists alongside the various signifiers of conventional feminine allure — blond hair, lipstick, pearls, high heels, long legs, sexy lingerie. These provocations have even slipped into the pop culture consciousness of late with Narcissister stepping out on the townwith Marilyn Manson and appearing as a constantly transmuting four-faced doll on America's Got Talent.
But who is the person behind the mask? Playing at Film Forum November 7 to 20, the documentary Narcissister Organ Player gives us some of the backstory — but only what the artist wants to tell us, since it was directed by Narcissister herself. The film, shrewdly edited by Taryn Gould, juxtaposes tape of Narcissister's shocking performances with the very raw, personal story of her all-encompassing relationship with her mother, a beautiful artistic Moroccan Jew who fled with her family to the US, where she met and married Narcissister's African-American professor father. The two settled in San Diego to raise Narcissister and her brother, Bernard, whose home videos animate the film. Especially heartbreaking and beautiful in its final section, the doc is an important reminder in this Trump era of just how diverse and uncategorizable so many American families are. It's also the most emotionally vulnerable work yet from a performer who still insists she needs a mask to distance her real self from the audacious nature of her stage acts. (Her mother appreciated this bit of self-censorship.)
We talked to Narcissister about the process of making such an intimate work.
How did this film come to be?
I had made the evening-length piece for Abrons called Narcissister Organ Player during the last six months of my mom's life. She died right after I presented it. When I applied for the Creative Capital  grant [Ed. which she ultimately got] to make the film, I thought about how the Organ Player piece must be so potent because of the time in which I made it. A few years after my mom died, I was ready to look more directly at the impact of my relationship with her on my life and my work. I wanted to record my memories and stories of her before I forgot them.
The film often dramatically juxtaposes your graphic performance work with the story of your mother and your family. At the beginning, you say that your relationship with her was the most important of your life while we see you pulling fake pigtails out of your butt. What is the connection between the two things?
We got early feedback that the film didn't make that connection clear enough so I added a section to try to make it explicit. It's that her body was a big part of my psyche, especially at the end, helping her walk, helping her get up. She was very sensual, a poet, but she also lived a traditional trajectory, getting married young and having children in her late twenties. As a child, I'd see these forms everywhere that looked like big vaginas and I'd ask her very pointed questions and shock her from a young age.
To me, the connection is the materiality and the beautiful messiness of the female body, this same canal and orifice out of which your mother birthed you becoming so prominent in your work. What did your mom think of your work?
It was shocking for her at first. I think she was concerned that I wasn't within my integrity doing that work, but my whole family felt that way. Only when they saw the response that other people had to it were they able to get on board and realize there was more than the erotic to it and that I was in a place of power doing it. But it was challenging for everyone.
Your mother joined you on stage in her final years, knitting while you performed.
Yes, I was pulling things out of my vagina while she knitted. There's something about things coming out of a vagina that squares well with motherhood. I remember asking her, "If you were a part of my work, what would you do?" and she said, "I just want to sit on the stage and knit."
Would she have been upset if you had done your work unmasked?
I think I would be upset! To do it unmasked with my mom onstage would feel so narcissistic to me. I think it would lose its criticality, because with the mask there's some layer of distance. Without the mask, it would feel too raw. I liked being masked and stylized while my mom was onstage unmasked in her normal clothes doing something very pedestrian that she does in her everyday life.
It's a very layered film in terms of elements used – animation, various kinds of footage, etc. What was hardest?
It took my brother Bernard a long time to be willing to let me use those home videos he had. He hadn't even watched them himself after our parents died and he has his own pain around their deaths. But it's the reason that the film is so good. He loves the film and is listed as cinematographer and executive producer and he came to Sundance and the other festivals with me.
What parts of the film give it a political context in our current age of Trump and of #MeToo?
The fact that my parents had an interracial marriage, [that] my mother was a Jewish immigrant, and then my own brand of feminism, what it means to have a place of power as a woman of color, the erotics of my work. In the Q&As, a lot of people have asked me about #MeToo and I've always said that as someone who's attempted to be an activist, #MeToo is very exciting.
Was your mom reluctant to be filmed all the time? And your dad too?
My mom knew on some level that she was adored by my brother and me and she was used to us wanting to take pictures of her and film her. I just wanted to hold onto every bit of her that I could — even the pictures of her getting naked in the bath. She wasn't an exhibitionist but she did have a lot of sensuality. My dad is definitely shyer and less forthcoming.
What other films were you thinking about while making this?
Definitely Agnès Varda. I'm inspired by how she documents and captures her own womanhood. Absolutely Hedwig and the Angry Inch. Also Jonna Tamases' Jonna's Body, Please Hold, about a young woman who discovers she has cancer and her process of talking to the systems of her body as they fail. She goes into her own pancreas; it's really creative. I'd also add the Chantal Akerman film about her mom, No Home Movie, Laurie Anderson's Heart of a Dog, and Mike Mills' Beginners.
Cool. So, how is Narcissister doing, anyway?
She's still performing live — you can keep up on the dates and places on her website. I have a commission from Soho Rep  to make an evening-length piece with the playwright Branden Jacobs-Jenkins. He's writing it and everyone around Narcissister speaks except her. That'll happen sometime in 2019.
Has she evolved since you started doing her about a decade ago?
Yes, because of the major events of my life. Since my mom and dad died, I think the work has more depth and poignancy now. That's why I feel so strongly that I'm committed to this character indefinitely because she's been able to withstand the changes in my life and has been a resource for me to process what I've been experiencing. She's deepened and matured.