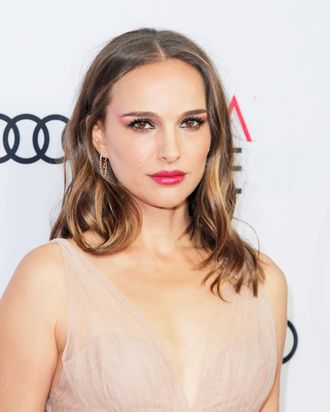 Photo: Tibrina Hobson/WireImage
In Vox Lux, Natalie Portman plays a massive pop star who's eccentric, erratic, and downright fascinating. Sound familiar? Although director Brady Corbet and Portman both insist her character Celeste is really a combination of famous artists, perhaps there's one person fans will recognize in Celeste.
"If anything, I feel like the character's closest to Kanye West," Corbet tells Vulture at AFI Fest's film screening. "Oh! That's a good example!" Portman adds. "That's funny that he said that! I wasn't thinking Kanye but now that he said it I totally could see it."
But neither say "Kanye" like it's a bad thing. "I love his work," Corbet says. "I'm sort of fascinated by his persona. I don't know what to take seriously or not, to be honest, so I don't ever find anything he says to be particularly offensive." You listening, 'Ye? "We'll see. Hopefully he likes it."
Still, Celeste isn't specifically inspired by West or any other star. "The idea was that the character would be sort of an amalgamation of many, many, many, different real-life personages. There are certain character traits or parts of the story that evoke real-life people," Corbet explains. "You never want people to take the comparison the wrong way. The character is a fictional character so I wouldn't end up insulting anyone."
Portman agrees, saying, "I don't really see it as one [person] … I really see different sides because, you know, the relationship with her sister is different, having a kid and having this period where she's having troubles with substances, and, like, the desire to shock." One thing that may certainly shock audiences? That accent.