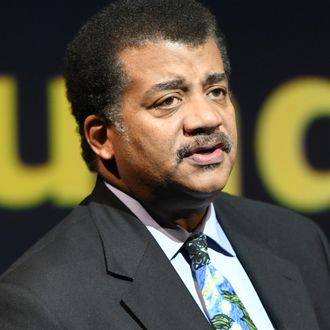 Neil deGrasse Tyson.
Photo: Craig Barritt/Getty Images for Onward18
Deadline reports that the celebrity astrophysicist Neil deGrasse Tyson is under investigation by Fox and National Geographic for sexual misconduct. The investigation results from a report by journalist David McAfee in which two women allege inappropriate interactions with Tyson. Dr. Katelyn N. Allers, who is an associate professor of physics and astronomy at Bucknell University, claims that Tyson allegedly groped her at an American Astronomical Society after-party in 2009. His former assistant, Ashley Watson, described a night where Tyson allegedly pressured her to join him at his apartment for wine, where she claims he then made several advances. Watson says she quit her job over the incident. These two allegations come a year after musician Tchiya Amet first accused Tyson of raping her when they were grad students.
The next season of Cosmos is set to premiere in March, but the producers have pledged to investigate the allegations fully. "The credo at the heart of Cosmos is to follow the evidence wherever it leads," they said in a statement to Deadline. "The producers of Cosmos can do no less in this situation. We are committed to a thorough investigation of this matter and to act accordingly as soon as it is concluded." Fox and National Geographic echoed this sentiment. "We have only just become aware of the recent allegations regarding Neil deGrasse Tyson," the networks said in a separate statement. "We take these matters very seriously and we are reviewing the recent reports."